Trump Loyalists Push Baseless Theory Antifa Staged Mob Attack
President Donald Trump's most fervent loyalists have been pushing a false narrative claiming that the U.S. Capitol building was breached by members of "Antifa" rather than violent Trump supporters who rioted in a failed attempt to overturn the presidential election outcome.
A pro-Trump mob assaulted police officers and stormed the building on Wednesday as Congress convened to officially certify President-elect Joe Biden's victory. Video and photographic evidence shows the crowd carrying Trump banners and signs promoting unverified claims that the election was "stolen" from the outgoing president, but Trump loyalists baselessly alleged that the real perpetrators may have been disguised anti-fascist activists.
"Some of the people who breached the Capitol today were not Trump supporters," Rep. Matt Gaetz (R-Fla.) said while Congress was debating Biden's certification. "They were masquerading as Trump supporters and in fact were members of the violent terrorist group Antifa."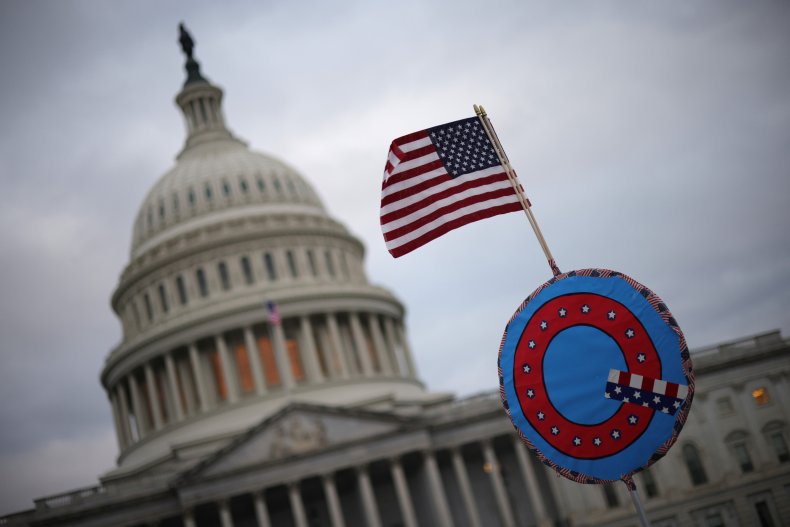 A number of members of Congress could be heard reacting negatively to Gaetz's claim, while some of his GOP colleagues clapped in support of Gaetz after he made the remarks.
Rep. Mo Brooks (R-Ala.), another Trump devotee, also claimed that Antifa were the real culprits while sharing an unverified report from conservative newspaper The Washington Times, which said that an anonymous "retired military officer" said facial recognition software had matched two people photographed inside the Capitol to unspecified anti-fascist activists.
Facial recognition firm XRVision, which the article cites, later issued a statement saying that the software had been used to identify rioters. However, the company said that the two people identified "are not Antifa," and are instead members of "two known Nazi organizations."
"Evidence mounts that fascist ANTIFA infiltrated Trump rally & stormed Capitol," Brooks tweeted. " I don't know the true facts yet, and neither does 99.99% of public. I suggest no rush to judgment until an investigation reveals whatever the truth may be. Then Prosecute!"
Some prominent Trump supporters seemed even more convinced that the emerging theory was more likely than what footage from the scene appeared to show, despite the lack of evidence. Televangelist Mark Burns tweeted that he was "saddened" by the attack after claiming that it had been "staged" by Antifa.
Pro-Trump lawyer Lin Wood, who recently suggested that he might be the second coming of Jesus Christ, according to court documents, tweeted that Antifa, Black Lives Matter and "similar Communist groups" were responsible for the violence. Wood later said he had been blocked from posting to his Twitter account.
Other Trump loyalists who entertained the conspiracy on Wednesday night included Fox Business host Lou Dobbs, Fox News host Laura Ingraham, Texas Attorney General Ken Paxton and former Alaska Governor Sarah Palin.
Many of those promoting the claims shared a photograph of Jake Angeli, a prominent supporter of the pro-Trump QAnon conspiracy theory known for wearing face paint and an outlandish furry costume featuring horns, falsely claiming he was a member of Antifa instead, according to NBC News.
Trump himself has done little to quell the spread of false information. Prior to Twitter taking the unprecedented step of removing two of his tweets and blocking him from posting for 12 hours, he told rioters to "go home" while praising them as "great patriots." At least one person was killed while the Capitol was breached and more were injured, including multiple police officers.
Newsweek reached out to the White House for comment.
Update 1/7, 5:00 p.m.: This article has been updated to remove a reference to Fox News host Martha MacCallum, who did not personally promote the theory. It has also been updated to note that facial recognition software company XRVision issued a statement saying that their software identified rioters as members of Nazi groups, not Antifa activists.