'Apex Legends' Inauguration Ship and Salvo Teaser Explained, It's Not Political
Apex Legends Season 8 teasers are currently underway, which means you may have noticed the so-called Inauguration Ship hovering in the skybox of your favorite map. A message on the aircraft suggests "Salvo [is] joining Syndicate," but what does it all mean? Allow us to explain how the brief words may relate to the next Battle Pass.
What does Salvo mean to Apex Legends lore?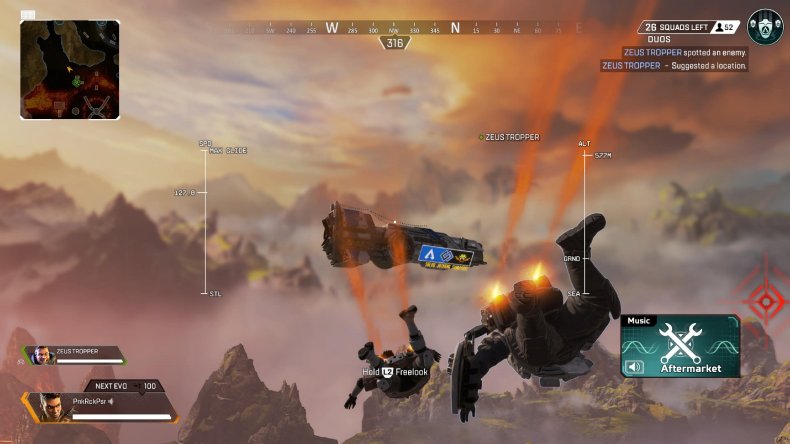 Based on previous teasers and in-game statements from existing characters in Apex Legends, Salvo is a "fringe" planet in the game's universe, and it emphasizes explosives. When pinging the Inauguration Ship, Octane says "Hey, always wanted to check out the fringe! I heard they have a planet where everybody's got a rocket launcher." To make matters more interesting, Bangalore's ping line suggests some sort of struggle between the Salvo and the rest of Syndicate. She says "Salvo. Never believed in olive branches before, why start now?"Caustic shares this negative sentiment, adding "fringers only see death as fun."
To unravel the mystery behind where these mixed feelings come from, one need look no further than an image posted by the official Apex Legends Twitter account at the end of October. While gamers were meant to be drawn to Wattson's messy desk, sleuthy fans zoomed in on the typed note in front of her. It reads:
"I am writing to inform you that Salvo – which rejected the Mercenary Syndicate's position to join Syndicate Space in 2722 – is now being guided by new leadership sympathizers to the cause of peace within the Outlands.
"Talks with this new administration was prolonged, but ultimately fruitful; as of today, the Mercenary Syndicate Treaty has been amended, and Salvo will become the seventh world to join Syndicate Space."
This idea of a fractured partnership that's since been restored carries over to more recent teasers. On Friday afternoon, the Apex Twitter account posted a GIF captioned "new blood" that features a handshake between what appears to be a biker and a government official. The words "Syndicate and Salvo: Unified at last" sit atop the poster that ultimately gets a stamp of approval from Salvo MC.
In other words, while Salvo was initially turned off by teaming up with an organized coalition of planets like Syndicate, the rebellious clan seems to have changed its mind. As a result, the Legends we know and love meet this sudden change of heart with equal parts excitement and apprehension.
So who's the "new blood?"
As those who've been following Apex Legends Season 8 leaks will know, these descriptions align very closely with a character called Fuse that most folks believe will be part of the next Battle Pass. In keeping with the explosively charged reputation of Salvo, Fuse's abilities include an Ultimate called Firebomb in which they shoot a projectile that explodes into a small ring of fire. Fuse's Tactical is reportedly called Projectile Grenade.
In fact, these same leaks suggest players will get to try out a special version of Fuse's Firebomb very soon, as the special weapon is expected to start dropping in late-game circles this weekend. In short, these teasers strongly suggest Fuse is a rough-and-tumble fighter hailing from Salvo. He specializes in making things go boom.
Is the Inauguration Ship political?
Given that Apex's developers at Respawn decided to bring the Inauguration Ship to Apex Legends days before the real-world inauguration of President-elect Joe Biden, it's easy to assume the teaser might carry some political weight. However, in a tweet published Friday evening, Respawn Communications Director Ryan K. Rigney put those thoughts to rest.
"Next week we're changing the name of the 'Inauguration Ship' to the Ceremony Ship," the message reads. "We didn't want folks incorrectly assuming we were doing commentary about current events—it's just a name we'd picked out a while back. Better safe than sorry!" In other words, folks who prefer to keep politics out of gaming can put their pitchforks down for now. This really is just another teaser for an upcoming Legend featured in Apex Legends Season 8.
Apex Legends is available now on Xbox One, PS4 and PC.
What do you think of the Apex Legends Season 8 teasers so far? Do you think the Apex Games will ever head to Salvo? Tell us in the comments section!