House Minority Leader Kevin McCarthy plans to meet with Georgia Representative Marjorie Taylor Greene after saying the Republican Party is "no place" for white supremacists.
His comments came after Greene and Arizona Representative Paul Gosar spoke at the America First Political Action Conference over the weekend conference in Florida. McConnell told journalist Jake Sherman, co-founder of Punchbowl News, that he planned on meeting with Greene this week. The House minority leader also called Greene's participation in the rally "appalling and wrong."
"Last week, I was just in Israel," McCarthy said, according to Sherman. "When I come back, I see two colleagues who went and participated with a group that has a leader that many times gives antisemitic views and led a chant for [Russian President Vladimir] Putin. For me it was appalling and wrong. And there's no place in our party for any of this."
The Orlando, Florida, conference was organized by Nick Fuentes, a right-wing media figure whom the Anti-Defamation League (ADL) has labeled a white supremacist.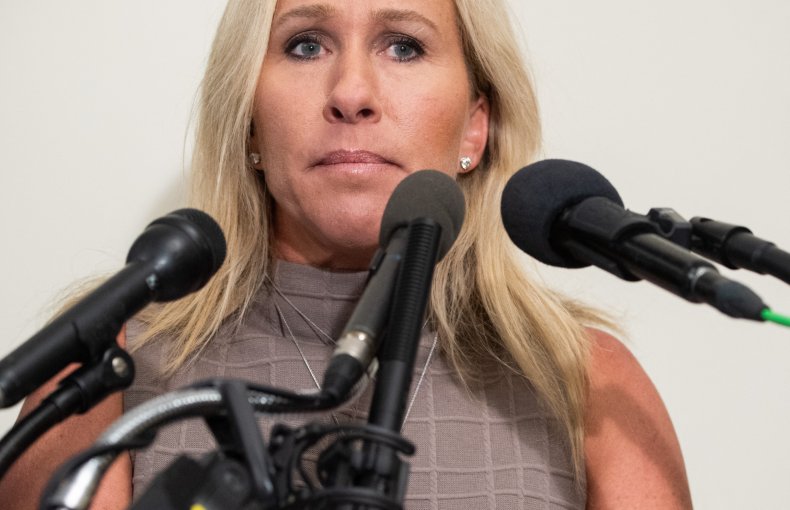 During the event, Fuentes asked guests to "give a round of applause for Russia." He then said of Putin's critics, "Now they're going on about Russia, and Vladimir Putin is Hitler—they say that's not a good thing," and laughed. Greene and Gosar both spoke at the event on Friday.
In his speeches, Fuentes has pushed "replacement theory," a white supremacist idea that non-white people want to replace white people or commit genocide against them, according to the ADL.
He has said that the GOP should question "Jewish Power" and has said that he doesn't consider Jews as European or part of Western civilization. He has been banned from YouTube, Twitter, Reddit, TikTok, Spotify and numerous other social media platforms for violating their hate speech policies.
McCarthy reportedly told Sherman, "The party should not be associated any time, any place with somebody who is antisemitic. [Greene] has personally gone to answer this. But I think with that introduction, you should've walked off stage. ... This is unacceptable."
Numerous other Republicans—like Wyoming Representative Liz Cheney, Illinois Representative Adam Kinzinger, Utah Senator Mitt Romney and Republican National Committee chair Ronna McDaniel—have made comments criticizing any Republican involvement with bigotry.
In her own defense, Greene told Newsweek that she only attended the conference to speak to 1,200 "young patriots."
"I am not going to play the guilt by association game in which you demand every conservative should justify anything ever said by anyone they've ever shared a room with," her statement said. "I'm not going to be drawn into that. I'm only responsible for what I say. So ask me about my speech. I talked about God and Liberty."
In April 2021, Greene and Gosar co-founded the "America First Caucus." Its early planning proposal called for a "common respect for uniquely Anglo-Saxon political traditions" and a return to a style that "befits the progeny of European architecture." Anglo-Saxon is a term for white descendants of Germanic inhabitants of 5th-century England.
The proposal also warned that "mass immigration" threatens "the long-term existential future of America as a unique country with a unique culture and a unique identity."
Gosar and Greene later distanced themselves from the proposal. Greene's spokesperson Nick Dyer said the proposal was neither agreed to nor approved of by Greene. However, Greene's colleague, Florida Republican Representative Matt Gaetz, announced his membership in the caucus on Twitter.
Newsweek contacted Greene's office for further comment.
Correction (2/28/2022, 10:50 p.m.): A previous version of this article incorrectly stated identified McCarthy as Senate Minority Leader Mitch McConnell.