Behind the Appeal of the Twin Peaks 'Breastaurant,' Site of the Waco Biker Brawl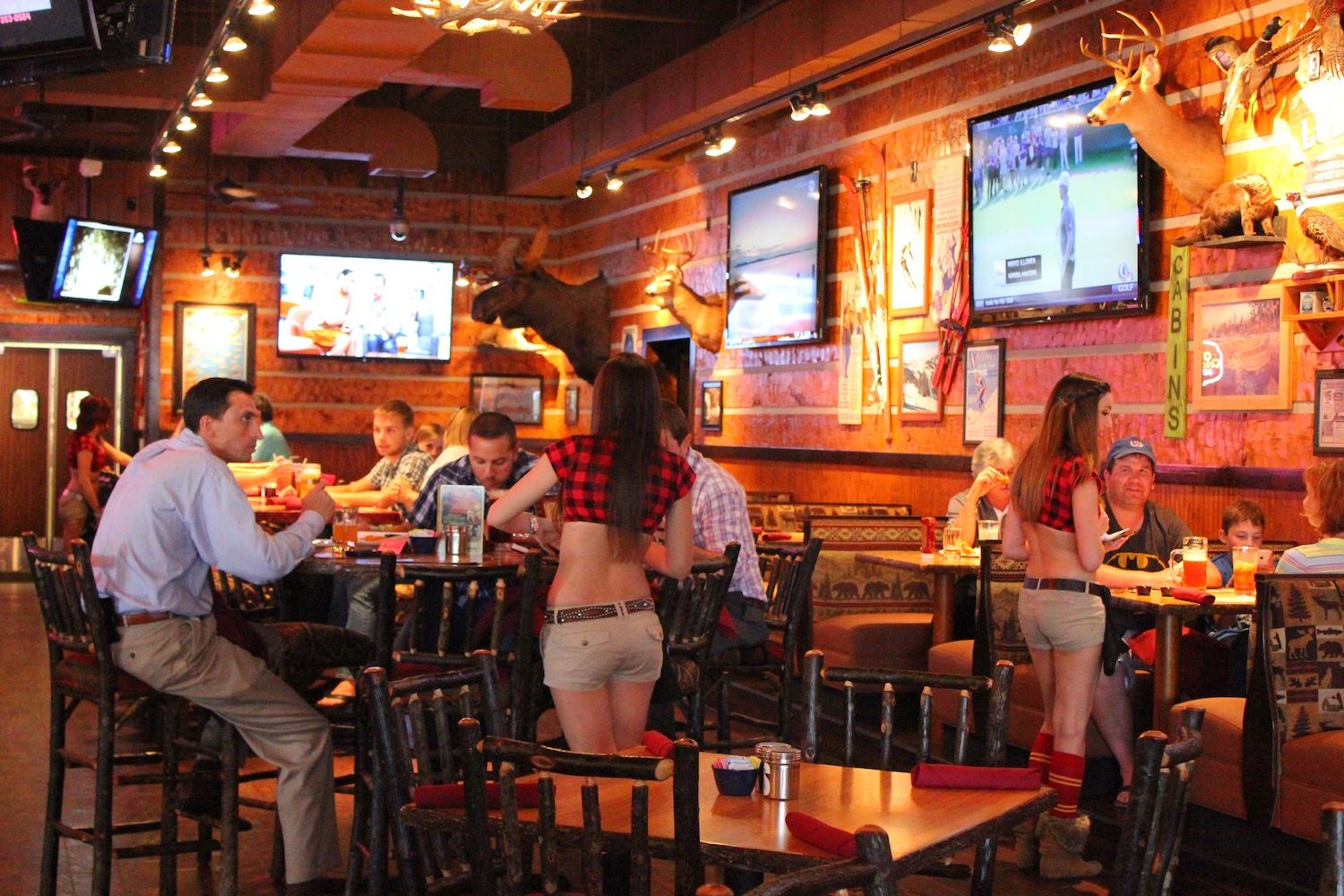 There's something about Twin Peaks restaurants that draws the biker crowd. Maybe it's the green and white sign with two snowcapped mountains, which stands tall near highways, a beacon for passing motorcyclists. Or, as one former manager suggests, it's the warm, mountain lodge atmosphere, with wood paneling and stuffed animal heads, that pulls them in.
Tommy Jones, a biker who's a regular there, points to the more obvious reason: "It's the sexy waitstaff. They're scantily clad, they're dressed provocatively, and since most of the riders are guys, that attracts them."
Yes, the restaurant's name and logo have more to do with female anatomy than David Lynch. One location advertises "the coldest beer, tastiest food and the hottest girls." Servers with names such as Roxy and Mandy don cargo shorts and red plaid tops, tied at the center and covering little more than a bikini top. A restaurant specialty is the "shot ski," a wooden ski with shot glasses attached, which waitresses parade around while chanting "shot ski!" and hold up to patrons' mouths like a limbo stick. The restaurant hosts bikini contests and car washes, where tanned women strut down makeshift runways as customers munch on sliders, steaks and sandwiches, and guzzle drinks called the Dirty Blonde and Knotty Brunette. Beers come in two sizes: "girl" and "man," and servers describe the dining as "man-craveable food."
Until the chain banned them this week, "bike nights" were another Twin Peaks specialty. Some were impromptu; Jones says he would simply call the restaurant and tell who answered to expect a few dozen people from his crew. But other times, the restaurants would advertise and offer specials to those on hogs. Last month, an Oklahoma City location advertised, "Get revved up and ready to go at Twin Peaks bike night." Motorcycle enthusiasts would hang out in Twin Peaks parking lots, where they would compare rides, discuss routes, trade stickers and talk shop. They would show off tricked-out bikes with, say, strobing violet lights. Sometimes, bikini-clad employees would greet them with drink bracelets, and radio DJs would broadcast live on the spot. Mötley Crüe's "Girls, Girls, Girls" might be playing. These sorts of events would take place at some of the chain's 68 locations in 23 states, including in Austin and Round Rock, Texas; Baton Rouge, Louisiana; and Atlanta.
And, until last week, Waco, Texas. The Twin Peaks franchise there had long attracted bikers, according to law enforcement, and on May 17 nine people from rival bike gangs died after a brawl in the restaurant parking lot. Police have arrested at least 192 people for their participation in the "Twin Peaks Shooting."
Though the franchise owners insist the restaurant and staff were innocent bystanders, the Texas Alcoholic Beverage Commission ordered the restaurant closed for a week. The Twin Peaks chain also revoked the franchise agreement and appears to have scrubbed the location from its company website. "We wasted no time making sure that this restaurant was not going to ever be part of our company again," says company spokesman Rick Van Warner.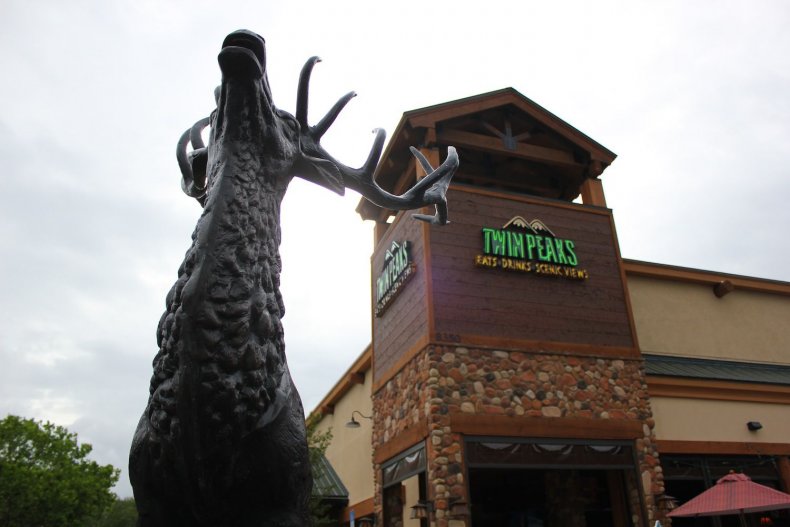 Twin Peaks was founded in Lewisville, Texas, in 2005, by breastaurateur Randy DeWitt. More than a third of the locations are in Texas, and there is one international location, in Kazan, Russia. DeWitt must be doing something right; while his best-known competitor, Hooters, saw sales increase just 2.5 percent last year, according to Slate, Twin Peaks experienced a 45 percent jump. Bloomberg reported that Twin Peaks was the fastest-growing restaurant chain in America in 2013 and that it had $165 million in sales that year.
Twin Peaks employees have complained about a daily "ranking" practice, in which managers decide how many hours waitresses work, and in which sections, based on their appearances. One person who claimed to be a Twin Peaks employee wrote on job website Indeed: "When we arrive at 'pre-shift' at 4:30 p.m., we get lined up…horizontally, and get ranked…. From our hair to our socks, we get graded on a scale…. Completely imaged-based. After pre-shift we pick our sections according to ranking."
Similar accounts have appeared in LA Weekly, and a Colorado-based Twin Peaks Girl named Andrea Brown wrote on her blog, "It is truly all about looks. We are graded every shift on our hair, makeup, nails, tan, and most importantly fitness. Based on these grades you are then put in a rank among all the other girls from first to last. You chose your serving sections and you get off first when you are highest on the rank.... We are also not allowed to eat off of the regular menu during our shifts because of its greasy and fattening food. Instead they offer us a special menu called the 'spa menu' that we may order from with only healthy options."
"The ranking system basically lines you up from the hottest to the least hottest," Bre'Unka Jones, a former Twin Peaks waitress in Texas, tells Newsweek. "But it's never fair…. Twin Peaks never has any women of color with high rankings," says Jones, who is black.
Van Warner responds: "I find that an offensive allegation…. That is not at all how we do business." He adds that he's "not familiar" with any sort of "ranking" practice but says, "We do measure the performance of our servers on a number of criteria, and neat and positive image is one of several."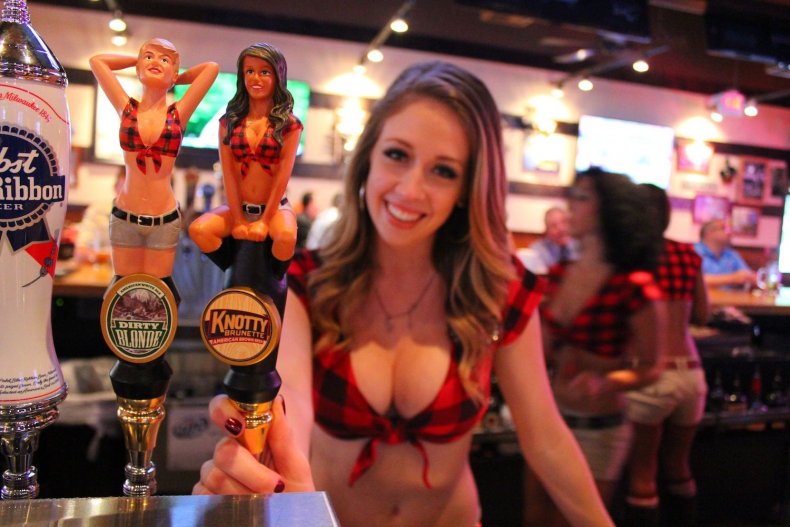 One former manager of a Twin Peaks in Texas, who asked that Newsweek not use her name because she now works with the chain's parent company in a different capacity, also defends the practice. "All the requirements of a TPG [Twin Peaks Girl] are in the employee handbook they sign off on when they are hired. It's very clear that the TPG is required to deliver that image as part of her job duties. Like any other business, if you perform poorly you are written up, suspended or terminated," she says.
As for the biker crowd, multiple former employees tell Newsweek that Twin Peaks isn't a biker bar and that incidents such as the one in Waco are anomalous. "Twin Peaks isn't about bikers," says the former manager in Texas. "The clientele that came in were college kids, sports fans, families with kiddos and a great pack of regulars who just enjoyed each other's company."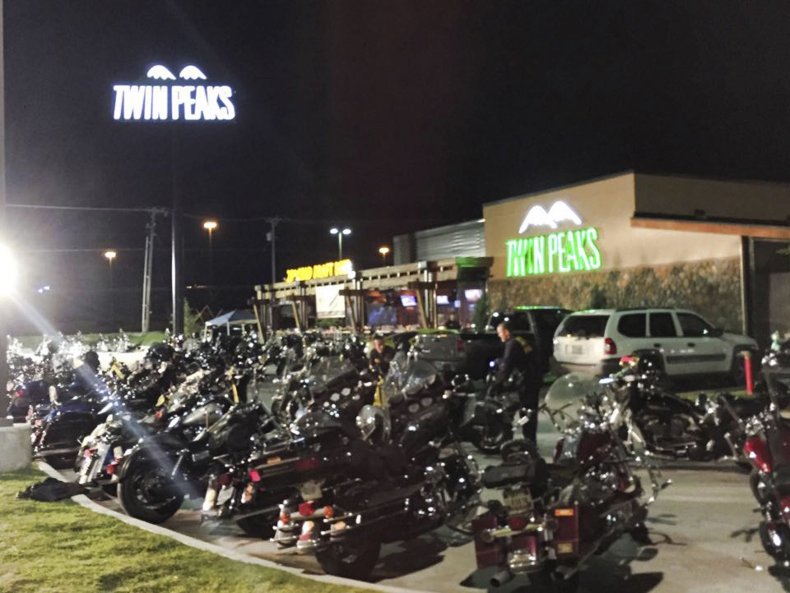 "We don't go out of our way to attract motorcycle riders," says Van Warner, adding that "a lot of other restaurants do have 'bike nights' as well."
He emphasizes that the Waco incident occurred at a "rally," not a bike night. Still, the chain has suspended bike nights at all of its company-owned restaurants and suggested that franchise-owned locations do the same. Local law enforcement notified the chain that it was concerned about that rally some 72 hours in advance, he says, and chain higher-ups called the franchise operators with words of caution. "Apparently all those warnings from both the police and us were ignored," he says.
Some bikers who enjoy Twin Peaks say they aren't looking for trouble. "The guys I ride with, we're just a group. We don't wear patches. We don't wear colors. We don't care what other people are wearing over their jackets. That seems very eighth grade to me," says Tommy Jones. "Scantily clad waitresses and decent food. That's pretty much what we go for."