As Apple released its new iPhone 12 at a launch event on Tuesday, Belarusian activists spammed Twitter and social media using the hashtag #AppleCensorsBelarus, attempting to draw attention to the tech giant's reported efforts to remove information and posts in Telegram channels used by anti-government demonstrators in the Eastern European nation.
Thousands of Belarusians have taken to the streets since August to protest against the regime of Alexander Lukashenko—who has been dubbed "Europe's last dictator." On August 9, Belarus held an election, with the official results showing Lukashenko, who has been in power for 26 years, winning about 80 percent of the vote. Opposition supporters quickly cried foul, and European and American officials have said the election was neither free nor fair.
Ahead of the election, Belarus jailed multiple political opponents to Lukashenko for organizing protests against his reelection. Sviatlana Tsikhanouskaya decided to continue to campaign against Lukashenko after her husband was imprisoned. Many of those demonstrating against the regime believe she was actually the winner in the August election.
Asked by reporters on August 10 whether she believed herself to be the winner, Tsikhanouskaya responded "definitely," despite the official results showing her garnering about 10 percent of the votes. She later fled to Lithuania, saying she feared for her safety. Her husband, Syarhey Tsikhanouski, remains imprisoned in Belarus.
As the demonstrations have grown and persisted, Lukashenko's regime has cracked down with increasing violence against the protesters. Meanwhile, activists have turned to social media—and in particular the cloud-based instant-messaging app Telegram—to organize and spread information. Doxing, or sharing the names and information of government police and security forces who have been attacking demonstrators, has become common in these channels.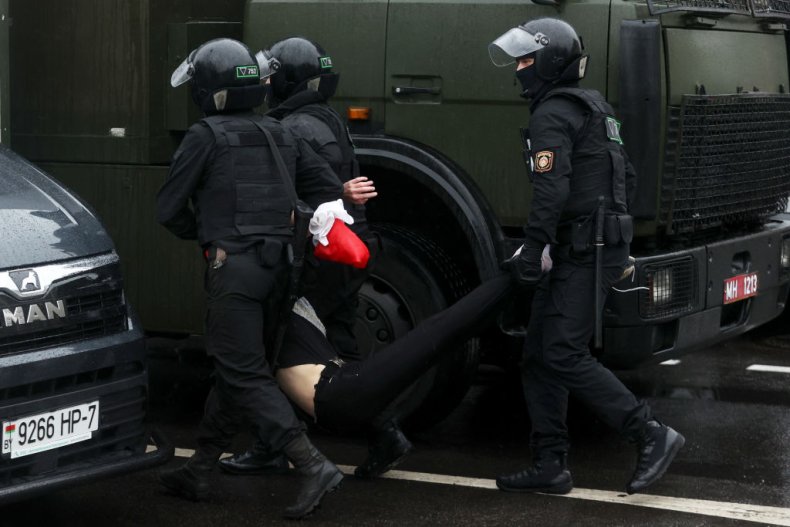 "After they started to be more and more violent and people started to identify them [the police]—as the official representatives of police always declines to investigate and prosecute all such violence—they started [wearing] regular face masks," an activist who manages a Telegram channel of about 100,000 subscribers told Newsweek. The activist asked to remain anonymous due to safety concerns.
"We're mostly concerned that if those criminals understand that no one can find them behind [their] mask, they'll ramp up the violence against protesters tenfold," they said.
Apple, which distributes Telegram through its App Store, has asked the messaging app to remove the content identifying the security agents and police. A spokesperson for Apple told Newsweek that such posts violate its policies regarding user-generated content, and that Apple was concerned that the posts could cause harm to the individuals being doxed.
Tatiana Martynova, an activist who is now based in Ukraine and uses Telegram to organize demonstrations and share information, told Newsweek that Apple's actions are an "absurdity." Martynova said that "the Belarusian people are fighting armed fascists" and are doing so "peacefully." She said the security forces "beat and torture civilians" without fear of repercussions.
On October 8, Pavel Durov, the Russian entrepreneur who founded Telegram, warned in his personal channel that Apple was asking his company to remove the Belarusian activists' channels.
"Their concern is that publishing the personal information of law enforcers and propagandists may incite violence," Durov wrote. "I think this situation is not black and white and would rather leave the channels be, but typically Apple doesn't offer much choice for apps like Telegram in such situations. Unfortunately, I assume these channels will end up getting blocked on iOS, but remain available on other platforms."
Apple's actions are reminiscent of its decision in July to bow to pressure from the Chinese government as it cracked down on demonstrations in Hong Kong. Apple initially rejected the HKmap Live app, which was used by Hong Kong demonstrators, from being uploaded to its store. The tech company then approved the app but later turned around and banned it entirely.
Newsweek reached out to Telegram multiple times for further comment, but it did not respond by the time of publication. Apple told Newsweek that Telegram did not initially object when it asked the messaging service to remove posts in the Belarusian channels.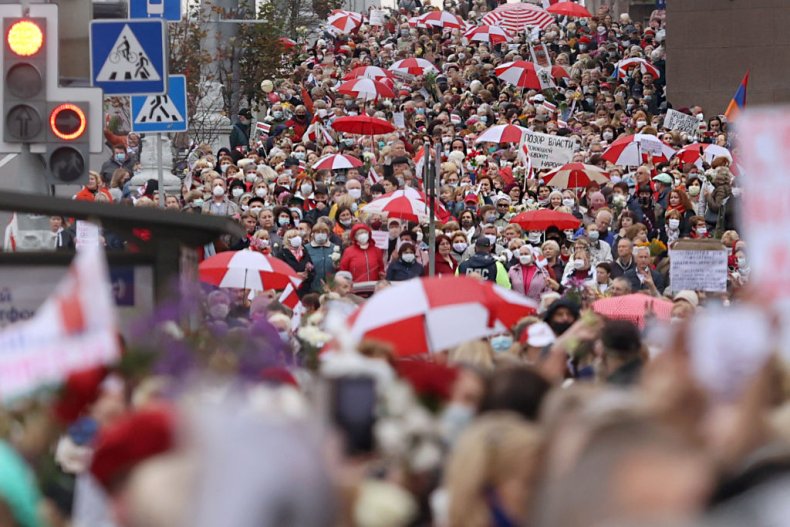 "The whole point of those [Telegram] channels is to identify criminals working for the regime, so most of the content is just posts with whatever personal information of those criminals we can find with [the] help of our insiders, and [a] description of their criminal actions," the anonymous activist told Newsweek. They rejected concerns that sharing the information could lead to violence against the police.
"First of all, the only acts of violence during the last several months of daily protests are coming from the police itself. Even the information we publish never ends up being used by vigilantes," the activist insisted.
Human Rights Watch reported in September that police "abuses" and "torture" were common amid the ongoing protests. "Heightened international scrutiny of Belarus is vital to discourage the authorities from further abuses and help victims in their quest for justice," the organization warned.
The anonymous activist said that she and others in the anti-Lukashenko movement understand that Apple has its policies, but argued that the company should look at the current situation to understand that it's not straightforward. "People of Belarus currently have absolutely zero legal ways to fight [this] illegitimate regime that was not accepted by leaders of [the United States] and [the] European Union," they said.
Martynova said that security forces were using their own channels to publish information about protesters. "It turns out they can, but we can't? My personal data is posted on many of them," she said
The European Union and the U.S. have sanctioned prominent officials within Belarus' government, while also calling for new free and fair elections. Meanwhile, the Belarus Interior Ministry said over the weekend that security forces "will not leave the streets and will use, if necessary, special equipment and combat weapons" if necessary. In August, police admitted publicly that they had fired "warning shots" and that "firearms were employed" against protesters. But demonstrators have continued to flood into the streets, despite more than 700 being detained on Sunday.
Stepan Svetlov, an activist who manages a Telegram channel, told The Guardian in September that he and others see the doxing as vital to holding the regime accountable.
"Policemen are scared to show their faces and they hide behind masks. People are very negative towards these people now, and will tell all their neighbors and friends that they are living alongside evildoers," Svetlov said. But the activist also suggested that some Belarusians may feel the need to become vigilantes if the regime's actions do not change.
"If they start kidnapping and killing people, then the killers will not be able to feel comfortable even in their own apartments. If the state cannot be responsible for dispensing justice, then ordinary people may take this function into their own hands," he said.
Martynova said that "violence can only take place" against the police if the patience of Belarusian demonstrators is worn out. "At the very least, the militia forces will begin to fear the public [if their identities are revealed]," she said.
Lukashenko—a close ally of Russian President Vladimir Putin—admitted in early September that he may have been holding on to power for "too long." But he insisted that his role leading the former Soviet Union nation was necessary.
"Yes, perhaps, I've sat [in the presidential chair] for a bit too long maybe, I'm shown not only on TV, but on irons and kettles as well. But truthfully I'm the only one who can protect Belarusians right now," he told a Russian journalist.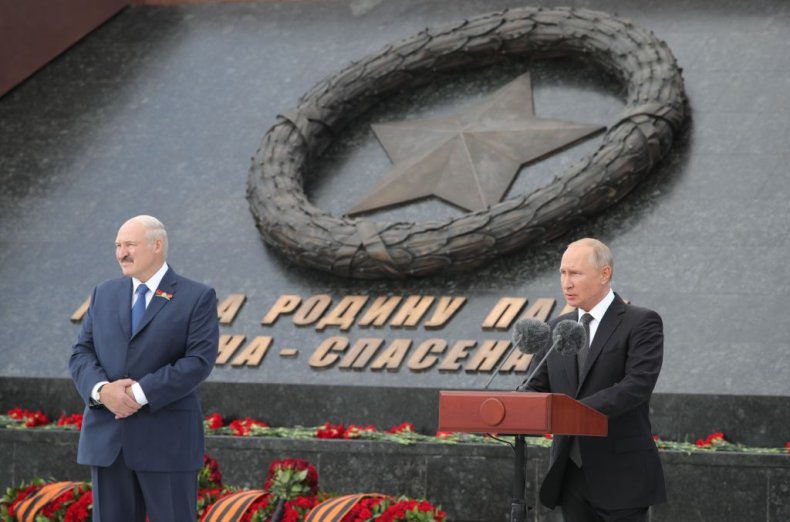 A petition was launched on Change.org, urging Apple to reconsider its position regarding the content being shared within the Telegram channels.
"To make it short, there are no working laws in Belarus and so called police do whatever they want to express their brutality, from casual beatings of random people to torture, murder and rape of men, and women that participate in peaceful protests. The judges of Belarus [are] intertwined into this regime and never investigate such cases. That's why the only way to suppress this police brutality is to make [the] actions of those criminals public. Another very important role of such channels is gathering and archiving all information related to the crimes against our people, so it could be used as evidence in courts of Belarus after the fall of [this] dictatorship regime," the petition, which has been signed by nearly 22,000 people as of the time of writing, says.
"We just ask [Apple] to not block our will for eventual justice," the anonymous activist who spoke to Newsweek said.