What Is Apple's 'Magic Toolbar'?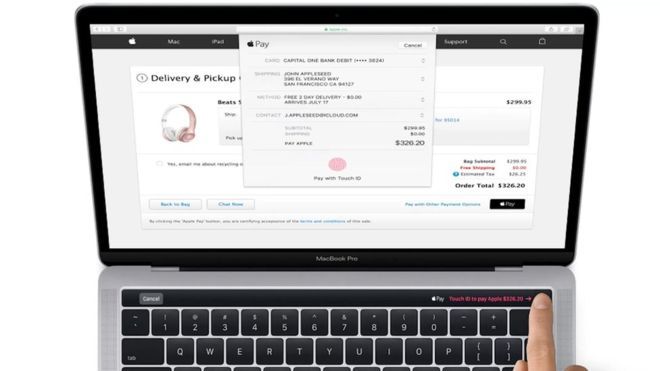 Apple is set to unveil its next-generation laptop later today but images of the new Macbook Pro have been "accidentally" leaked by the Cupertino company, revealing an unusual feature.
The photos, which were included in a recent update to the MacOS operating system, appear to confirm rumors that the computer will come with a panel above its keyboard—expected to be called the Magic Toolbar.
The Macbook Pro's panel acts as a second mini-display complete with touch-sensitive text and graphics that replace the physical function keys.
The Magic Toolbar also appears to feature a fingerprint scanner, which would allow users to securely confirm payments through Apple Pay.
The rest of the device's design seems to be similar to previous MacBook models in the images released, while other rumors suggest the laptop will be thinner and lighter than its predecessors.
If the latest leak has come from within Apple, it would not be the first time the company has given out secret product details ahead of a launch.
Before the unveiling of the iPhone 7 in September, Apple tweeted a video that contained details of its flagship device. The video was deleted soon after it appeared.
Apple will be hoping the updated MacBook Pro, as well as a new 13-inch MacBook Air, will revitalize flagging Mac sales.
Earlier this week, Apple announced a drop in annual revenue for the first time in 15 years.
Apple's event will take place at 10am PDT in San Francisco and will be livestreamed online using Apple's HTTP Live Streaming (HLS) technology.