Apple and Google Remove Anti-Putin Voting App on Day of Russia Election
Apple and Google have removed a tactical voting app linked to Alexei Navalny from their stores, according to the team of the jailed Kremlin critic, in a move branded an act of "political censorship" as Russia goes to the polls.
The Kremlin had been urging the tech giants to remove the app linked to Navalny's FBK organization—which was outlawed as an "extremist" group by a Russian court in June.
The app promotes a "smart voting" strategy in which voters coalesce around candidates running against Kremlin-friendly contenders in the three-day parliamentary election that starts on Friday.
The software had raised the ire of the authorities, who accused the tech giants of meddling in internal Russian affairs and pointed to its link to FBK.
A Navalny ally, Leonid Volkov, wrote on encrypted messaging app Telegram that the voting tool had been removed on Friday morning after the tech giants had "caved in to the Kremlin's blackmail." He added: "This shameful day will remain in history for a long time."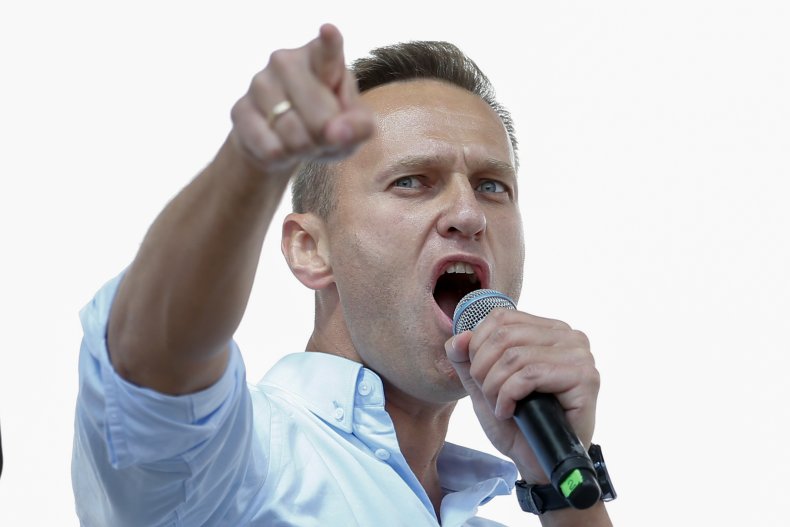 Independent Russian media outlets have also reported the removal of the app. Meduza said it remained available to users outside Russia. However, according to The Moscow Times, some users in the country have reported that they can still access the software.
Apple has also disabled its Private Relay feature, which hides a user's IP address, in Russia, reported internet monitors.
Newsweek has contacted Google and Apple for comment.
Other Navalny allies expressed their anger at the reports. FBK director Ivan Zhdanov tweeted: "Removing the Navalny app from stores is a shameful act of political censorship. Russia's authoritarian government and propaganda will be thrilled."
He later tweeted a statement that appeared to show the formal grounds for the decision to remove the app. According to the statement, the app "violates the legislation of the Russian Federation by enabling interference in elections."
Navalny's press secretary Kira Yarmysh tweeted that the decision was a "huge disappointment," adding: "This is an act of political censorship and it can't be justified."
Navalny's lawyer Lyubov Sobol tweeted that the Google and Apple employees "were threatened with criminal cases," describing the move as "nothing more than state terrorism."
Ahead of the election, which runs until Sunday, pressure had been building for weeks on Apple and Google, whose representatives attended a meeting of Russia's Federation Council Commission on the Protection of State Sovereignty on Thursday, Novaya Gazeta reported.
Vadim Subbotin, deputy head of communications regulator Roskomnadzor, said his government was considering imposing fines "on those companies that systematically violate" its demands, Reuters reported.
The clampdown on Russia's opposition has gathered momentum since the jailing of Navalny earlier this year. Russia has faced U.S. sanctions since his poisoning with the nerve agent Novichok and his subsequent jailing for allegedly violating parole conditions from a 2014 embezzlement charge.