iPhone Factory Workers Clash With China's Riot Police Over COVID Fears
Workers at Apple's largest iPhone plant in central China have clashed with hazmat suit-wearing riot police over dire living conditions inside a strict COVID-19 bubble, social media images showed.
A series of videos being posted and censored on websites including Weibo, as well as on streaming apps Kuaishou and Douyin, showed several hundred workers streaming out of their dormitory buildings in Zhengzhou, the capital of Henan province dubbed "iPhone City."
The site belongs to Taiwan-headquartered Foxconn, which hired tens of thousands of temporary assembly line staff last week after a mismanaged COVID outbreak led to an exodus at its factory, whose more than 200,000 workers build devices for Apple and tech products for the likes of Google, Microsoft and Amazon.
China is the only major economy still attempting to stamp out every infection as part of its approach called "dynamic zero COVID," a policy that's being put to the test as the country faces record case numbers heading into winter.
Disruptions caused by snap lockdowns throughout China, including in Zhengzhou, have put serious strain on Apple's ability to meet holiday demand for its latest iPhone 14 models.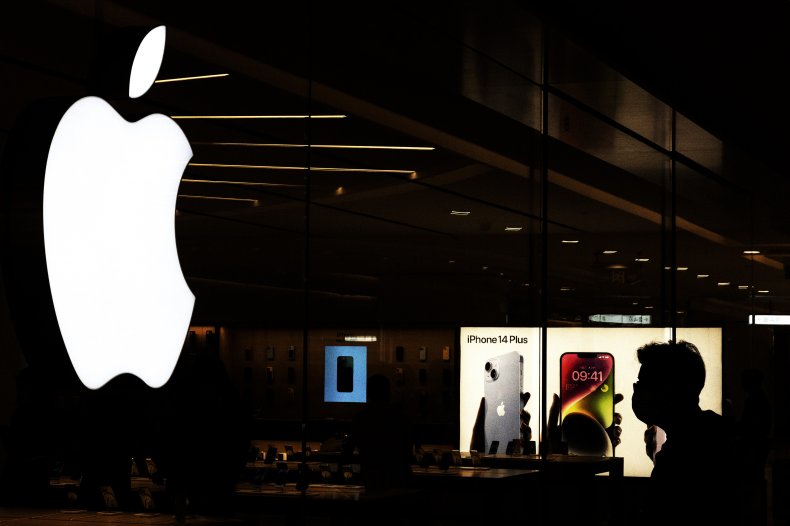 Footage shared to Twitter showed large-scale protests breaking out overnight and continuing into the day. Crowds of workers were seen pushing past barricades and clashing with officers wearing protective equipment and wielding riot shields and batons.
A number of demonstrators appeared to have been isolated on the streets and beaten by the riot police sent in to restore order, the videos showed, but Newsweek couldn't independently verify the exact time and location they were filmed.
The content of the clips suggests Foxconn workers went on strike after they were placed in crowded dorm rooms with little separation despite an ongoing COVID outbreak. The poor quality of food and unfulfilled bonus payments were also issues.
Rioters protested having to work alongside allegedly infected individuals, their concerns apparently stemming not from fear of infection, but from the likelihood of unpaid wages if they test positive and are forced into quarantine.
Local authorities couldn't be reached for comment. In a public statement late on Wednesday, Foxconn confirmed "violence" had taken place at its industrial park in Zhengzhou, and said it would communicate with its employees and the government "to prevent similar incidents from happening again."
The assembler said all bonuses would be fulfilled according to employment contracts and denied healthy and infected workers had been arranged to stay in the same living quarters. The dormitories were disinfected and inspected by the government before new staff members moved in, it said.
Top-Down Messaging
Zero COVID is Chinese leader Xi Jinping's signature public health strategy, a policy that kept the virus at bay for two years, but which has been stress-tested in 2022 by the highly transmissible Omicron variant.
To sustain the public's acquiescence, the Chinese government's messaging about COVID has remained one of the virus as a seriously life-threatening disease, and likely to cause widespread deaths and long-term effects if allowed to spread in local communities.
These fears contributed to the thousands of Foxconn workers choosing to flee the plant, many on foot, since late October. The chaos in Zhengzhou, where 70 percent of the world's iPhones are made, directly threatened Apple's supply.
"COVID-19 restrictions have temporarily impacted the primary iPhone 14 Pro and iPhone 14 Pro Max assembly facility located in Zhengzhou, China," the Cupertino tech giant said in early November.
Wary of losing one of the province's biggest customers—Apple has already begun diversifying its supply chain toward India—officials in Henan signed up tens of thousands of local cadres, including lower-level Communist Party officials from nearby villages and towns, to help fill the manpower gap.
Yang Han, a Foxconn executive, told China's state-run business news site Yicai that more than 100,000 people responded to the recruitment drive.
"The next step is still to maintain proper epidemic prevention at the industrial park. It's been a tough time," she said, noting that the company was "grateful to the government."
China's vaccination rate is high; around 90 percent of its 1.4 billion people have had at least two doses. Although Chinese shots remain largely untested against large-scale infections without lockdowns, national statistics suggests the current infections aren't as deadly as officials portray.
The country has reported tens of thousands of new cases each day as part of the COVID wave, its largest of the pandemic so far and likely to surpass figures from the Shanghai outbreak this spring. But serious and critical cases remain rare, and on Monday its seven-day average deaths was one.