"Apple company CEO Tim Cook agreed to pay the Chinese essentially a $275 billion extortion payment to make sure that Apple would no longer run afoul of various Chinese economic regulations," trade expert Alan Tonelson said last week.
Tonelson was referring to the news, first reported on The Information site, that Cook had in 2016 signed a five-year, 1,250-word memorandum of understanding with China's National Development and Reform Commission. The deal required the Cupertino-based company, among other things, to help Chinese companies develop "the most advanced manufacturing technologies."
"It used to be technology transfer for market access, but it seems that it's grown in terms of what needs to be given away and how companies need to basically toe the party line," said Jonathan Ward, the author of China's Vision of Victory, to CBS Eye on the World's John Batchelor. "And this isn't just true of Apple. It's true of many, many other iconic American companies."
The United States has a problem: Its companies are supporting a hostile state bent on destroying America. China's regime in May 2019 declared a "people's war" on the U.S. and every day issues venomous words about Washington.
American companies, however, pretend not to notice, often acting as if they are more loyal to Beijing than to Washington.
The Chinese regime, as a result, now feels so emboldened that it demands the unreasonable. For instance, at China's insistence, Apple on its maps showed islets in the East China Sea as larger than they actually are. The features, the Senkaku Islands, are claimed and in fact controlled by Japan, but China nonetheless demands Tokyo surrender them. China's map demand of Apple is the updated version of an infamous Qin Dynasty loyalty test of "calling a deer a horse." From Beijing's point of view, Apple, by accepting China's distortion, passed with flying colors.
It's not just Apple. Beijing is now weaponizing American companies across the board, requiring them to support its various positions. In November, the Chinese embassy in Washington sent letters to U.S. businesses rallying them to oppose legislation pending in Congress.
Beijing is making a concerted effort to mobilize American companies. "It's good to enjoy the shade under the big tree," Vice Foreign Minister Xie Feng told U.S. firms on November 30. "Conversely, if the relations between the two countries deteriorate, the business community cannot 'make a fortune in silence.'"
Cook is not silent. "I think we have a responsibility as a business to do business in as many places as we can because I think business is this huge catalyst," he said last month. "I believe in what Tom Watson said: 'world peace through world trade.' I have always believed that."
The Apple CEO is espousing an argument that would have required companies to do business in the 1930s, and even the early 1940s, with the Third Reich. Cook's promotion of Watson's view is reprehensible. IBM's Watson, after all, helped Hitler's regime count Jews.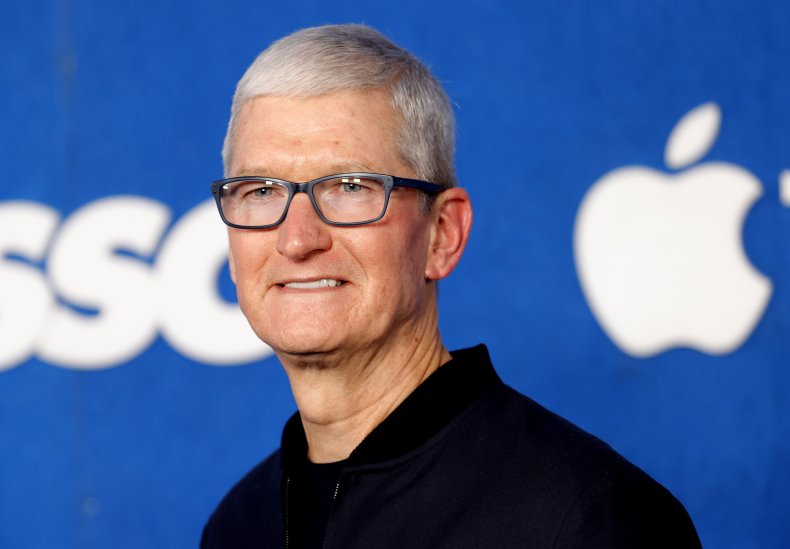 Cook is also guilty of collaboration with a genocidal ruling group. Apple, as reported by The Washington Post, had been lobbying against legislation holding companies responsible for using forced or slave labor from the Xinjiang Uygur Autonomous Region. Beijing opposed the bill.
"Apple has zero tolerance for forced labor," said Apple spokesman Josh Rosenstock. "Looking for the presence of forced labor is part of every supplier assessment we conduct, including surprise audits."
As Jonathan Bass told Newsweek, "supplier assessments"—factory inspections—are designed to provide cover to foreign companies that know they are benefiting from atrocious labor conditions. "I decided I had to move manufacturing from China when I visited a factory cafeteria and dormitory there about a decade ago," said Bass, the CEO of Whom Home, a home furnishing company. "I could not look the other way. The conditions were horrible." But the factory in question regularly receives passing grades from inspectors, Bass notes.
Apple's labor auditors have been obviously looking in wrong directions. Long-time subcontractor Lens Technology is one of at least five Apple suppliers accused of using forced Uyghur labor.
Lens Technology, on a widespread scale, was using racial minorities under conditions suggesting slavery. Is it any surprise, then, that Apple opposed Xinjiang labor legislation in Congress?
The issue goes beyond working conditions. "If you're a technology company in China, there's no doubt that some of what you're doing to improve their R&D, to improve their advanced industries and emerging technologies will wind up utilized against the United States by the Chinese military," says Ward. China has a policy of civil-military fusion, which means the People's Liberation Army has access to everything nominally civilian companies possess.
In short, American companies have become the arsenal of totalitarianism.
Palantir Technologies CEO Alex Karp believes companies working with China or America's adversaries should disclose and defend their actions. He is absolutely correct. The U.S., which finds itself in a wartime struggle with China, cannot protect itself unless its companies and financial institutions are on its side.
"So there's a lot of turning of the aircraft carrier that needs to happen here," Ward told CBS's Batchelor. "The national security aircraft carrier has turned, the congressional aircraft carrier has turned, but the private-sector piece of American power needs to turn to the right side of history."
Apple, unfortunately, is playing for the wrong side.
How do we know this?
Apple tried to keep its five-year China deal a secret.
Keeping its arrangement a secret, Apple chose to become an instrument for America's enemy, and Cook has become its spokesman.
Gordon G. Chang is the author of The Coming Collapse of China. Follow him on Twitter: @GordonGChang.
The views expressed in this article are the writer's own.