Approval for Trump's Handling of Coronavirus Outbreak Sinks to Record Low
President Donald Trump has received his lowest marks yet for his handling of the coronavirus outbreak, with net approval of his leadership on combating the pandemic down 22 points, according to a new Morning Consult poll.
Of 1,984 registered voters surveyed between April 24 and 26, 51 percent said they did not approve of Trump's handling of the outbreak, compared with 43 percent who said they did approve.
As a result, the net approval for Trump's performance, which is determined by deducting the share of those who disapprove from the share who do approve, sat 8 percentage points "underwater," Morning Consult said in a breakdown of its findings.
The negative net approval rating represents a 22-point drop since March 17-20, when a Morning Consult poll found broader support for the president's handling of the coronavirus outbreak.
In the new poll, which had a 2-point margin of error, 41 percent of voters said they "strongly" disapprove of Trump's coronavirus response, which is up 13 points since the mid-March survey.
Meanwhile, the share who strongly approve of the president's handling of the outbreak dropped 7 points.
The record low levels of support come as the president continues to face backlash over his recent remarks suggesting that injecting patients who test positive for coronavirus with disinfectant could be helpful.
In the wake of the president's comments, the U.S. saw a spike in calls made to poison control centers in at least four states.
Meanwhile, leading disinfectant producer Reckitt Benckiser (RB) issued a statement warning consumers not to inject or ingest their products.
"As a global leader in health and hygiene products," the statement read, "we must be clear that under no circumstances should our disinfectant products be administered into the human body (through injection, ingestion or any other route)."
Former Vice President Joe Biden, the presumptive Democratic nominee in the 2020 presidential race also urged people not to "drink bleach."
"I can't believe I have to say this," Biden wrote in a tweet, "but please don't drink bleach."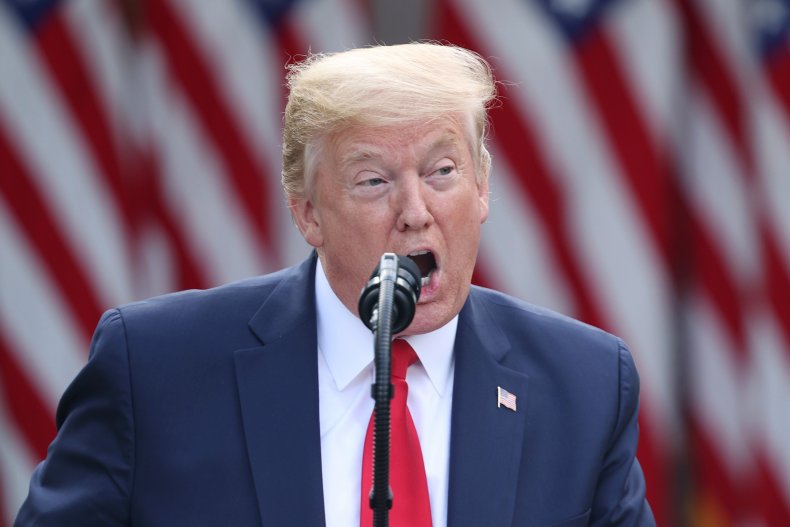 Trump has defended his comments, saying he was being sarcastic when he suggested that chemical disinfectants could be taken internally to treat coronavirus.
"I was asking a question sarcastically to reporters just like you to see what would happen," Trump told reporters on Friday after they questioned him on his statements.
Asked whether or not his comments were encouraging Americans to risk consuming disinfectants in a bid to treat the virus, the president said: "Of course not."