'Fortnite' Adds Stonks Guy Skin and Other April Fool's Day Gaming Jokes
April Fool's Day is always an interesting time in the world of gaming. Gaming announcements made on the first of April always keep fans on their toes as they try and figure out what's real and what's not.
Some April Fool's jokes are more far-fetched than others, of course, like The Legend of Zelda television series that was announced years ago.
This year, the gaming world was treated to a legit new skin in Fortnite, announcements for fake games and a sports drink flavor inspired by a certain blue hedgehog.
Here are some of our favorite April Fool's Day gaming jokes in 2021.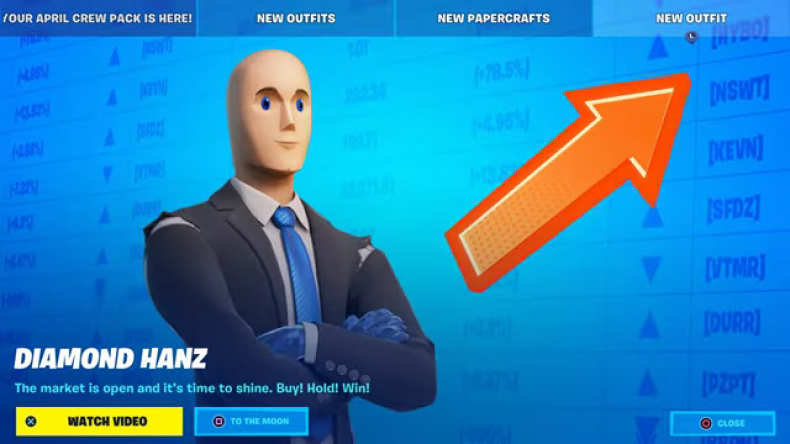 FORTNITE ADDS "STONKS" GUY
This bit of April Fool's news involves the popular battle royale game, Fortnite.
Epic Games has actually added a new skin for fans to purchase, and it's definitely meme-tastic. Welcome Diamond Hanz to Fortnite, who is modeled after the "Stonks" guy meme.
For 1200 V-Bucks, which is Fortnite's in-game currency, players can really dress up as the "Stonks" guy while they take out opponents. With "stonks" becoming popular in the aftermath of the GameStop stock rush, this skin gives Fortnite players the chance to dunk on their foes and feel like a Wall Street bro while doing so.
ZOOM ROYALE
Speaking of Battle Royale games, IGN wants you to get familiar with the newest entry in the genre.
The completely bogus "Zoom Royale" tests your Zooming skills and online etiquette as you go up against your friends, family and coworkers to determine who is the best user of Zoom.
Talking while on mute? You'll lose points. Grabbing a delivery in the middle of a meeting? Points lost. And don't even think about not wearing pants during a Zoom call, that's an automatic out.
Check out the trailer for "Zoom Royale"—which, again, is a gag—below.
NEWEGG HYDRATOR GAMING PC
If you're looking for a new PC that will keep you hydrated during hours of gaming, Newegg has the perfect setup for you.
The (totally made-up) Hydrator Drink and Beverage Dispenser Work and Gaming PC is up now on Newegg's site for a robust, and oddly specific, $10,010.01. According to the listing, the imaginary PC comes with the following features:
Over 1200ml fluid capacity
More than 100 pre-programmed mixed beverages
Includes 12 BevroDrink™ Liquidient canisters
11th Gen Rocket Lake CPU
Wood-E Droid 2.0 Raspberry Pi-powered mixologist
Light-metal, Heavy-water
Overclock mode for warm beverages
RTXologist Certified
Mostly non-toxic
Windows 10 Taproom
As seen in nature
There's plenty more to the fictional Hydrator PC, but we'll let Newegg walk you through it.
G-FUEL'S "SANIC"-INSPIRED CHILI DOG FLAVOR
If you still need to have your thirst quenched, just know that G-Fuel is teaming up with Sega to put out a new chili dog-flavored beverage based on Sonic the Hedgehog's favorite food.
The flavor's name, though, actually mentions "Sanic," the poorly drawn cousin of Sonic who endures as a meme.
So, is this a real flavor or just a joke? You'll have to find out by signing up for G-Fuel's waitlist to get a chance to purchase the beverage. There's a limit of one purchase per customer and it will only ship to the U.S. and Canada.
Which of the following April Fool's Day gaming jokes tickled you the most? Let us know in the comments section.