'Aquaman' Fans Replace Amber Heard With Camille Vasquez in New Petition
More than 2,000 people have signed a petition to get Johnny Depp's lawyer, Camille Vasquez to replace Amber Heard in the upcoming Aquaman sequel.
"Although Amber is a 'credible' actor and has actually demonstrated it on many occasions, not just in films or 'perhaps' on the stand," the change.org petition stated. "If Camille is half the actor she is as a lawyer this will be an absolute blockbuster of a film."
As of publication time on Wednesday, the petition has received 2,315 signatures.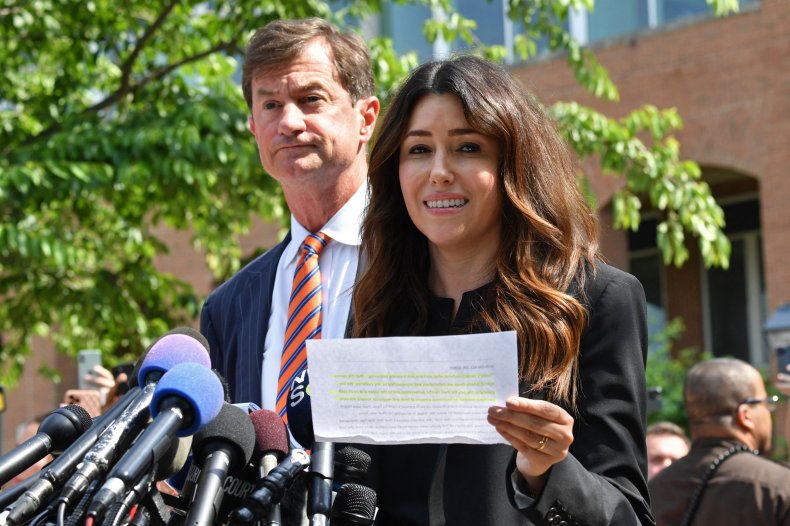 On Wednesday, the jury came to a verdict in the ongoing trial between Heard and Depp. The two were married from 2015 to 2017. In 2018, Heard published an op-ed in the Washington Post claiming that she was a victim of domestic violence and although she never named Depp in the article, the Pirates of the Caribbean actor claimed that it damaged his career. In response, Depp filed a defamation lawsuit against his ex-wife for $50 million and Heard eventually filed her own counter-lawsuit for $100 million.
The jury awarded Depp $15 million, which included $5 million in punitive damages and $10 million in compensatory damages. Heard was also awarded $2 million for compensatory damages.
Another petition calling for Heard to be removed from the Aquaman sequel has received nearly 4.5 million signatures.
"Remove Amber Heard from Aquaman 2," the petition is titled.
"Amber Heard has been exposed as a domestic abuser by Johnny Depp. In his $50 million lawsuit, Johnny Depp describes many incidents of domestic abuse that he suffered at the hands of his (then) wife Amber Heard," the petition stated. "As Amber Heard is a known and proven domestic abuser, Warner Brothers and DC Entertainment should and must remove Heard from their Aquaman 2 film project. They must not ignore the suffering of Heard's victims, and must not glamorize a domestic abuser."
The petition's description continued, "Men are victims of domestic abuse, just like women. This must be recognized, and action must be taken to prevent a known abuser from being celebrated within the entertainment industry. Do the right thing. Remove Amber Heard from Aquaman 2."
Heard starred in the first Aquaman film alongside actor Jason Momoa.
During the trial, Heard spoke about her role in the Aquaman sequel and said that she "fought really hard to stay in the movie," following the ongoing controversy in response to her op-ed and the trial.
"I was given a script and then given new versions of the script that had taken away scenes that had action in it," she said. "That depicted my character and another character—without giving any spoilers away, two characters fighting with one another. They basically took a bunch out of my role. They just removed a bunch."
Updated 06/01/2022, at 5:36 p.m. ET: This story has been updated with additional information and background.