On May 18, the day 17-year-old school shooting suspect Dimitrios Pagourtzis allegedly opened fire at Santa Fe High in Texas and killed 10, a graphic made the rounds on Twitter. It listed several high-profile shootings, including Santa Fe. Next to the names: "AR-15," a semi-automatic assault weapon celebrated as "America's rifle" by the National Rifle Association.
One problem: Pagourtzis, as confirmed by Texas Governor Greg Abbott in a press conference, is accused of using a shotgun and a .38 revolver, not an AR-15, in the Santa Fe shooting.
This isn't the first time a mistake concerning the AR-15 has been made after a school shooting. As Slate detailed, in the aftermath of the Sandy Hook Elementary School shooting in Newtown, Connecticut, in December 2012, there was debate about whether gunman Adam Lanza used an AR-15-style Bushmaster or two handguns to kill 26. A YouTube video supposedly showed the rifle left unused in Lanza's car trunk. The Connecticut State Police, however, confirmed to Slate that the shooter employed the Bushmaster on his victims and a handgun on himself.
In the case of Santa Fe, there was little confusion about the weapons after the press conference. But if an AR-15 or AR-15-style gun wasn't used there, how often are the weapons at the center of other school shootings?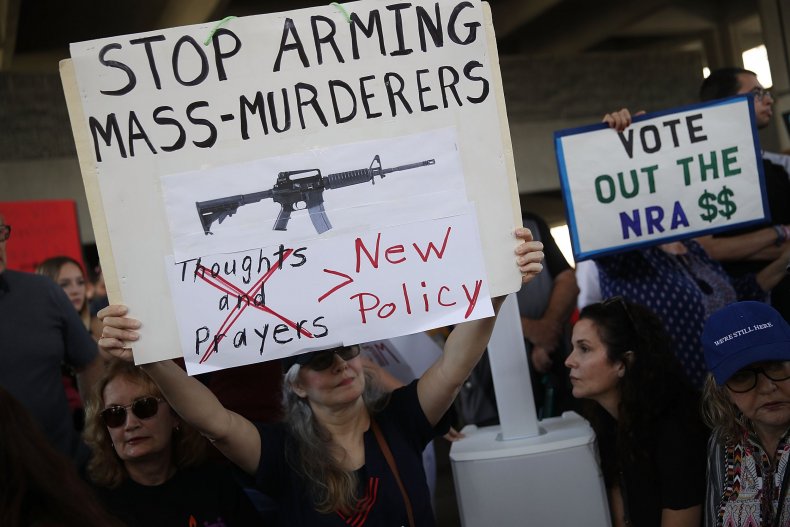 Newsweek looked at 24 school shootings that have taken place in 2018, calling police departments, and pulling from local news outlets and CNN data, last updated on May 25, to determine how many might have involved an AR-15 or similar gun.
Seven police departments either didn't return a request for comment or couldn't release information about the firearm used in a particular shooting. Many incidences involved handguns. In a school shooting that took place on May 25 in Noblesville, Indiana, a student at Noblesville West Middle School asked to leave class and then returned with two handguns. One teacher and one student were shot before the school resource officer and police arrived on the scene and took the suspect into custody.
Out of 24 school shootings, Newsweek found, there were at least three that reportedly involved similar semi-automatic rifles, one specifically an AR-15-style.
Nikolas Cruz, the shooter accused of killing 17 at Marjory Stoneman Douglas High School in Parkland, Florida, on February 14, used an AR-15-style weapon. Cruz legally purchased the Smith & Wesson M&P 15 .223.
Another shooter, a 14-year-old accused of firing a gun at Highland High in Palmdale, California, on May 11 and injuring one, used an SKS, a semi-automatic rifle. A spokesperson for the Bureau of Alcohol, Tobacco, Firearms and Explosives told Newsweek that an SKS has some characteristics similar to AR-15s, like detachable magazines and stocks that can be shortened or lengthened. Under the California attorney general's guide to assault weapons, which is being revised, an SKS is considered an assault weapon if it has a detachable magazine. A spokesperson for the Los Angeles County Sheriff's Department told Newsweek that the ATF was still investigating the origin of the gun used in the May 11 shooting and did not know if the weapon had this modification.
A third shooter, 19-year-old Matt Milby, fired a 9 mm semi-automatic rifle at school resource officer Mark Dallas near the gym at Dixon High School in Illinois on May 16, according to local news outlet WQAD. Students in the gym were practicing for commencement exercises. Dallas returned fire and struck Milby, who was hospitalized with non-life-threatening injuries. No one else was hurt.
Related: Why Texas school shooting suspect Dimitrios Pagourtzis won't face the death penalty
Why the confusion that sometimes surrounds the AR-15? One possible explanation: Guns are puzzling if you're not familiar with them.
The AR-15, developed with the Army in 1956 by the company Armalite, stands for "Armalite rifle," not "automatic rifle," as many think. That would be a misnomer, anyway, because the weapon doesn't fire automatically, also as many think. It's a semi-automatic, firing one shot per trigger pull.
Another myth that gets passed around: The AR-15 is a military-grade weapon. That would be the M-16, which looks a lot like an AR-15 and is typically called an assault rifle. Preferred terms vary, but the AR-15 is sometimes called an assault weapon, signaling that it's the civilian version. Often, the AR-15 is referred to as a "military-style" carbine, a lightweight firearm with a shorter barrel.
Even if you are familiar with firearms, confusion still happens. After the June 2016 shooting at Pulse nightclub in Orlando, Florida, that left 49 dead, Police Chief John Mina said shooter Omar Mateen had used an "AR-15-type assault rifle." As The Washington Post reported, officials clarified that Mateen had used a Sig Sauer MCX rifle, which is similar.
But as the Post pointed out, a Sig Sauer MCX is as potentially deadly as an AR-15-style weapon. AR-15-style weapons fire at a high velocity, and the wounds they leave are often deadlier than those from a regular handgun.
As one radiologist who treated victims of the Parkland massacre wrote for The Atlantic, a bullet fired by a typical handgun lacerates an organ. In this case, a gunshot from an AR-15-style weapon shredded an organ of one victim, and the injury proved fatal. The degree of injury is likely one of the reasons the topic of banning the AR-15-style guns pops up after school shootings, regardless of whether they were used.
Another reason: The weapons, even though they weren't used in Santa Fe or Orlando, were at the center of some of the highest-casualty mass shootings in recent history. Las Vegas shooter Stephen Paddock—who killed 58 in October 2017—had at least a dozen semi-automatic rifles that were modified to fire like automatics. And Sutherland Springs, Texas, shooter Devin Kelley, who left 26 dead one month later, used a Ruger AR-556.