AR-15s to Be Stored in County Schools to Protect Against Mass Shootings
A North Carolina school district has taken a controversial step to increase security in the wake of recent school shootings that have happened across the country.
On Friday, Madison County Schools in Western North Carolina announced that, in collaboration with the county sheriff's office, it would be outfitting every building in the district with an AR-15 assault rifle, according to the Asheville Citizen-Times. The move comes in response to the mass shooting at Robb Elementary School in Uvalde, Texas, in May, where a gunman killed 19 students and two teachers.
In the wake of the tragedy, a national conversation about gun violence and safety reemerged, with some advocating for stricter gun control laws and others pushing for stricter security in schools. Madison County Sheriff Buddy Harwood said that the decision was made to help his deputies be prepared to take action in the event of an active shooter situation in the district.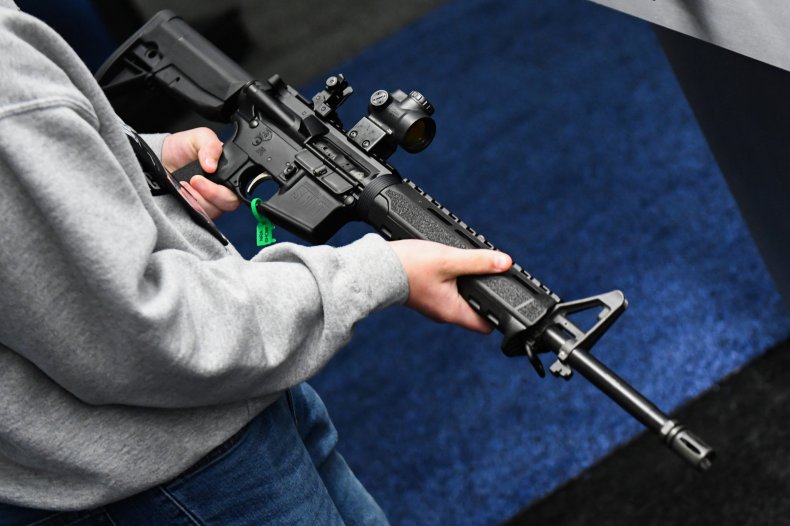 "Those officers were in that building for so long, and that suspect was able to infiltrate that building and injure and kill so many kids," the sheriff told the newspaper. "I just want to make sure my deputies are prepared in the event that happens."
In addition to the firearms, Harwood said that each school building in the district has been outfitted with a safe, which will store extra ammunition for the rifles. The safes will also be stocked with "breaching tools," which could be used in the event that a shooter has barricaded themselves in a classroom, as happened in Uvalde.
"The reason we put the breaching tools in the safes is that in the event we have someone barricaded in a door, we won't have to wait on the fire department to get there," Harwood said. "We'll have those tools to be able to breach that door if needed. I do not want to have to run back out to the car to grab an AR, because that's time lost. Hopefully, we'll never need it, but I want my guys to be as prepared as prepared can be."
Madison County Schools currently has six locations: Brush Creek Elementary, Hot Springs Elementary, Mars Hill Elementary, Madison Middle School, Madison High School, and Madison Early College High.
School District's Decision Receives Backlash
Gun safety experts and advocates have decried the decision in Madison County. Allison Anderman, senior counsel and director of local policy at the Giffords Law Center to Prevent Gun Violence, called the move "horrific" as a response to mass shootings, in a statement to USA Today.
"Where there are more guns, there is more gun violence," she said.
In a tweet, Shannon Watts, founder of Moms Demand Action, a gun safety advocacy group, also criticized the move, echoing Anderman's sentiment that more firearms are not the solution.
"What problem are these North Carolina sheriffs solving?" Watts wrote. "The hundreds of officers in Uvalde had access to AR-15s but chose not to engage a gunman with an assault rifle and a death wish. 'MORE GUNS' is not a solution - keeping guns away from kids/teens is."
Newsweek reached out to Madison County Schools for comment.