Meghan Markle Champions Mom-Led Gun Control Movement After Uvalde Visit
Meghan Markle has lent her support to a mom-led gun control movement following a private visit to the Texas town of Uvalde in the wake of a deadly school shooting in May.
The Duchess of Sussex sent a letter of support, dated June 22, to members of the Moms Demand Action movement, which was founded by activist Shannon Watts following the Sandy Hook school shooting in 2012.
In the letter, sent in a personal capacity, Meghan offered "a huge thank you for the work you are doing to keep our kids, families, and communities safe."
The letter, showing the royal's support for enforcing stricter controls on gun ownership in the United States, comes after it was announced via a spokesperson that Meghan made a private visit to Uvalde, Texas following the shooting at Robb Elementary school in her "personal capacity as a mother."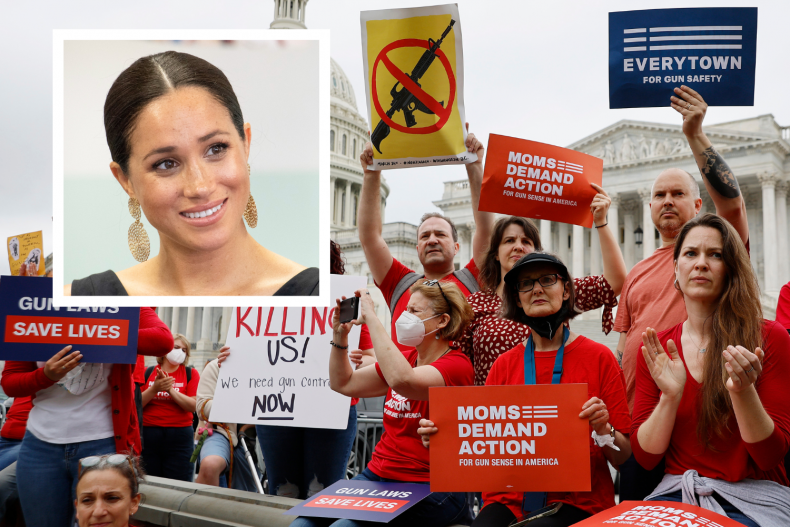 The shooting saw 19 children and two educators fatally shot by 18-year-old gunman Salvador Ramos and Meghan traveled to the town to offer her support in person to "a community experiencing unimaginable grief."
At the time of her visit, Meghan was accused of staging a PR stunt after photographs of her paying respects at a memorial to the victims were published.
Meghan's letter to Moms Demand Action was shared on social media by Shannon Watts, who after the Uvalde shooting released a statement reading: "We're devastated by this horrific act of gun violence that will forever traumatize the Uvalde community.
"School shootings are not acts of nature, they're man-made acts of inaction, of cowardice, of corruption by all lawmakers who refuse to pass laws proven by data to stop preventable, senseless shootings like in Uvalde. We cannot and will not accept a reality in which our children aren't safe in schools or their communities."
In the opening of her letter, Meghan referred to Watts as a "fearless leader" and added: "Please know that while you may feel exhausted by your endless hours of dedication to this cause, I hope you feel energized in knowing that the work you're doing is vital and so deeply appreciated."
The duchess then signed off with the line: "As a mom, as a friend, thank you so much!"
Watts posted the letter, to Twitter with the caption: ".@MomsDemand volunteers and staff have been working around the clock for weeks, so it was moving to receive such a supportive note - and snacks! - from the Duchess of Sussex today."
Moms Demand Action describe itself as a "grassroots movement of Americans fighting for public safety measures that can protect people from gun violence. We pass stronger gun laws and work to close the loopholes that jeopardize the safety of our families."
The organization has chapters across the United States and regularly contributes to the discourse surrounding gun control at a policy-making level.
Meghan has previously shown support for victims of gun violence. In 2018 she made a special visit to New Zealand House in London to sign a book of condolence for the 51 victims of shootings at two mosques in Christchurch.
The duchess is a keen supporter of women-led initiatives such as Moms Demand Action and her letter to the group follows reports that she sent a voice message to members of The Hubb Community Kitchen earlier this month.
This was one of Meghan's first solo charity partnerships after her marriage to Prince Harry and saw female members of the Kensington community come together to cook in support of those affected by the Grenfell Tower fire in 2017 .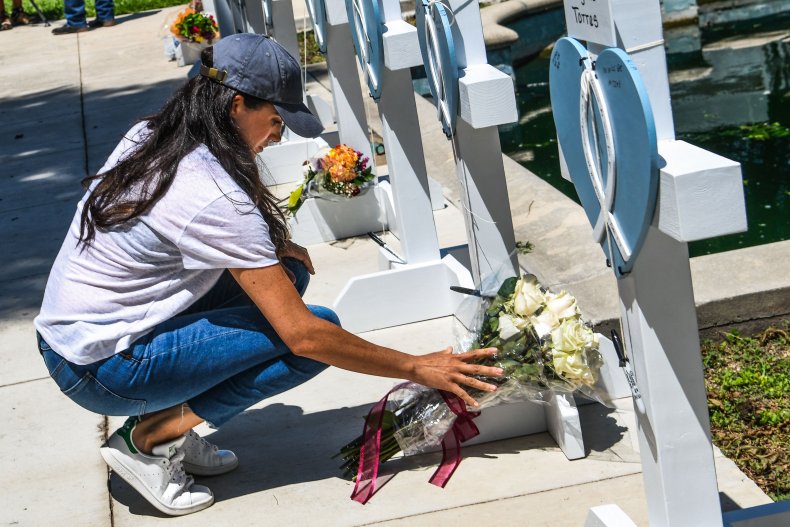 A message posted to the charity's social media channels this month revealed that, "today we received a lovely voice message from the Duchess, being the five years anniversary of the Grenfell tragedy, asking how we are, about our children and families and giving us news of hers. Just being her beautiful kind self."
Meghan's continued support of the community organization five years on from its founding comes after she reduced her official ties with the U.K. after stepping down as a full-time working royal in 2020 and ended her association as patron with the British animal charity The Mayhew Trust earlier this year.
Newsweek has reached out to Meghan Markle, Shannon Watts and Moms Demand Action for Comment.
Correction 06/23/22 4.50 a.m. ET: This story was updated to correct the date of the duchess's letter.