'Archer' Showrunner on Season 12, Archer's Coma and a New Bond-like Villain
Sterling Archer is back to show he's the world's greatest spy in the 12th season of Archer, which airs weekly on FXX from August 25.
Casey Willis, who has been working on the comedy since 2009 and is a showrunner and executive producer, spoke with Newsweek about what fans can expect for Archer and co. in their 12th outing, explaining that the new season is "building on" what was established in season 11.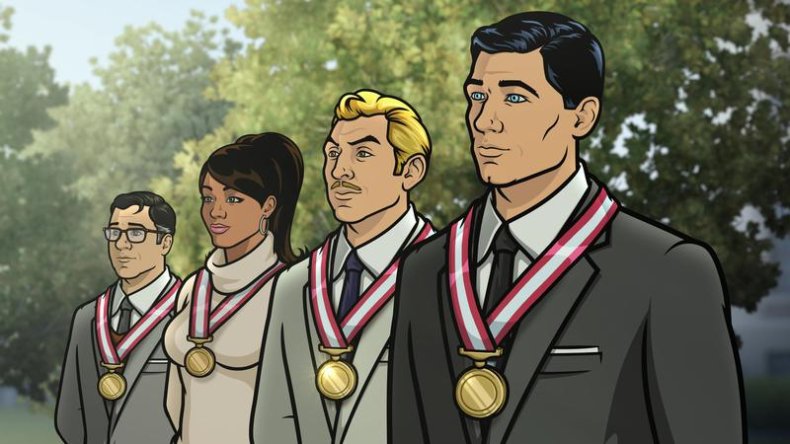 What Happened at the End of Archer Season 11?
The character, voiced by H. Jon Benjamin, has finally woken up following a three-season long coma, which was dramatically revealed at the end of season 10 and revisited in season 11.
In the last season, the animated series ended with Archer and his teammates hatching a dramatic plot to save the world.
"We try to jump off right from the end of season 11 because such a big event happens, and now our crew are trying to capitalise on the things that they achieved," he explained. "Archer is now fully back, and ready to work."
Willis has revealed things are only going to continue to go up from there. Here's what to expect from Season 12.
Archer's Journey
Archer has had an interesting journey over the last four seasons, with seasons 8 to 10 focusing on the dream sequences he had while in his coma, and season 11 finding him questioning his reality and seeing visions from that time, including Dr Krieger's season 9 parrot alter-ego Crackers.
But while this was something the Archer creative team tried to address throughout the course of the last season, Willis and his fellow writers have decided to put it to rest for now.
"The way we thought about it was that was the last gasps of that in his psyche, so him and his crew saving the world kind of shook it out of him so he's now solidly back," Willis said of the illusions Archer sees in season 11.
The spy was left in a coma after being shot at the end of season 7 and the injury has meant he now uses a cane as a mobility aid, though he's still very much at the top of his game.
Willis discussed the importance of representing disability through the character, saying it was "important" for him and the creative team to make it a part of Archer's storyline.
He reflected: "I think things like that are important and if we're showing it in any little type of way that's cool, plus it was a way to have Krieger (Lucky Yates) hide lots of cool stuff in the cane.
"Even though I say he's back, that's still the one vestige of this other thing that he went through. Having been in a coma for three seasons, maybe just one season wasn't enough to shake it.
"He still has this cane that's a security blanket with him, there's things we wanted to explore with it... Does Archer need the cane to kick a**? Or is it just something that he believes makes him kick a**?"
New Rivals
Season 12 also introduces of a brand new rival spy agency, the IIA (International Intelligence Agency), headed by Fabian Kingsworth, a Bond-like character voiced by Kayvan Novak.
Of the new villain, Willis said: "Another thing that we thought about in shaping this season was the idea of having an overall bad guy, in past seasons it's been Barry or someone like that, but when we explored Barry in season 11 his dynamic with Archer had changed a bit.
"So, we wanted to re-establish that, to have a season with an overall bad guy. But also, to have a bad guy that is everything Archer was and more, the ultimate gentleman spy."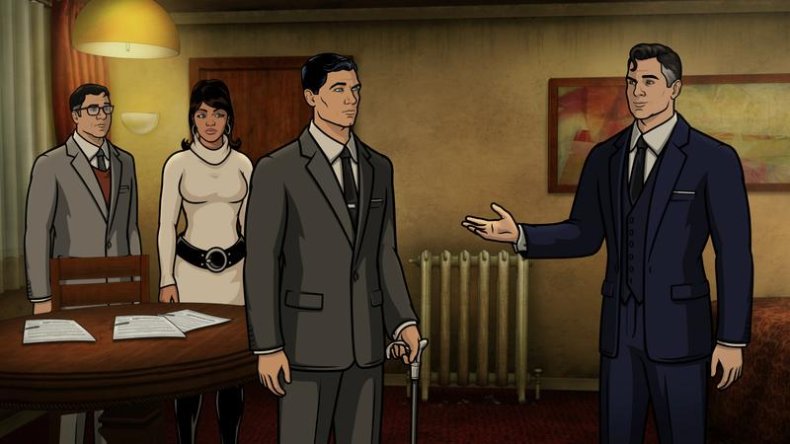 Of Novak, he added: "He's just great and he brought a lot to the character. I don't think I'm spoiling much by saying the IIA and Fabian will be around for a while."
Detailing Fabian's similarity to 007, Willis went on: "People have always compared that. What would happen if Archer met Bond? We kind of wanted that."
Lana and Archer's "Toxic" Romance
Of course, while the show is named after him, Archer is not the only spy in it as there's also Lana Kane (Aisha Tyler), Cyril Figgis (Chris Parnell), Pam Poovey (Amber Nash) and Cheryl Tunt (Judy Greer).
Lana and Archer have had an interesting relationship dynamic throughout the show, as the former flames have had an on-again-off-again romance for several seasons and even share daughter AJ together.
It was revealed in season 11, though, that Lana had married billionaire Robert, and things haven't been going well between them since Archer woke up from his coma.
Reflecting on their toxic romance, Willis claimed: "That's a good way to put it about the toxicity of them together romantically, and I think they both probably realise that but they're good together professionally.
"A lot of Lana's marital problems comes from Archer coming out of the coma, she was happy but now he's here and that's a lot of what we explored in season 11 too. So that's going to continue in this season as well."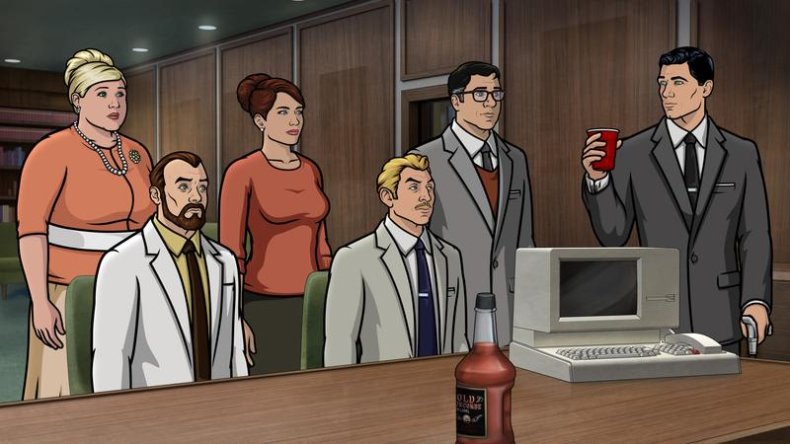 Keen to keep a tight lip on spoilers, Willis simply teased that the finale will give fans a chance to see a "side of Lana and Archer you haven't seen before."
What about Cyril?
Cyril has also been impacted by Archer's return, struggling to maintain his alpha male persona when his colleague won't even respect him as a leader.
Explaining what fans can expect of his character, Willis said: "I think we'll see Cyril settle back into the role he enjoys doing, but he's still going to be out there and enjoying missions.
"In the middle of the season we talk about this, Archer coming back was the catalyst to making Cyril revert back to what he was, and Pam tells him 'you've got to do something about this, you've got to be friends with him'. So, we see Archer and Cyril hang out and I really like it, it's a fun episode,"
New Cast and Writers
Reflecting on season 12 as a whole, Willis said: "There's a lot of stuff that I'm really proud of this season, we've worked with some people that have been on a bucket list of [actors] we've wanted to have on the show for a while. I don't know if I can say who they are yet so I'm going to keep that under wraps, so that's exciting.
"We also worked with a lot of new writers this season and I'm really happy with what they did, I'm excited for people to see what they've done. The third episode with Malory in London is a great episode with a new writer we worked with."
Archer premieres its 12th season with two new episodes airing back-to-back Wednesday, August 25 beginning at 10p ET/PT on FXX, streaming the next day via FX on Hulu.