Freezing Weather Threatens Lives of Homeless Americans as Shelters Nationwide Are Pushed Past the Limit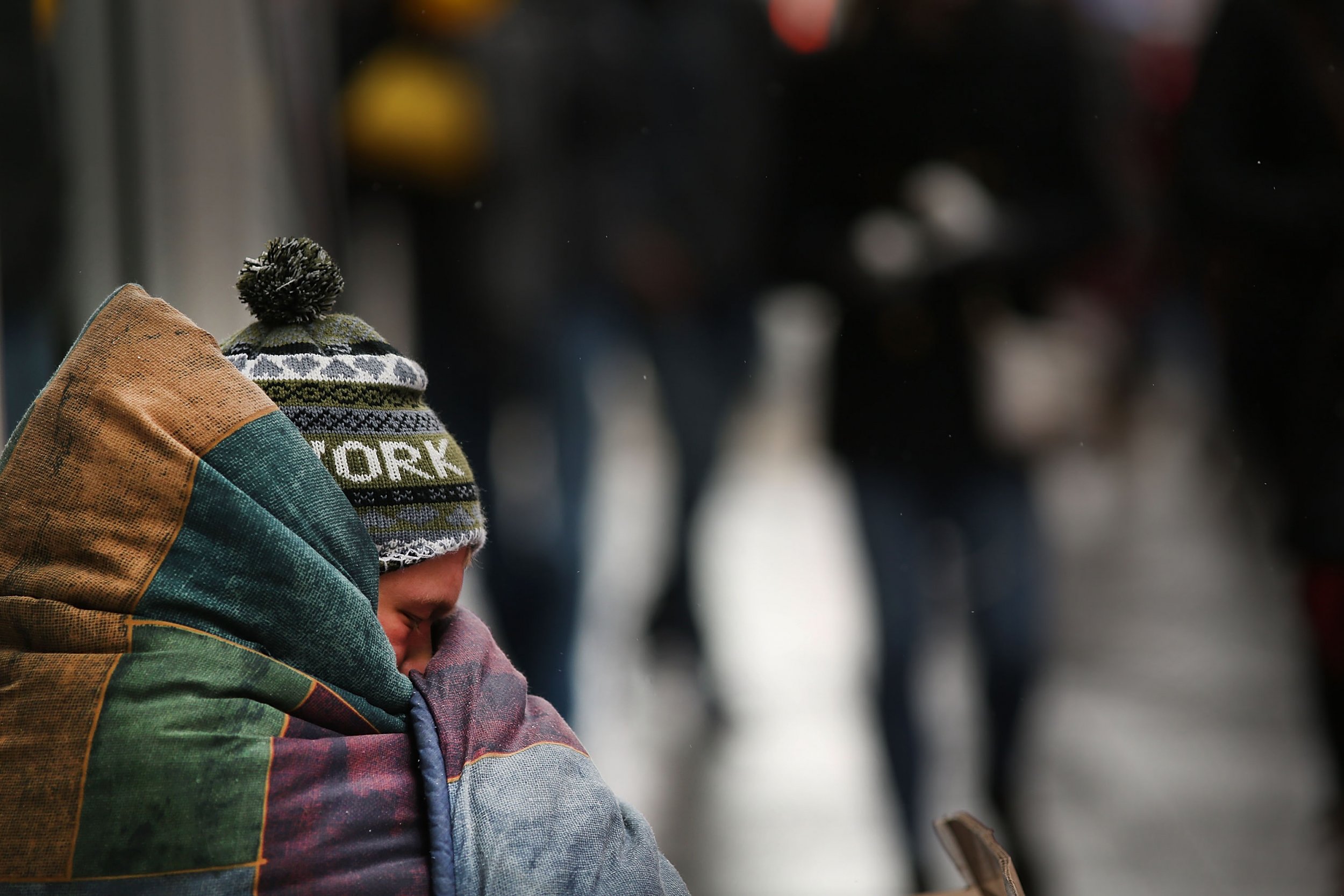 Fight for space or freeze on the streets.
That's the chilling choice that homeless people across the United States face this week as a deadly cold spell blows through the country, with shelters in major cities struggling to take in all of the people fending for survival in deadly cold.
"They want to help us but at the same time they're throwing us out into the cold," Anthony Roland Rodriguez, a homeless man living on the streets in New York City, told Newsweek about the shelters he has turned to lately. Rodriguez, 25, said Tuesday he would be braving the elements instead of going inside because he had recently been turned away from a New York shelter while looking for food. His hands were bloated and red, with an open sore on his knuckle as his fingers struggled to grip a pink lighter.
The extreme cold, which has already led to at least nine deaths in the past week, is pushing the capacities of shelters nationwide. In Boston, one 760-bed homeless shelter reported being over capacity by more than 100 people last week when the wind chill was more than 10 degrees below zero. Shelters in Houston and Tulsa are also reporting overcrowding, but are still asking people to come inside to avoid freezing to death. On January 1, 2018, more than 60,000 individuals slept in New York City shelters.
Cities including Boston, New York, Baltimore, and Houston have issued Code Blue or similar cold weather alerts warning local officials about temperaures dropping below freezing and wind chills plummeting below zero degrees Fahrenheit. But the dire situation in shelters has left some homeless people thinking they're better off bracing the cold.
"I have more faith in myself that I can survive on my own," Rodriguez said. "I'm sure it will be deathly ill cold, but we always find a way. Either we all huddle up together on our own in our own little spot or we all separate and find out own little hobble to get warm, find food, ask for money."
The Boston transplant said he had made a temporary home on 2nd Avenue in New York City's East Village, but even during the Code Blue, New York City police officers have forced him out of the warm subways.
The NYPD said it is not cracking down on homeless people on freezing streets, but it does enforce Metropolitan Transportation Authority rules forbidding people from being outstretched on a platform or on the seats of subway cars regardless of cold weather emergencies. The NYPD can arrest or issue summons to people who refuse to comply with warnings to keep clear of streets and subway spaces.
"Being homeless is not a crime," NYPD spokesperson Jessica McRorie told Newsweek.
"When officers approach an individual they also offer services such as going to the shelter or to the hospital and we would provide transport if needed. They are allowed to refuse these services," she added. The NYPD said last year that out of 10,000 homeless people contacted by cops in 2017, more than 90 percent refused service and shelter.
In New York, Code Blue alerts have been issued every day since December 23, 2017. The warning takes effect between 4 p.m. and 8 a.m., when people sleeping on the streets are more vulnerable and could die of hypothermia. Wind chills in the city have already dropped to the single digits, and a cold blast of air from Canada is expected to keep most of the Eastern half of the United States shivering into next week.
In Boston, more than 1,700 homeless individuals flooded shelters on New Year's Day. "It has never been this bad," Karen LaFrazia, who works for the St. Francis House homeless shelter, told The Boston Globe Monday. Temperatures that day stayed in the single digits in Boston, while Chicago and Omaha set record-breaking lows of just 1 degree and -20 degrees, respectively.
Even as far south as Houston, some homeless shelters were above capacity on New Year's Eve and are still expecting hundreds more people seeking shelter during the frigid temperatures to avoid freezing. In St. Louis, police say a homeless man froze to death and was found in a trash bin on Monday night.
While some cities say that they are ramping up efforts to help the homeless, one Baltimore homeless shelter said it would provide the same services that it always does, no matter the weather conditions. "Nothing is changing for the cold weather. We're going to do what we do every day," Baltimore Rescue Mission Director Charles Buettner told Newsweek. "We are prepared to have the mission filled with people. We have beds, food, and water as usual." Buettner added that no one will be turned away during the cold weather.
Baltimore issued a Code Blue on Monday, which also extends to the elderly and infants. Last winter, 12 people died from hypothermia in the city.
The East Coast and parts of the Southeast could face 6 to 12 inches of snow from Winter Storm Grayson. The storm system is forecast to move towards the Northeast on Wednesday and Thursday where it is expected to dump the most snow before moving up towards Canada on Friday.