Arctic Circle Temperatures Soar as Siberia Hit by Extreme Heatwave
Western Siberia is experiencing an unusually balmy May, with weather stations logging temperatures of 20-25 degrees Celsius (68-77 degress Fahrenheit) in regions above the Arctic Circle—far above the freezing temperatures that are normal at this time of year.
Areas across Western Siberia, such as Novosibirsk—Russia's third most populous city—have seen temperatures in the range of 30-35C, The Siberian Times reported last week. Regions in the Arctic Circle have recorded temperatures in the mid-20s during what experts have described as a remarkable May heatwave.
These temperatures stand in stark contrast to what locals might expect on a typical May day. According to Climate-Data.org, the average monthly temperatures are 10.5C for Novosibirsk and -7.5C for Khatanga, a rural locality north of the Arctic Circle, which recorded temperatures of 25C earlier this month. According to The Washington Post, this exceeded the town's previous record for the month (20C) by 5 degrees.
"Climate change is no longer a distant threat, but is already bringing about a new reality for many," Robert Rohde, lead scientist at Berkeley Earth, tweeted on May, 19.
The exceptionally warm temperatures reported this month follow an abnormally warm winter. According to Rohde, average temperatures in Russia from January to April were almost 6C above historical norms. "That's not only a new record anomaly for Russia," said Rohde. "That's the largest January to April anomaly ever seen in any country's national average."
According to data from the National Oceanic and Atmospheric Administration (NOAA), the Arctic is warming twice as fast as the rest of the world.
This has led to a number record-breaking events, including last year being the warmest documented. In Russia's capital Moscow, the average temperature was 7.6-7.7C, surpassing the second warmest year by 0.3C, AFP reported.
If warming continues at this rate, scientists predict previously uninhabitable regions Siberia could become prime real estate by the end of the century.
As Newsweek reported in 2019, severe climate change could see January temperatures increase more than 9C and June temperatures almost 6C by 2080. This could see permafrost coverage fall from 65 percent to 40 percent. Under a milder trajectory, scientists predicted temperatures could still increase 3.4C and 1.9C in January and June respectively.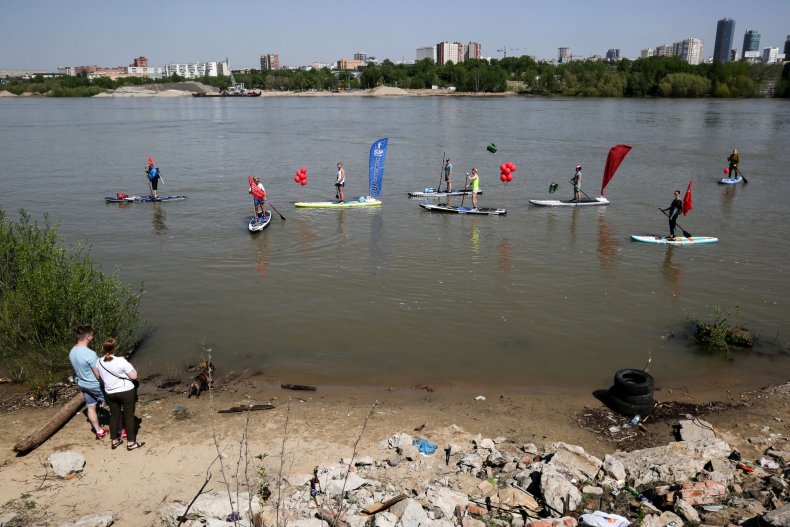 One of the practical consequences of warming temperatures is changes to the summer melt season, which occurred more than a month earlier than usual this year, The Washington Post reports.
Atmospheric scientist Zack Labe shared a graph that highlights how premature the onset of this year's summer melt season is compared to previous years. "Striking to compare the timing differences in the start of the summer melt season in the Kara Sea," Labe tweeted.
Experts have expressed concerns over the impact the warm weather will have on the fire season. According to an article from The Siberian Times, published May 1, wildfires in Siberia and Russia's Far East were up to 10 times worse than last year, when devastating fires sent vast clouds of smoke to North America.
May's blistering temperatures appear to have cooled somewhat, with Time and Date reporting temperatures of around 2C in Khatanga. Temperatures in Novosibirsk remain high at around 31C but are expected to drop to 15C on Wednesday before rising again.