Are Ed and Rosemarie Going to Be on '90 Day Fiancé: Self-Quarantine'? Here's What We Know
A new 90 Day Fiancé spin-off begins on Monday night, but only one franchise couple is still blowing up the internet and totally taking over viewers' minds. Ed and Rosemarie, who are currently appearing on Season 4 of 90 Day Fiancé: Before the 90 Days, have infatuated, and angered, the internet with how cringeworthy their relationship is. While it's weird to a lot of people, according to conversations on Twitter, the people want more.
As far as we know, Ed and Rosemarie won't be appearing on 90 Day Fiancé: Self-Quarantine, but that could change.
The spin-off will feature more than 40 former cast members and air five episodes on TLC (starting Monday night at 9 p.m. EDT.) It's one of the first coronavirus-born reality TV series, and the idea actually works. Since formal interviews can't be conducted with a film crew right now, each subject will log on using their webcam.
Variety released a list of confirmed participants on the series, and it includes a lot of fan favorites...and not-so favorites. Darcey and Jesse will appear separately, as they're no longer together. Other singles like Molly, Dean and Yamir will check in, too.
A long list of couples will be featured as well. Chantel and Pedro will make another appearance as will Emily and Sasha, Anna and Mursel, David and Annie and Rachel and Jon—just to name a few. To top it off, Colt will appear with his mom, Debbie (and there's no mention of Larissa).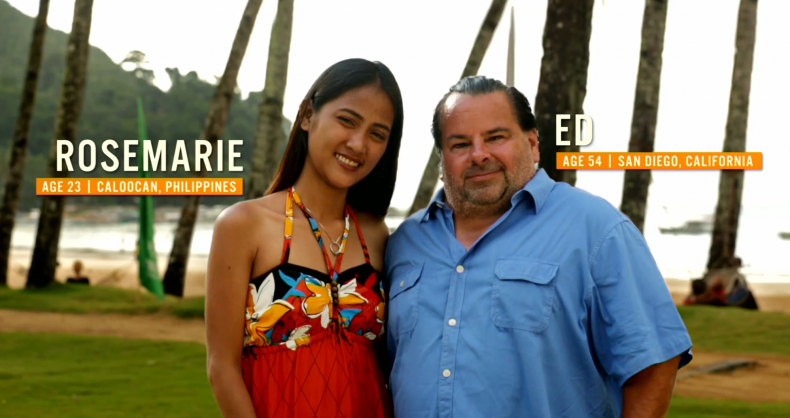 Though Ed and Rosemarie aren't on the lineup, it's subject to change, President and General Manager of TLC, Howard Lee, told Variety.
One major reason Ed and Rosemarie wouldn't be included is that heir season of Before the 90 Days is still airing. It would be a major spoiler to list the pair, or any others from this current season if they were still together. If you're looking for answers on if the pair are still dating, we wrote what we know here.
No Season 4 participants from 90 Day Fiancé: Before the 90 Days are included in the original list. This could change if the season of Before the 90 Days concludes before Self-Quarantine is over. Right now, there's no confirmed finale date for Before the 90 Days.
Season 3 of the series aired 15 episodes. Season 4 just aired its ninth on Sunday night. It's important to note Season 3's 14th and 15th episodes were parts of the "Tell-All" special, which ends each season with a reunion-type meet up of all of the season's cast.
Season 4's "Tell-All" episode was not filmed. Usually, the cast meets up in New York, but COVID-19 forced the filming to come to a halt. How TLC will make up for the canceled episode is unknown. It could be done digitally, in the style of Self-Quarantine, or it may be filmed at a later date—or even forgotten.