Are Fatal Flash Floods the New Summer Norm? A Meteorologist Weighs In
With areas across the country recently experiencing fatal flash flooding incidents, such events could become more common during summer in the years to come, a meteorologist told Newsweek.
Last week, parts of Eastern Kentucky saw widespread property damage and at least 30 fatalities caused by a flash flooding incident. Kentucky Governor Andy Beshear said the state is praying for families "who have suffered unfathomable loss" while he thanked first responders for their efforts in rescuing residents.
In addition to Kentucky, parts of St. Louis saw similar flash flooding, with at least two fatalities reported. Las Vegas also experienced flash flooding after heavy rainfall hit the city last week.
Speaking Monday with Newsweek, Jonathan Porter, a chief meteorologist for AccuWeather, stopped short of calling these fatal flash flooding incidents the new norm for the summer months. But global warming means the chances are now greater that they will happen, he said.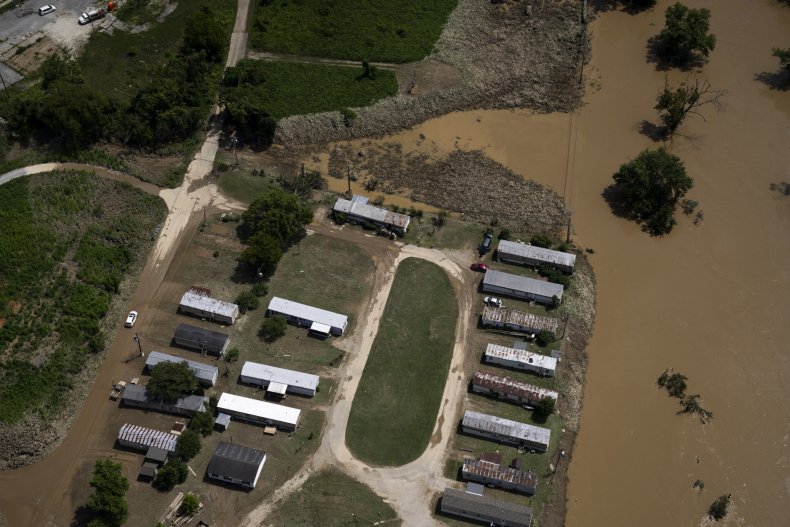 "I think the better way to say it is that it's clear that the risk for extreme rainfall events, where you have historic amounts of rainfall, falling in a short period of time, the risk for those kinds of situations is definitely increasing," Porter said. "Driven by climate change."
He went on to explain that while meteorologists across the nation have always known about the dangers associated with flash flooding incidents, in recent years many parts of the country have experienced these threatening situations after high amounts of rainfall.
"It's not only just the amount of rainfall, but it's also how fast it comes," Porter said. "And what we see here is that the really significant flash flooding impacts—where you have water quickly rising and communities flooded—tend to occur when you have rainfall rates of 2 or 3 or 4 inches of rain per hour. Especially over multiple hours, that's when you end up with a serious situation. And that seems to be something we're seeing more often in today's climate."
Citing data and research conducted by the Intergovernmental Panel on Climate Change, he said, "With a warmer on average atmosphere, driven by climate change, you end up with a situation where those extreme rainfall amounts and those extreme rainfall rates...tend to be more common."
Porter also spoke about different terrains and how they add to the risk of flash flooding incidents. In Kentucky, hilly and rural terrain can force rainfall and flooding to run off into streams and rivers, raising water levels. On the other hand, flooding in a city like St. Louis poses different dangers. Because the concrete and pavement give the rain no place to run off and saturate the ground, flooding results.
Given that flash flooding incidents could be increasing, Porter said, Americans should try to be "weather-aware" and recognize the dangers associated with them.