Kentucky Flooding Rescuers 'Will Be Finding Bodies for Weeks': Beshear
Kentucky Governor Andy Beshear said Sunday that officials will be "finding bodies for weeks" in the wake of flooding that devastated the state last week.
The death toll from the storms that caused flash flooding on Thursday had reached at least 26, including six children—four of which came from the same family.
Speaking on NBC's Meet the Press, Beshear said the extreme weather event was "one of the most devastating, deadly floods that we have seen in our history. It wiped out areas where people didn't have that much to begin with."
He added that the death toll as of Sunday morning is currently at 26, but that he knows "of several additional bodies and we know it's going to grow."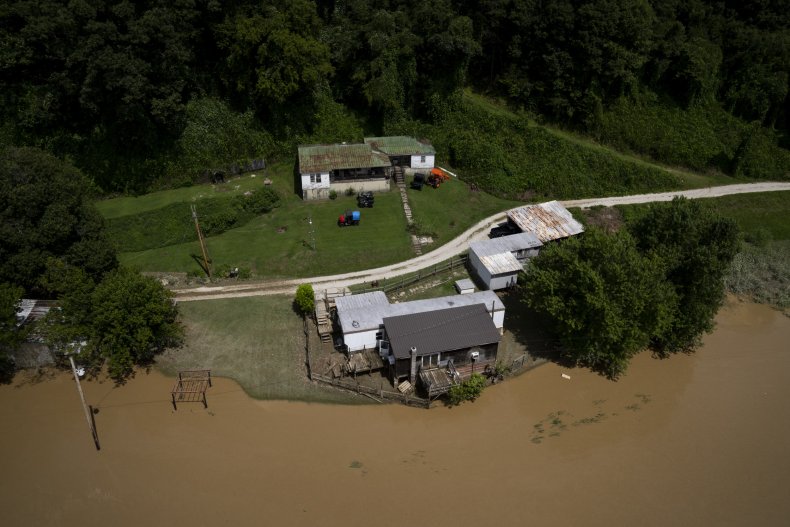 "With the level of water, we're going to be finding bodies for weeks, many of them swept hundreds of yards, maybe a quarter mile plus from where they were lost," the governor said, who added that state police are still taking calls from "loved ones that can't connect with those that they are worried about."
"We still can't get in to some areas to check on people," he said. "We're doubling our National Guard, we're going to work to go door-to-door, work to find as many people as we can."
The governor also said that it's still raining in Kentucky, which is "complicating" the search effort. The Associated Press reported that storms in the state on Sunday and Monday also bring the threat of additional flooding.
On Saturday, Beshear's office reported that nearly 1,500 Kentuckians had been rescued by first responders, and that nearly 150 people were being "temporarily housed at Kentucky State Parks."
"We continue to pray for the families who have suffered unfathomable loss," the governor said in a statement. "We also pray for the first responders. This mission has been especially challenging, and what they are experiencing firsthand is tremendously stressful and difficult. We thank all those involved for their tireless efforts."
The office said that there were still more than 18,000 power outages in the state, and that power restoration in some counties would continue into next week. Crews were also still clearing roads and working to reopen bridges in some areas, according to the governor's office.
Newsweek reached out to Beshear's office for comment.
On Friday, President Joe Biden approved a disaster declaration for Kentucky. The president "ordered Federal aid to supplement commonwealth and local recovery efforts in the areas affected by severe storms, flooding, landslides, and mudslides beginning on July 26, 2022, and continuing," according to a news release written by the White House.