Are Israel's COVID Policies Hurting Its Standing With U.S. Conservatives? | Opinion
From the halls of power in Washington, D.C. to the American heartland, Israel, for decades, has enjoyed a warm friendship with American conservatives who view the country, quite correctly, as an oasis of tranquility and a robust democracy amid a sea of autocracy, religious strife and tribalism. However, Israel's heavy-handed response to COVID-19 is sure to cause concern and raise eyebrows among American conservatives, potentially leading to a sea change in attitudes that could have far-reaching policy implications.
Perhaps indicative of a brewing shift in attitudes, Florida Governor Ron DeSantis recently proclaimed that Australia—one of America's closest allies—was no longer a free country and, as such, diplomatic relations between the U.S. and Australia should be reviewed.
"That's not a free country. It's not a free country at all. In fact, I wonder why we would still have the same diplomatic relations when they're doing that. Is Australia freer than Communist China right now? I don't know. The fact that it is even a question tells you something has gone dramatically off the rails with some of this stuff," he said during a recent event in Tampa.
Although DeSantis was targeting Australia, Israel, which at the outset of the pandemic fully embraced coercive lockdowns and mask mandates, could very well come into the crosshairs of many conservatives. This isn't to suggest that anyone in Republican leadership would, or should, seriously consider a policy shift vis-à-vis Israel as it comes to national security. But DeSantis' statement reveals what many are undoubtedly thinking: How do we contend with the fact that a liberal democracy has so quickly morphed into a mandate-wielding semi-autocracy?
Indeed, since enthusiastic support for Israel in the U.S. predominantly emanates from conservative circles—with DeSantis having emerged as a grassroots favorite—Israel's COVID response could have a meaningful impact on how the Jewish state is viewed by its most vocal and trustworthy American supporters.
Fawning Over Fauci
DeSantis draws much of his popularity from opposition to vaccine and mask mandates, as well as attacks against Dr. Anthony Fauci, whose alarmism and flip-flopping over masking and mandates culminated in DeSantis declaring that Florida chose freedom over "Faucism."
While U.S. conservatives perceive Fauci as a threat to freedom, much of Israel sees him as the high priest of modern science. Israel awarded Fauci the prestigious Dan David Prize for "courageously defending science in the face of uninformed opposition during the challenging COVID crisis."
While Israelis are fawning over Fauci, in other words, Senator Rand Paul (R-KY) is celebrated across conservative media for standing up against Faucism.
As such, attitudes towards Fauci, masks, lockdowns and other coercive government measures have become a litmus test for many. From a conservative point of view, if you mask young children and mandate vaccines, you no longer belong to the club.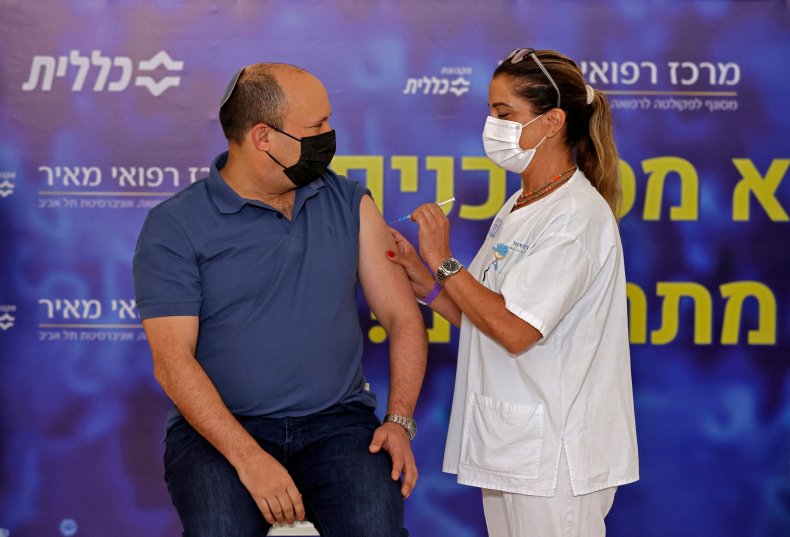 While Israel has not descended to a level of violent authoritarianism seen in Australia, the country, in many ways, is indistinguishable from a U.S. blue state when it comes to COVID-related policies. Unlike DeSantis' Florida, Israel's political and health leadership chose Faucism over freedom.
Israel imposed a de facto vaccine mandate by restricting the access of the unvaccinated to venues and malls, instituted a year-long outdoor mask mandate, implemented seven- to 14-day quarantines for travelers and those exposed to a verified COVID carrier, closed schools and kindergartens for months on end and shut down its borders to international tourism. Students over six years old are masked, and remote learning is ever-present due to incessant testing and subsequent quarantines.
Israeli government officials sound eerily similar to Democratic governors like Gavin Newsom, or health officials like Fauci and CDC director Rochelle Walensky. Over the past two years, Israeli health officials and political leaders flouted rules while wagging their fingers on TV, dining in lavish restaurants while asking others not to do so. Israel even closed its airport for reasons of equality, not for reasons of epidemiology.
Polling Slump
Most polls have consistently shown that Israel can no longer rely on bipartisan U.S. support. Even evangelical Christian support for Israel, which usually transcends current events, is trending downward. A pre-COVID poll exposed a dramatic shift in attitudes: Support for Israel among young evangelicals declined from 75 percent to 34 percent. (Note that some have cast doubt upon the reliability of the underlying polling.) At the same, the Democratic Party is drifting further away, with Rep. Alexandria Ocasio-Cortez (D-NY) and her "Squad" members leading the progressive grassroots toward a staunchly anti-Israel platform.
Israel's harsh COVID policies could very well tip the scales and have a direct impact on electoral politics. After all, vociferously pro-Israel polticians are elected by pro-Israel voters. If the enthusiastic pro-Israel sentiment among U.S. conservatives begins to wane while the growing anti-Israel voices on the American Left strengthen, the implications are potentially dire.
Israel is showing no signs of changing course by even considering an alternative to vaccine passports and mask mandates. It is only a matter of time until American conservative outlets and grassroots organizations start asking questions about Israel and its deeply misguided approach to fighting COVID.
Brace for impact
The opposition to restrictions and the so-called "new normal" have created many seemingly strange bedfellows, with progressive Sweden and conservative-leaning Florida showing an alternative to China-style restrictions or "zero-COVID" policies seen in places like New Zealand and Australia.
It remains to be seen how damaging Israel's chosen path of government overreach will be for the country's support among U.S. conservatives. We may very well see a situation in which the global political map is redrawn into "free" and "unfree" countries based on a particular country's COVID policies, with many longtime allies finding themselves on opposing sides—even when it comes to the best of friends.
Dennis Mitzner is a writer in Tel Aviv. You can subscribe to his newsletter and follow him on Twitter.
The views expressed in this article are the writer's own.