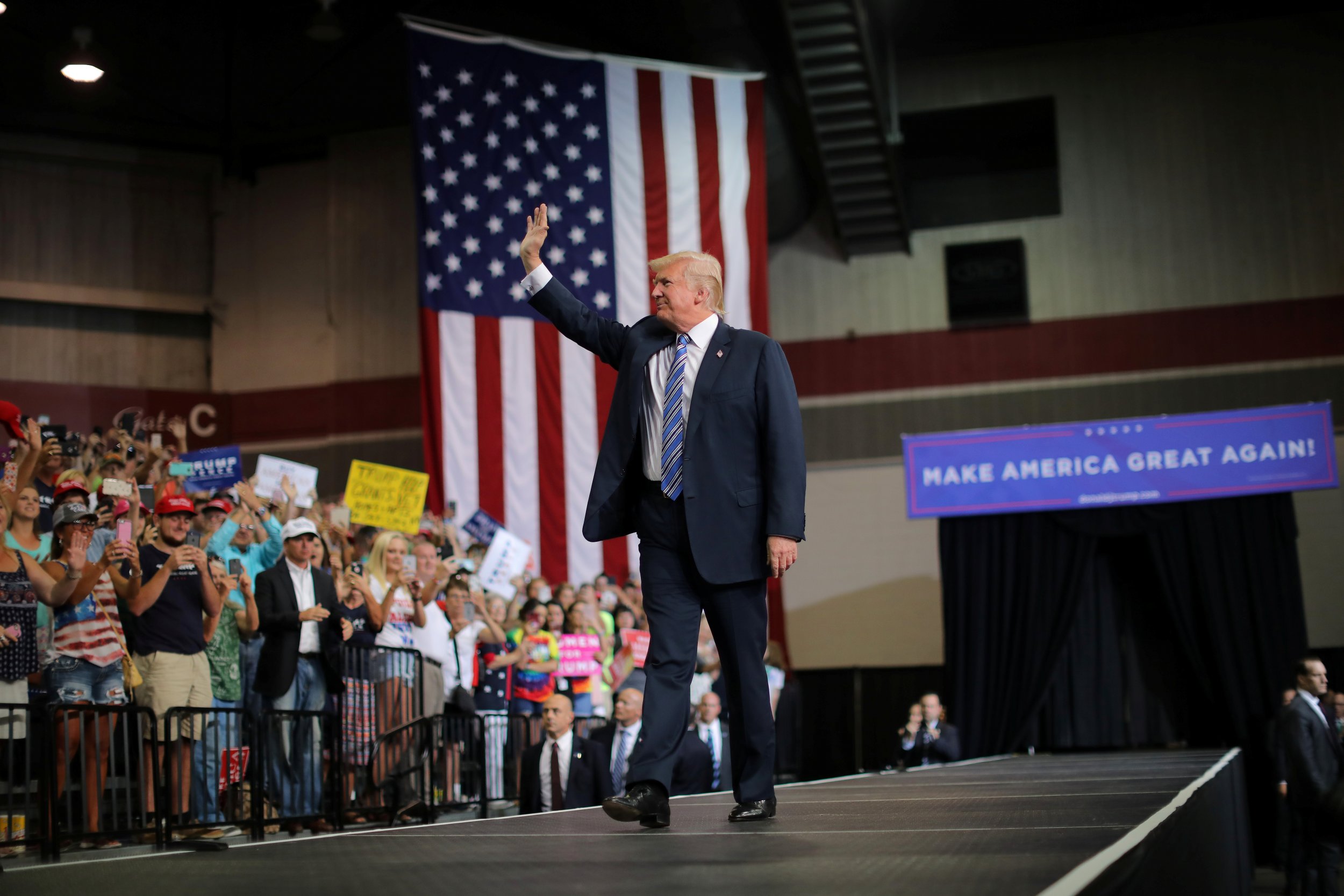 Standing before a lively crowd in West Virginia Thursday, President Donald Trump hit out at ongoing probes into his campaign's ties to Russia, calling the investigations "fake news" and asking, "Are there any Russians here tonight?"
Trump hailed the growth of coal income to the crowd in the rural town of Huntington, where the rally drew thousands of supporters from across the Appalachians, The New York Times reported.
At the rally's central political set piece, Trump greeted the state's governor, Jim Justice. The conservative Democrat announced he was joining the Republican Party, to the delight of the crowd.
Related: Russia Investigation: Does Robert Mueller convening a grand jury spell trouble for Trump presidency?
However, Trump also used the rally to launch a prolonged assault on allegations of links between his 2016 presidential campaign and Russia.
The president called the Russia probes "a fake story that is demeaning to all of us" and a "total fabrication," NBC reported. "Most people know there were no Russians in our campaign; there never were," Trump said. "We didn't win because of Russia; we won because of you," he told the crowd. "Are there any Russians here tonight? Any Russians?" the president asked.
Trump made the comments just hours after it emerged a grand jury had been impaneled by Special Counsel Robert Mueller with subpoenas issued in connection with a June 2016 meeting between Donald Trump Jr., a Russian lawyer and others, two sources familiar with the matter told Reuters on Thursday.
Trump has regularly slammed the investigation as a witch hunt and has reportedly contemplated firing Mueller.
The president told the West Virginia crowd he had ideas for where else investigators should direct their attention. "The reason why Democrats only talk about the totally made-up Russia story is because they have no message, no agenda and no vision," Trump said, calling Hillary Clinton's defeat in the 2016 presidential poll the "the greatest loss in the history of American politics."
Returning to the tropes of the election campaign Trump said, "What the prosecutors should be looking at are Hillary Clinton's 33,000 deleted emails." The crowd responded to his calls with chants of "Lock her up!"
President Trump has not publicly commented on the news of the grand jury. However, Ty Cobb, the president's lawyer, told The Wall Street Journal, "The White House favors anything that accelerates the conclusion of his work fairly," adding the president was "committed to fully cooperating with Mr. Mueller."