Are There Enough 'Republicans for Beto' to Beat Greg Abbott?
Beto O'Rourke is in Lubbock County, where 65% of voters supported Donald Trump in the 2020 election, drawing 1,000 people.
O'Rourke is in Bailey County, where 77% of voters supported Trump in 2020, talking to the local chamber of commerce and having a meal at a family-owned Mexican restaurant.
And he's in Wichita Falls, where 70% of voters supported Trump two years ago, drawing 200 people into a small room to hear him speak.
His stops are by design, part of a 49-day tour bringing O'Rourke to 65 counties for 70 public events.
In a state like Texas, which has voted for Republican governors for the last 27 years and has large swaths of conservative and rural areas, political observers say O'Rourke can't win without drawing out some "Republicans for Beto," as well as independent voters.
O'Rourke has done it statewide before, garnering 8% of Republican support in 2018 against Ted Cruz in their senate race, but winning independents 50% to 47%, according to exit polls.
O'Rourke's latest campaign is banking on improving on those numbers.
"There's real power in showing up and holding a town hall, whether people are wearing a Beto T-shirt or a Trump hat," O'Rourke spokesman Chris Evans, who often travels with the candidate to rural parts of the state, told Newsweek.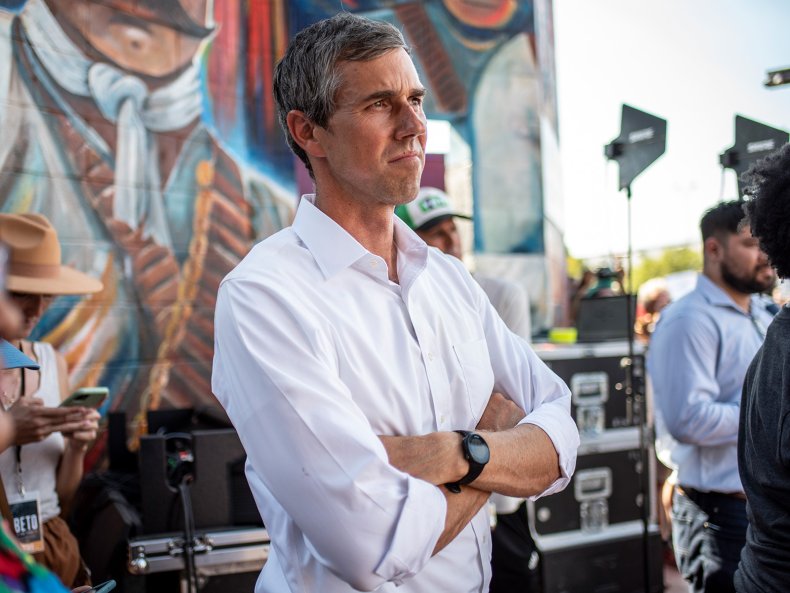 Victor Leal, the Republican former mayor of Muleshoe, Texas, which is in Bailey County, met O'Rourke and welcomed him to his town, where the former congressman spoke to the Muleshoe Chamber of Commerce & Agriculture.
Leal didn't hear his fellow Republicans say that they were changing their vote based on one conversation with O'Rourke, but he said it's the first part of a necessary process.
"I thanked him for making Muleshoe a stop," he said. "We're an outpost out here, so anytime we have someone come listen to the needs we have in terms of rural schools and rural hospitals it's important."
Leal noted in particular that O'Rourke talked about making broadband internet more accessible to rural communities.
"He's saying, 'If I can get you guys out to knock on doors, I'll narrow the gap,'" he added. "It's a key for him to be competitive."
Beto's campaign staff, along with Democrats around the state, believe the momentum has shifted toward O'Rourke in the race, and the fundraising numbers appear to support that. O'Rourke topped Abbot for the first time in this campaign in the period February through June with a Texas record $27.6 million, compared to Abbott's $24.9 million.
While Abbott still has a decisive advantage in cash on hand, the O'Rourke campaign has gained momentum from two major events that occurred during that period: a tragedy and a court decision. The Uvalde school shooting in May, which left 19 children and two teachers dead, and the Supreme Court decision striking down federal abortion protections in June have combined to change the dynamics of the gubernatorial race.
"Abbott is at his highest unfavorables over both terms as governor," Evans said, noting that his net approval has dropped 9 points since the end of April, and 59% of Texans believe the state is on the wrong track.
"There's a big opening, there's real dissatisfaction after Uvalde, after the trigger law on abortion, with the power grid, with property taxes going up 40%," he added. "Nowhere is it more clear than in small towns in Texas, which have seen the cost of Abbott."
O'Rourke and his campaign list statistics to make their case, citing that 24 rural hospitals have closed in Texas, and that Abbott's push for school vouchers would affect school districts, which are the state's largest employers, and where 40% of teachers already have to work an additional job in order to get by.
And in rural Texas they also talk about how Republicans and Democrats in the legislature came together to shore up the universal service fund to help stabilize phone and broadband internet service, but it was vetoed by Abbott.
"Costs are going up on phone bills and internet in rural Texas, there's a direct impact," O'Rourke's spokesman said. "It's powerful because the legislature did their job and then he vetoed it."
O'Rourke's campaign believes it can cut down margins in small rural communities, where Cruz ran up the score, and win over independent voters in the suburbs. They point to Hillary Clinton losing in Tarrant County by nine points in 2016, while O'Rourke won it two years later by 1 point.
But John Wittman, a former Abbott spokesman, said in 2018 no one really knew who O'Rourke was and the positions he held.
"He became very exposed in the 2020 election," Wittman said of O'Rourke's short-lived run for president.
He said that from the Green New Deal, to embracing "elements" of the defund the police movement, to his border positions, O'Rourke has taken "absurdly liberal stances that don't fly in Texas."
"I just don't think there's much of a lane for him to pick up those independents he would need," Wittman said, "because he has boxed himself in and won't be able to get those crossover voters he would need."
O'Rourke's pivot to a rural tour dovetailed with a viral tweet last week that was retweeted more than 8,000 times with 74,000 likes, of a Texas Beto supporter who shared that over lunch her male Republican-voting coworker said, "I hate Beto," but added that he would ultimately vote for him over fallout from the Uvalde shooting, and because "Abbott doesn't care."
Reached by Newsweek, the author of the tweet said she is a teacher in a school district in a rural town outside Odessa, Texas, and her friend is a janitor who served in the military.
The tweet ended with her coworker declaring, "I actually believe that skinny mother*****r will fix that grid."
Jacob Monty, a Houston lawyer and longtime Republican donor, who left the Party during the rise of Trump in 2016 and became a Biden supporter and donor in 2020, said he understood the sentiment shared in the viral tweet.
"I'm a Democrat now," he told Newsweek. "I can empathize with what her coworker felt like."
While Monty acknowledged that he has not heard the kinds of Republican Party people he knows say they will switch over to O'Rourke, he has heard conservative women and young people say they are enthusiastic to vote for him. He said he has heard the sentiment particularly from women in the wake of the Supreme Court's decision on abortion.
He said that the school shooting also had a big impact.
"There's a palpable change in momentum since Uvalde," Monty said, "which we've seen reflected in fundraising."
He added that the constant warnings telling Texans to conserve energy by ERCOT, the company that operates the Texas electrical grid, helps Beto as well.
"People have a short memory, but it reminds people about the winter storms," he added. "Hearing a message from ERCOT is good because people wonder, 'Oh yeah, how safe is our grid?'"
O'Rourke's visit to so-called red towns and counties reminded Leal that whether at the local, state, or national level, Americans have to figure out ways to speak to each other in a more civil manner. He said that while he does not support O'Rourke, his wife and sons do.
When he met with O'Rourke at the Chamber of Commerce event, Victor Leal did not know that the candidate would be stopping for lunch at his family restaurant in Muleshoe, Leal's Mexican Food Cafe.
Upon hearing about it, one of Leal's friends messaged him, saying they saw O'Rourke "was in your restaurant. I hope he didn't stay long."
"My answer was he stayed as long as he liked," Leal responded. "All people are welcome in my restaurant."