Watch Aretha Franklin in 'The Blues Brothers': Dan Aykroyd Remembers 'Happy Memories' on Set With Singer
Aretha Franklin appeared in the 1980 blockbuster, The Blues Brothers, for all of five minutes. But her performance was great enough to make the scene one of the film's most memorable moments. It'll likely remain a favorite for fans of Franklin, who died at 76 years old from pancreatic cancer on Thursday.
The role came about at a particularly interesting time for the Queen of Soul. Popular music was transitioning from classic soulful sounds of the late 1960s to the disco party vibes of the '70s, and Franklin was struggling to adjust to the changes. Her 1979 album La Diva—her 28th and the final studio project under her 12-year tenure with Atlantic Records—was a flop and she was having trouble securing a new record label.
Things changed for Franklin when she was asked to appear in The Blues Brothers, starring Dan Aykroyd and John Belushi. While there were a host of soul, jazz and blues singers that had cameos in the film, like James Brown, Ray Charles, Cab Calloway and John Lee Hooker, it was Franklin's scene that stole the show.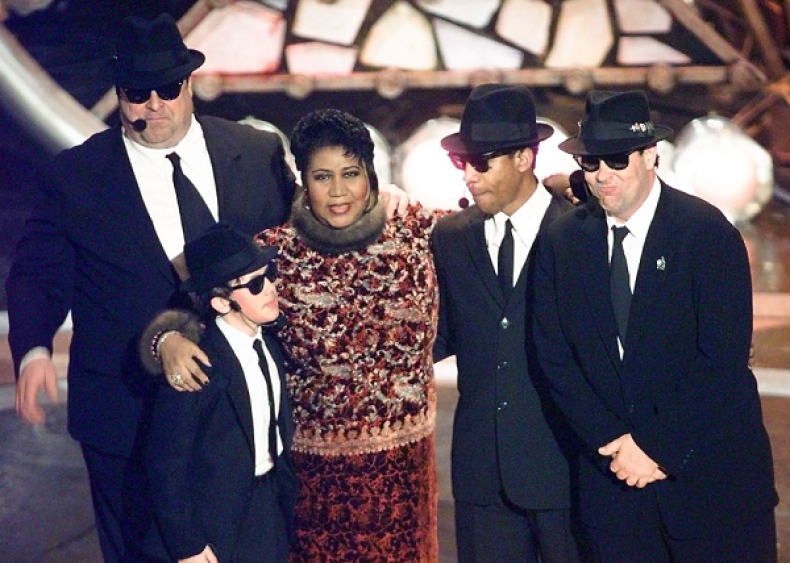 Franklin played the role of a waitress and restaurant owner, Mrs. Murphy. Elwood (Aykroyd) and Jake (Belushi) Blues came to the diner in search of Franklin's on-screen husband, Matt Murphy, played by renowned American guitarist Matt "Guitar" Murphy. While sitting at the diner counter, they informed Matt they were putting the band back together. Mrs. Murphy, full of attitude and flair, quickly shot down their requests for Matt to join them on the road.
"Now you not going back on the road no more, and you ain't playing in them old two-bit sleazy dives," Mrs. Murphy snapped. "You living with me now, and you not gone go sliding around with your old white hoodlum friends."
It's when Matt threatened to leave with the Blues brothers anyway that the magic of Franklin comes into full effect. "You better think about what you saying. You better think about the consequences of your actions," Mrs. Murphy says right before breaking into a performance of Franklin's hit song, "Think," which appeared on her 1968 classic album Aretha Now.
Under the guise of Mrs. Murphy, Franklin performed the full song with choreography, backup dancers, a saxophone player, the works. As fans of the film know, Mrs. Murphy's song and dance number wasn't enough to convince Matt to stay, and he ended up going on tour with Elwood and Jake anyway—but the scene was certainly enough to stamp a lasting impression on viewers' memory.
Several celebrities paid tribute to Franklin on social media following news of death on Thursday, including Aykroyd who reminisced on his "happy memories of being with Aretha on movie sets and industry events."
"The Queen had a wry, skeptical eye on the world but once you got her laughing you were in. What a voice! What a soul. Angel choirs should prepare for increased rehearsal and discipline," Ackroyd tweeted.