Aretha Franklin was closely monitored by the FBI for many years, recently declassified records have revealed.
Journalist Jenn Dize shared details from the bureau's files on the "Queen of Soul" after requesting them under the Freedom of Information Act.
"Years ago, I FOIA'd @fbi files on Aretha Franklin. Today, I received the files," Dize wrote in a Twitter thread on Wednesday.
The files were incomplete, Dize said, but showed "repeated and disgusting suspicion of the famed Black singer, her work, and activists around her." Franklin died at her home in Detroit, Michigan, in August 2018. She was 76.
Dize posted screenshots of several documents, including one that she said showed Franklin's "every move is carefully documented" by the FBI.
She went on: "In this document, just now declassified, direct contact information and details of her Atlantic Records contract are discussed - presumably 'just in case.'" The page, dated August 26, 1971, has "confidential" and "secret" markings that have been crossed out.
A memorandum dated January 17, 1972, said the bureau had used a "suitable pretext" in order to determine who had received a phone call from a member of the Black Panther Party. The call was determined to have been made to Franklin, described in the document as a "noted Negro singer and entertainer."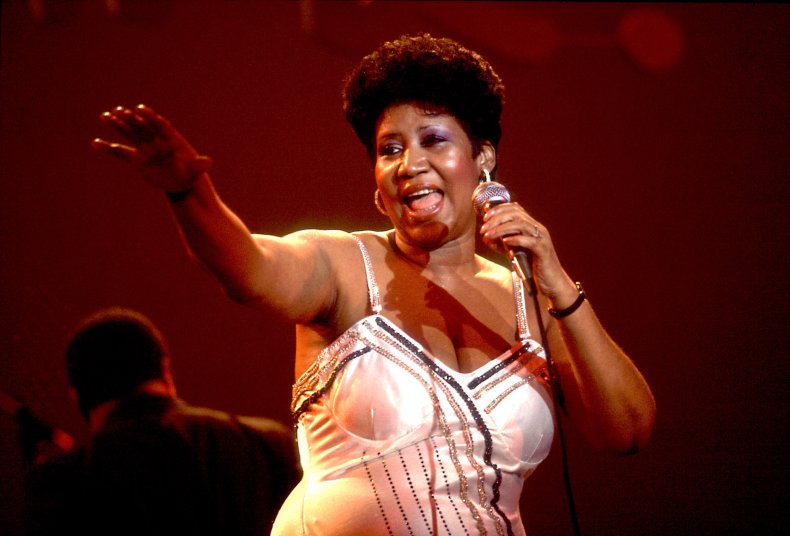 A document from September 1976 states that a "West Coast communist newspaper" had carried a story in March that year, noting that Franklin performed at an event that raised $38,000 for the National United Committee to Free Angela Davis.
This document also alleged that Franklin was linked to "Black extremists" and groups.
A paper with the title "COMMUNIST INFILTRATION OF SOUTHERN CHRISTIAN LEADERSHIP CONFERENCE INTERNAL SECURITY" mentioned the conference's 10th anniversary convention, which was being held at Ebenezer Baptist Church in Atlanta, where Martin Luther King Jr. was assistant pastor.
It added that an Atlanta newspaper had published an article that said: "Sidney Poitier, popular actor, will be the featured speaker at the opening banquet... and Aretha Franklin, popular entertainer, will also appear at the banquet."
A document from 1968 mentioned a "confidential source" who had told the FBI that a Southern Christian Leadership Conference pastor had described the U.S. government as "involved in acts of genocide against the Vietnamese people."
The same source said another pastor—Franklin's father, Rev. C. L. Franklin—had spoken at a memorial for King in August 1968.
A 1968 document discussing funeral plans for King noted that the Atlanta Braves baseball team had offered Atlanta stadium for a "huge" memorial concert.
Franklin was among those set to perform, along with Sammy Davis Jr., Marlon Brando, Mahalia Jackson and the Supremes.
"Of this group, some have supported militant Black power concept and most have been in forefront of various civil rights movements," the FBI report said.
It added that some "felt the performance by these prominent entertainers would provide emotional spark which could ignite racial disturbance in this area." A source told the FBI that the Southern Christian Leadership Conference had contacted the Atlanta Braves and it had been decided the memorial concert would be canceled.
Dize tweeted that there were "frequent attempts" to connect Franklin and other notable Black figures to anything the FBI "deemed nefarious."
She pointed to a bureau document that followed up on a claim Franklin was connected to the Black Liberation Army.
The document cites a redacted source who advised that "to the best of his knowledge, Aretha Franklin has never been associated with the black radical movement."
The FBI concluded that "in view of the fact there is no evidence of involvement by Miss Franklin in BLA activities and in view of her fame as a singer, it is felt that it would not be in the best interests of the Bureau to attempt to interview her."
Newsweek has contacted the FBI and Franklin's former attorney for comment. Franklin's family could not be immediately reached for comment.