Aretha Franklin Health Update 2018: Singer's Church Honors Her With Vigil in Detroit
While Aretha Franklin remained at home surrounded by her family, members of her church honored the soul singer with a vigil service on Wednesday. Franklin was reported "gravely ill" on Monday and family members have since revealed she is currently in hospice care.
More than 100 people gathered at New Bethel Baptist Church, founded by Franklin's late father, civil rights activist Reverend Clarence LaVaughn "CL" Franklin, in Detroit in 1946.
Pastor Robert Smith, who now presides over the church, orchestrated Wednesday's 50-minute 5 a.m. service, during which members of the church prayed for Aretha Franklin and sang hymns in her honor, Detroit News reported.
During the service shepherds of the church praised Aretha Franklin's "continuous generosity" to New Bethel.
Aretha Franklin's longtime assistant Fannie L. Tyler also highlighted the singer's contributions to the church, many of which Aretha Franklin and the church kept private, like Aretha Franklin's payments for funerals of deceased Motown artists, yearly holiday donations to families in need and free performances at the church's gospel festival. Tyler noted Aretha Franklin would often cover expenses to book and house the other acts for the music festivals as well.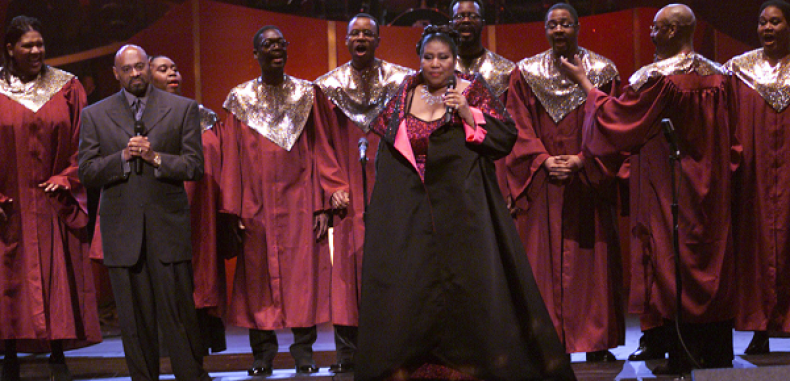 "That's who she is," Tyler said. "She didn't forget where she came from. She's done so much that the city doesn't know about."
Despite Franklin's condition, Tyler, who said she last spoke to the 76-year-old on Saturday, believed her friend would survive her current health ailment just as she had in the past. "But who knows? Only God knows," Tyler said.
Since news of Aretha Franklin's failing health was first reported by Showbizz 411 on Monday, the "Respect" singer has received an outpouring of support and well wishes from her fans and friends. She also received a special visit from the likes of Stevie Wonder, Jesse Jackson and her ex-husband Glynn Turnman on Tuesday, People magazine reported.
"She is seriously ill and surrounded by family members who appreciate the outpouring of love and support they have received," Gwendolyn Quinn, Aretha Franklin's longtime publicist, told People.