Where Is Abortion Illegal? Argentina Rejects Legalization Bill After Catholic Church Influence
Argentina's Senate narrowly rejected a bill to legalize abortion in the first 14 weeks of pregnancy.
The bill had galvanized support across the country, but an insistent opposition campaign by the Catholic Church conjured intense pressure to scrap the proposed measure. Pope Francis, who is from Argentina, attempted to influence the vote by asking lawmakers to dismiss the bill.
The bill, which was turned down by a 38-31 vote, had already been approved by the Chamber of Deputies. President Mauricio Macri once said that he would sign the legislation if approved by the Senate.
Its rejection means that abortion will only be allowed in cases of rape or when a pregnant woman's life is in danger.
"Lawmakers chose today to turn their backs on hundreds of thousands of women and girls who have been fighting for their sexual and reproductive rights," Executive Director of Amnesty International in Argentina Mariela Belski said. "All that this decision does is perpetuate the circle of violence which women, girls and others who can become pregnant are forced into."
Pro-choice and anti-abortion activists stood outside the National Congress on Wednesday to await the vote. Both groups reacted strongly to the decision. Those cheering the decision set off fireworks, while pro-choice campaigners threw stones at riot police.
"What this vote showed is that Argentina is still a country that represents family values," Victoria Osuna, who opposed the measure, told Reuters.
Pro-choice advocates in multiple Latin American countries rallied to support the bill, which signified a shift in the region's discourse on abortion and increasing demands for greater access to the procedure.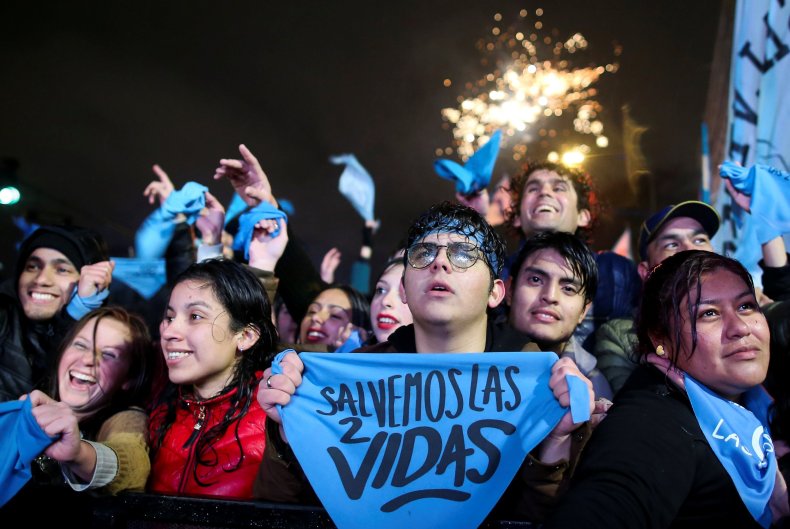 Latin America and the Caribbean have restrictive abortion laws, with more than 97 percent of reproductive-age women living in nations that limit the procedure. Six Latin American countries—Dominican Republic, El Salvador, Haiti, Honduras, Nicaragua and Suriname—completely prohibit abortion.
In North America, abortion access varies depending on the country. In many states around Mexico, abortion remains a punishable offense. However, in Mexico City, women can attain legal abortions in the first 12 weeks of pregnancy.
In the U.S., the ease of obtaining an abortion similarly changes in each state. Thirty-five states require a woman to undergo counseling before she can receive an abortion, and some states only have one abortion clinic. Canada offers abortion access in approved hospitals and abortion clinics, as stipulated in the Canada Health Act.
Around the world, abortions are difficult to obtain.
"Overall, only 37 [percent] of the world's 1.64 billion women of reproductive age live in countries where abortion is permitted without restriction," the World Economic Forum reported in May.
Twenty-six countries around the world ban abortion in all circumstances and another 37 prohibit the procedure unless it is needed to save a woman's life.
Africa also has restrictive legislation, with approximately 93 percent of reproductive-age women living in countries that limit the procedure. Ten of the continent's 54 countries prohibit all abortions.
Asia has more liberal laws, with 17 of 50 regional countries and territories—including China and India, the most populous Asian nations—permitting unrestricted abortion access. Iraq, Laos and the Philippines prohibit all abortions.
In Europe, Denmark, Finland, Germany, Italy, Portugal and Spain restrict abortion access, while Northern Ireland, Lichtenstein, Malta, Poland and San Marino either completely prohibit abortion or only allow it when a woman's health is in danger.