Ariana Grande Says Mac Miller Relationship Was 'toxic': It Was 'scary'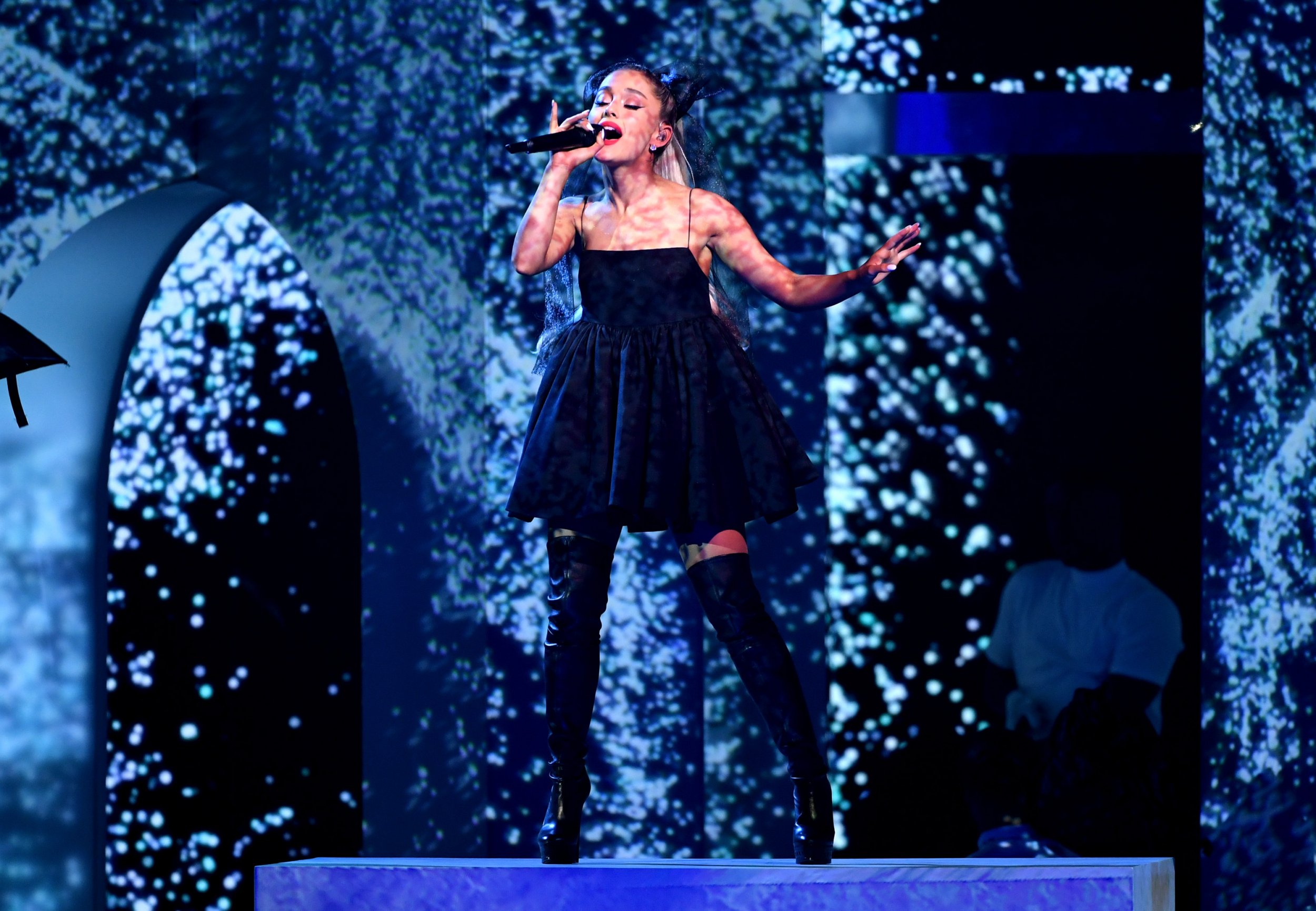 Singer Ariana Grande addressed her former relationship with rapper Mac Miller Wednesday following a fan's accusation about her dumping him for "another dude." Grande is rumored to be dating Saturday Night Live star Pete Davidson, but neither party has confirmed or denied the speculation.
On Twitter, a user named Elijah Flint suggested the "most heartbreaking thing happening in Hollywood" is Grande's decision to dump Miller after he supposedly "poured his heart out" about the Nickelodeon alum on his The Divine Feminine album in 2016. Grande has been relatively transparent regarding her split from Miller, and she took to the social media platform to set the record straight.
"How absurd that you minimize female self-respect and self-worth by saying someone should stay in a toxic relationship because he wrote an album about them, which btw [by the way] isn't the case (just Cinderella is ab[out] me)," Grande wrote in an extensive response to Flint. "I am not a babysitter or a mother and no woman should feel that they need to be. I have cared for him and tried to support his sobriety & prayed for his balance for years (and always will of course)....shaming/blaming women for a man's inability to keep his shit together is a very major problem. Let's stop doing that."
Grande continued further, describing her previous involvement with Miller as "hard" and "scary" but she still wished Miller the best. The "No Tears Left To Cry" singer declared her intention was to pray her ex-boyfriend "figures it all out" and that the next girl who forms a romantic bond with him does the same.
Flint apologized to Grande for his remarks. He claimed he did not realize his comments had the potential to go viral, nor did he realize how it'd influence her. "It truly doesn't go as deep as you're implying," he wrote to Grande. "I truly hope you and Mac get back to living your best lives as soon as possible. I'm very sorry I hurt you." Grande, likewise, accepted the commenter's apology.
After nearly two years, it was announced that Grande and Miller had broken up May 9. The duo, who've collaborated on songs "The Way" and "My Favorite Part," reportedly ended their involvement after Coachella in April. While Grande is suggesting that Miller's sobriety was a factor in their ultimate demise, TMZ initially reported that the pair split due to busy schedules.
On May 10, the former Victorious actress took to Instagram to address the split, referring to him as one of her "best friends." "I respect and adore him endlessly and am grateful to have him in my life in any form, at all times regardless of how our relationship changes or what the universe holds for each of us," she wrote at the time. "Unconditional love is not selfish. It is wanting the best for that person, even if at the moment, it's not you."
Miller, born Malcolm McCormick, was arrested for a DUI following his involvement in a hit-and-run May 17—days after his breakup with Grande was confirmed. He had struggled with substance abuse for years, even getting arrested for marijuana possession in 2011. Shortly after Miller's May arrest, news broke that Grande was dating Davidson. She first met the 24-year-old comedian in 2016 while hosting SNL, and they're said to be "casually dating." Prior to Grande, Davidson was linked to Larry David's eldest daughter Cazzie David.