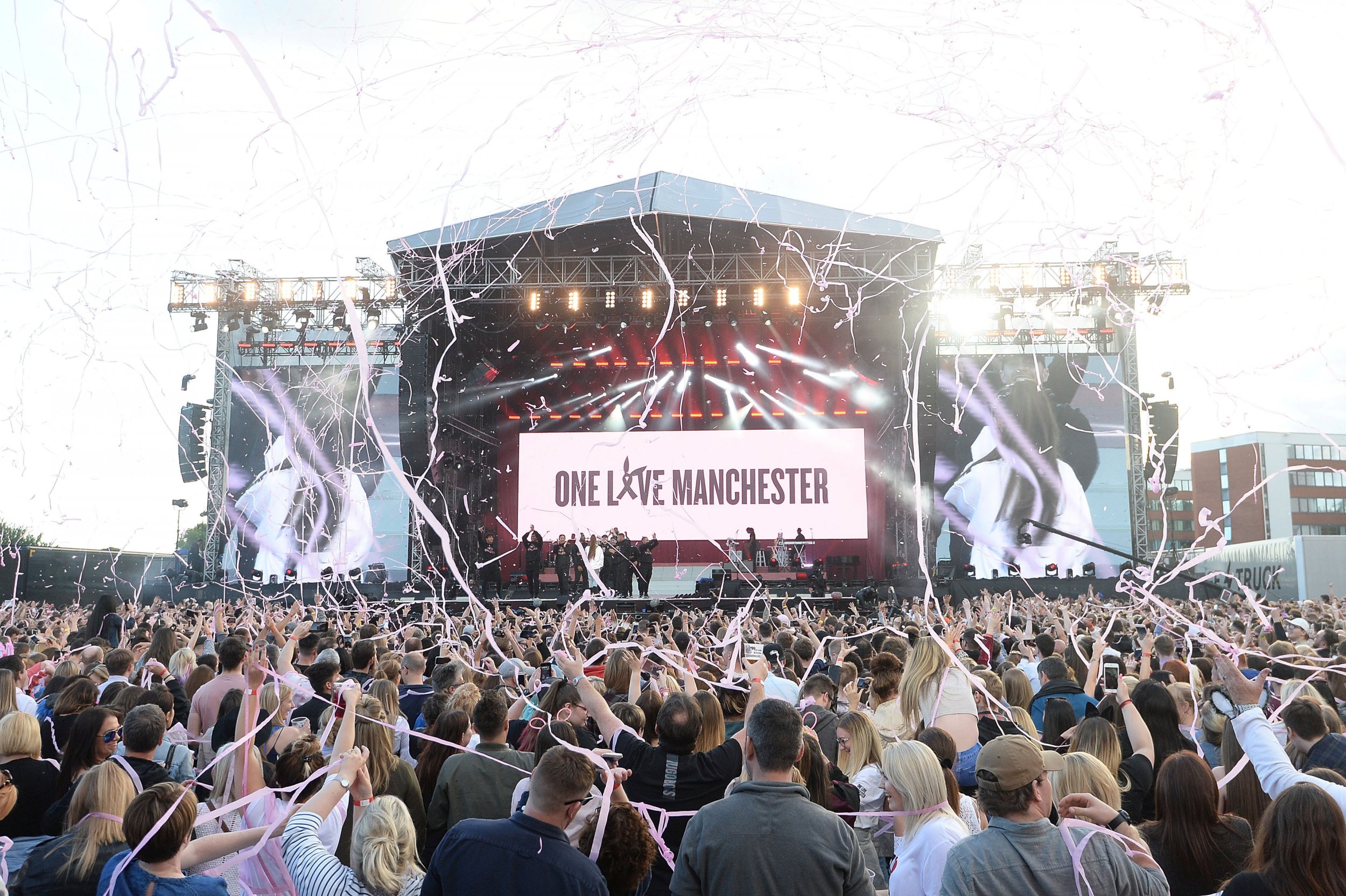 Singer Ariana Grande on Sunday returned to Manchester for a benefit concert after the suicide bomb attack that left 22 people dead and at least 100 others injured. She did so despite Saturday's terror attack in London.
The Manchester attack saw a bomb explode in the foyer of the city's arena at the end of Grande's May 22 concert, with many of those killed in the attack young children who had come to see her perform.
Following the London Bridge attack on Saturday that left seven people dead and 48 others injured, fans were worried that security concerns would prevent Grande from performing at the One Love Manchester concert.
But the singer's manager posted on Twitter insisting she would be going ahead with the concert, with all proceeds from the show going to the victims and their families.
Scooter Braun sad in a statement shared on social media: "After the events last night in London, and those in Manchester just two weeks ago, we feel a sense of responsibility to honor those lost, injured and affected."
He added: "We plan to honor them with courage, bravery and defiance in the face of fear."
Police in Manchester also issued assurances that security would be paramount at the show.
"There are two-large scale events taking place in Greater Manchester today and we would like to assure people that these will still take place, but with additional security in place to ensure the safety of everyone," a Greater Manchester Police assistant chief constable, Garry Shewan, told The Telegraph. "There will be additional security checks taking place and everyone will be searched, including bags."
Grande appeared on the stage wearing an 'I love Manchester' T-shirt, supported at the concert by singers including Liam Gallagher, Katy Perry, Justin Bieber, Pharrell Williams and the Black Eyed Peas, among others.
Speaking to a 50,000-strong crowd at Emirates Old Trafford Cricket Ground, Grande said in comments carried by CNN: "I want to thank you so much for coming tonight and being so happy and strong and unified."
She added: "I love you guys so much. This night is the kind of thing the world really needs right now."
Grande also said she had changed her set ahead of the tribute concert after meeting the mother of one of the victims, 15-year-old Olivia Campbell.
"I had the pleasure of meeting Olivia's mummy a few days ago and I started to cry and gave her a big hug and she said stop crying, because Olivia wouldn't have wanted you to cry," Grande told the crowd.
"And then she told me Olivia would have wanted to hear the hits. We had a different show planned and we had a rehearsal yesterday and we changed everything," she explained.
Amid doubts over whether the show would take place, artists reaffirmed their decision to perform, CNN reported, with Pharrell stating during the show: "Despite all the things that have been going on...I don't feel or smell or hear or see any fear in this building."