Arizona Called for Joe Biden by Fox and AP, Dealing Blow to Trump
Democratic presidential nominee Joe Biden defeated incumbent President Donald Trump in the battleground state of Arizona during Tuesday night's election, Fox News and AP News project.
With 82 percent of precincts reporting, Biden had received 51.8 percent of Arizona's votes to Trump's 46.8 percent. With his win, Biden gained Arizona's 11 electoral votes.
At around 2.30 ET, Trump had said that "there's a lot of life in" the Arizona count and, while saying that pollsters pointing out it was "unlikely" he could win in the state, he implied that he still believed his chances were good.
Earlier, senior Trump adviser Jason Miller tweeted: "WAY too soon to be calling Arizona...way too soon. We believe over 2/3 of those outstanding Election Day voters are going to be for Trump. Can't believe Fox was so anxious to pull the trigger here after taking so long to call Florida. Wow."
Fox has stood behind its decision to call the state so early.
"It's been clear for a while that the former vice president is in the lead in Arizona and was most likely to win the state," Fox News Decision Desk Director Arnon Mishkin said on the network's coverage. "I think we've heard from the White House is that they are expecting to get that they need just to get 61 percent of the outstanding vote and their 870,000 outstanding votes and they'll be getting that. That's not true.
"The reality is that they're likely to get only about 44 percent of the outstanding votes there. We're right now sitting on a race that is Biden at 53 percent, Trump at 46 percent. I'm sorry, the president is not going to be able to take over and win enough votes to eliminate that seven-point lead that the former vice president has."
Arizona has traditionally been a red state since 1952, with the only exception being the election of Bill Clinton in 1996. That victory was narrow, seeing Clinton defeat Kansas Republican Bob Dole by fewer than 3 percentage points.
Trump carried Arizona during the 2016 election receiving 48.1 percent of the popular vote while opponent Hillary Clinton obtained 44.6 percent.
Trump and Biden were in a statistical dead heat before the election, according to polling site Real Clear Politics. As recently as Thursday, both Biden and Trump held 47 percent of the vote.
According to the U.S. Census, the urban population in Arizona far outnumbers the rural population. Only 10 percent of Arizona's residents live in rural areas. With urban dwellers tending to vote for Democratic candidates and rural residents skewing towards the GOP, it was in question which way Arizona would vote.
Arizona voter registration statistics showed that more Arizona residents claimed an affiliation with the Republican party. While 32.20 percent of the population registered as Democrats, 35.24 percent registered as Republicans.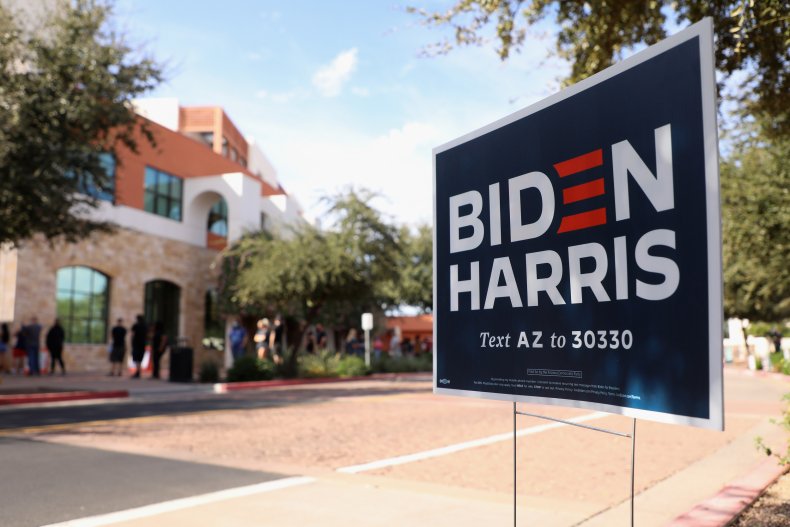 Over 2 million Arizonians cast their ballots before Tuesday's election. According to the U.S. Elections Project, 833,154 Democrats had voted early as of October 27 while 768,386 Republicans had cast early ballots. Ballots were also cast ahead of the election by 538,819 voters with no party affiliation.
Both parties made last minute campaign stops in Arizona in the days leading up to the election. Trump held two rallies in Goodyear and Bullhead City, Arizona while Harris held events in Tucson and Phoenix.
During a drive-in event in Tucson, Harris told a socially distanced audience that Trump had endangered his supporters by holding large campaign events. Many attendees at Trump's rallies could be seen not wearing face masks and ignoring social distancing protocols.
"We are going to talk with voters," Harris said Thursday, "but do it in a way that we don't risk their safety and their health."
At a rally in Bullhead, Arizona on Thursday, Trump compared himself to the pioneers who conquered the state while complaining about the hot weather.
"Arizona is the state where generations of pioneers and prospectors, miners, ranchers, cowboys and cattle hands, marshals and lawmen tamed the frontier, braved the blazing sun that I'm braving today," Trump said. "I'm just as brave as they are. I'm sitting up here. I'll be like a lobster tomorrow."