Arizona Church Speaks Out Ahead of Expected Melania Trump State Visit: 'Jesus Doesn't Want Kids to Be in Cages'
First lady Melania Trump was expected to land in Tucson, Arizona, on Thursday, marking her second trip to visit facilities holding undocumented immigrant families. Ahead of the first lady's visit, a local church hung two banners affirming their position as to where Jesus would stand on the issue of detaining children.
Saint Philip's In The Hills Episcopal Church, located about 15 miles from Davis-Monthan Air Force Base, where the first lady was expected to fly into from Washington, D.C, posted two banners on a wall outside the church facing a busy intersection, according to Fox 11 News.
The banners show a photo of a young boy standing next to two people, who appear to be border patrol agents, accompanied by the words, "Jesus doesn't want kids to be in cages."
Read more: Will Melania send another fashion message?
Father Robert Hendrickson told Fox 11 News that the banners are a way of telling the community "this is where we stand, this is where the church stands, this is how we think Jesus would stand."
"For us, it's hard to look at what's happening there and think that is something Jesus would have us be quiet about," he explained.
In a letter from Hendrickson to the congregation, which was also posted on the church's Facebook page, the rector explained that he's familiar with family separation since his mother died when he was young, and he and his wife recently adopted children.
"We can debate immigration policy, border controls, and more from a variety of points of view. I'm afraid, however, that the pulling away of innocent children, brought without their input, consent, nor complicity is a moral evil that is not debatable," he wrote.
Hendrickson also criticized Attorney General Jeff Sessions for the Scripture he cited on the basis that Nazis, slaveholders, segregationists and apartheid South Africa used it as well.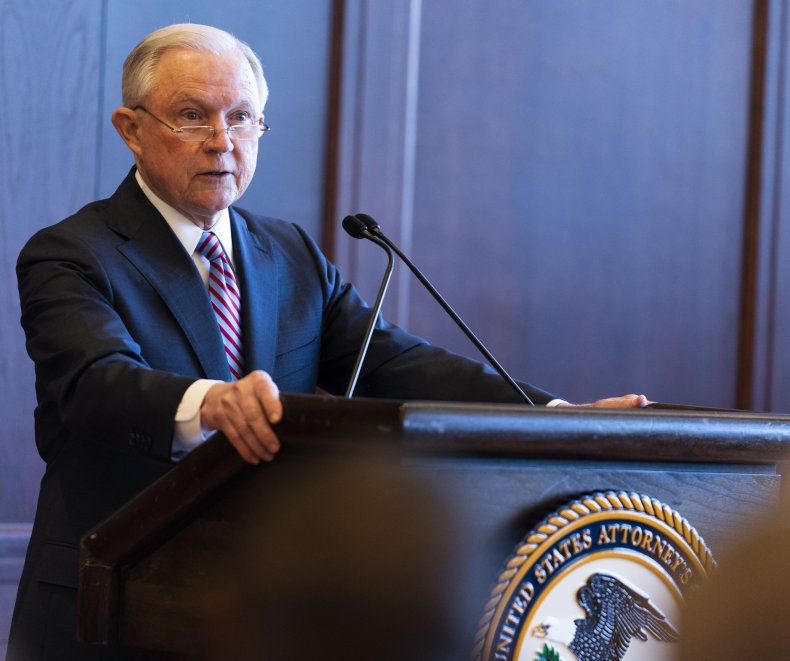 "I would cite you to the Apostle Paul and his clear and wise command in Romans 13, to obey the laws of the government because God has ordained the government for his purposes," Sessions told law enforcement officers during a speech, according to The Washington Post.
In his criticism of Sessions, the rector noted that Scripture has "far, far more verses about welcoming the stranger than it does about obeying the empire."
While some may argue that a church shouldn't get involved in a political issue, Hendrickson told Fox 11 News that it's a "justice issue," not a political one.
"So, I think, too often when we see the church, or churches, taking a public stance on something, it's often around a divisive, quote moral issues," he added. "To me, this is a moral issue that is uniting people of all faiths."
Hendrickson told Newsweek that Sessions using Scripture in defense of the immigration policy was the deciding factor in the church taking its own stand.
Multiple sources told the Tucson Sentinel that Trump was expected to visit the Southwest Key "Estrella" shelter on North Oracle Road, though it's possible she would also make a visit to a shelter in Phoenix as well.
If Hendrickson had the opportunity to meet with the first lady, he would propose a scenario in which the roles were reversed.
He told Newsweek he'd ask, "What would you not be willing to do to flee the kind of persecution, violence, and poverty," that is causing many of the people coming across the border to leave their country.
Hendrickson also wondered why the United States government doesn't implement ankle monitoring bracelets, which he said cost $4.50 a day, instead of detaining undocumented immigrants, which costs substantially more.
Saint Philip's In The Hills Episcopal Church's banners have been up for about a week and the church also hosted a candlelit prayer vigil for migrant children, which Hendrickson explained to Newsweek had 300 attendees from 20 different churches.
As far as the length of time the banners will remain hung, Hendrickson said it "depends on which way things go."