Black Republican Says He Needs AR-15 to Fight Off 'Democrats in Klan Hoods'
A Black congressional candidate from Arizona says that the Second Amendment must be protected so that he can fight off "Democrats in Klan hoods" with an AR-15.
Jerone Davison, a former NFL running back and Republican candidate for the U.S. House, released a new campaign video on Wednesday, arguing that limiting the sale of firearms would endanger the lives of Americans who are being targeted by white supremacists.
The clip shows a group of people wearing Ku Klux Klan robes and holding baseball bats and pitchforks, charging toward a house where Davison is sitting at the kitchen table.
"Democrats would like to say that no one needs an AR-15 for self-defense, that no one could possibly need all 30 rounds," the Republican says in the voiceover of the ad.
"But when this rifle is the only thing standing between your family and a dozen angry Democrats in Klan hoods," the voiceover continues as Davison emerges from the house with an AR-15-style rifle, "you might just need that semi-automatic and all 30 rounds."
The video, which he shared on Twitter, was captioned "Make Rifles Great Again."
Davison is running in a crowded field of Republican candidates for Arizona's 4th Congressional District. The seat is currently held by GOP Representative Paul Gosar, who is running to represent Arizona's 9th Congressional District in this year's midterms.
Also running for the GOP nomination in the August 2 primary are former Marine Kelly Cooper, engineer Dave Giles, Chandler City Councilman Rene Lopez and small-business owner Tanya Wheeless. While former President Donald Trump has yet to weigh in on the race, former Arkansas Governor Mike Huckabee has endorsed Giles.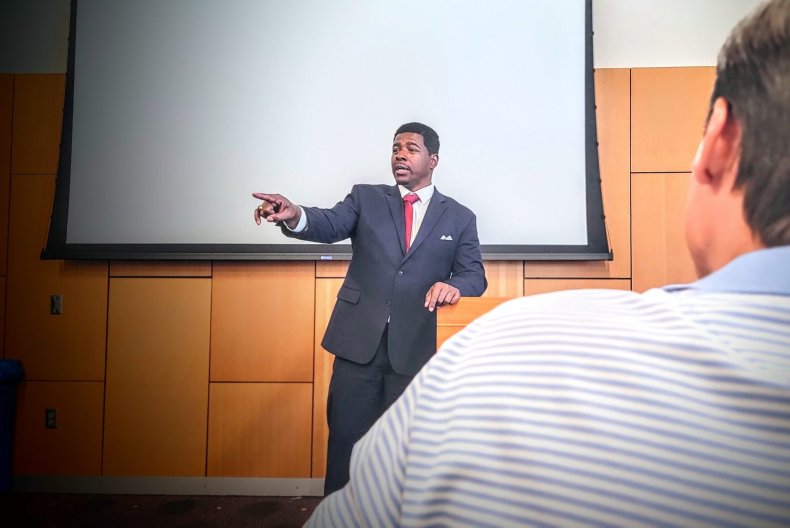 Representative Greg Stanton, who currently represents the state's 9th District, is running unopposed in the Democratic primary.
According to Davison's profile on the Secretary of State website, the former football player is running "on a platform that emphasizes faith, family, and freedom." He lists financial reform, criminal justice reform and education reform as his top priorities.
Last month, Media Matters reported that Davison's campaign is being run by QAnon influencer Austin Steinbart.
"Austin is my campaign manager," Davison wrote in a June 20 Facebook post. The GOP candidate also claimed that "the left is so afraid of my campaign that they tried to force me to fire" Steinbart.
Davison is not the only candidate running in Arizona with ties to QAnon conspiracies. Trump-endorsed Mark Finchem, a state representative running for secretary of state, and Ron Watkins, a conspiracy theorist running for Congress, have both been linked to QAnon.