Arizona Councilman Leads Anti-Mask Protest, Says 'I Can't Breathe'
An Arizona city councilman invoked the last words of George Floyd in an address Wednesday during a protest over local mandatory mask orders.
City Councilman Guy Phillips took the stage and put on a black mask, Arizona Republic reported. He then pulled it off.
"I can't breathe," Phillips said as the crowd cheered.
More than 150 protesters gathered in front of the city hall in Scottsdale, Arizona, for about an hour to speak out against orders passed last week by both the city and Maricopa County mandating that face coverings be worn in most public areas.
He chose the last words of Floyd, whose death by Minneapolis police officers last month caused Black Lives Matter protests to erupt across the world.
Messages left with Phillips by Newsweek were not returned by the time of publication.
Daniel McCarthy, who is challenging the Republican Sen. Martha McSally in the state's upcoming primary election, also spoke at the event, describing the mask order as a "communist insurrection," the Republic reported.
Protesters of all ages stood in the audience, carrying signs that read, "Junk the Mask," "My Choice Not Yours," "Unmask Us," "Conflicting Science Should Never Lead to Mandates" and "Freedom Over Fear," photos from local media reports showed.
The event took place just one day after Arizona had reported its largest single-day increase in coronavirus cases since the crisis began in March. There were 3,591 new confirmed cases reported on Tuesday, according to the state's health services department.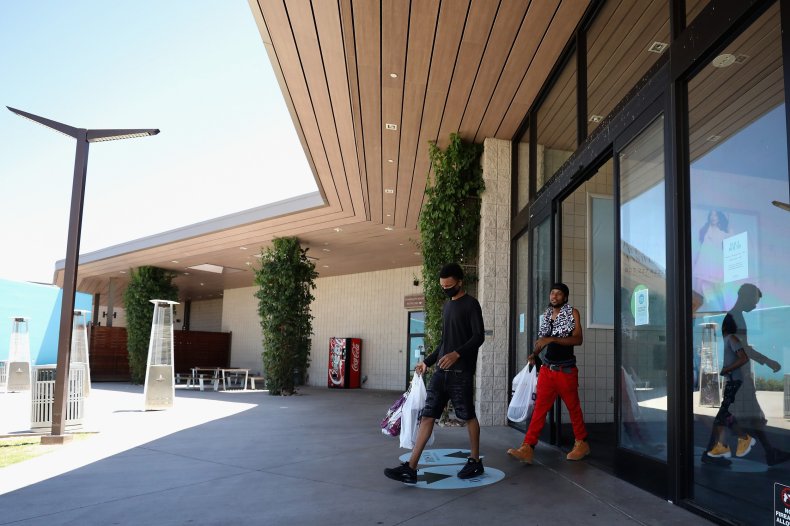 Phillips had posted a flyer to his Facebook page Saturday inviting residents to join him for Wednesday's protest.
"We believe education, not mandates, is the best way to handle this health concern," the flyer read. "We oppose government intrusion into our personal choice.
"We want everyone to stay healthy and pray this virus will be over soon."
In both Scottsdale and Maricopa County, enforcing the mask mandate will be left up to local police and the method of enforcement will take an educational approach. Anyone who chooses to call the police to report a mask order violation should use the non-emergency line, said Rob Coleman, a spokesman for Maricopa County.
Scottsdale police spokesman Kevin Watts told local media that his department aims to "encourage compliance through education," the Republic reported.
Phillips had expressed his concerns over such a mandate even before Scottsdale Mayor Jim Lane put the order into place, Azfamily.com reported.
"If you want to wear a mask, wear a mask. If you don't, don't," Phillips told the outlet. "But respect each other. If you asked me to wear a mask around you, I will do that because I respect your opinion."
The order to wear masks in Scottsdale will remain in place until July 22, unless city leaders determine it is no longer needed.