Cases of the novel coronavirus in Arizona have climbed past 52,500, with COVID-19-related hospitalizations at the highest level since early April, according to the latest figures from the Arizona Department of Health Services (ADHS).
The latest spike comes ahead of a student rally in Phoenix, where President Donald Trump will be speaking on Tuesday.
Around 1,992 hospitalizations among positive or suspected COVID-19 patients were reported on Sunday, the highest recorded since April 8, as of the latest report Monday from the ADHS.
Intensive care unit (ICU) beds used by positive or suspected COVID-19 patients were also at its highest since April 8, with 583 beds reported to be in use on Sunday, according to the latest report from the ADHS.
On Saturday, the state's ICU beds were at near full capacity, with 85 percent of beds reported to be in use, the highest percentage reported since March 26, according to the ADHS.
Arizona's daily case count of 2,500 on Sunday was five times higher than the 497 new cases reported May 16, when the state began reopening, according to data compiled by Johns Hopkins University.
The latest figures come ahead of Tuesday's "Students for Trump Convention" in Phoenix, where the president will be delivering "an address to young Americans," according to the event's website.
The rally is hosted by Students for Trump, a pro-Trump subgroup of Turning Point Action, which is a sister group to the Turning Point USA organization.
The event's registration form notes: "By clicking register below, you are acknowledging that an inherent risk of exposure to COVID-19 exists in any public place where people are present.
"By attending this convention, you and any guest voluntarily assume all risks related to exposure to COVID-19 and agree not to hold Turning Point Action, their affiliates, Dream City Church, employees, agents, contractors, or volunteers liable for any illness or injury," the website warns.
Speaking to Newsweek, a spokesperson for the White House said: "The President takes the health and safety of everyone traveling in support of himself and all White House operations very seriously," when asked whether Trump will be taking any precautionary measures at the rally and encouraging others at the event to do so.
"When preparing for and carrying out any travel, White House Operations collaborates with the physician to the President and the White House Military Office, to ensure plans incorporate current CDC [Centers for Disease Control and Prevention] guidance and best practices for limiting COVID-19 exposure to the greatest extent possible," the spokesperson added.

Dream City Church is a "multi-site megachurch" with several branches in Arizona, including in Phoenix, as well as one in Utah and Nebraska.
The venue is reported to have 3,000 seats, a person at the church told Arizona's KTAR News on Friday. The president's involvement in the event was not confirmed before the venue was secured, a spokesperson for Students for Trump told KTAR News.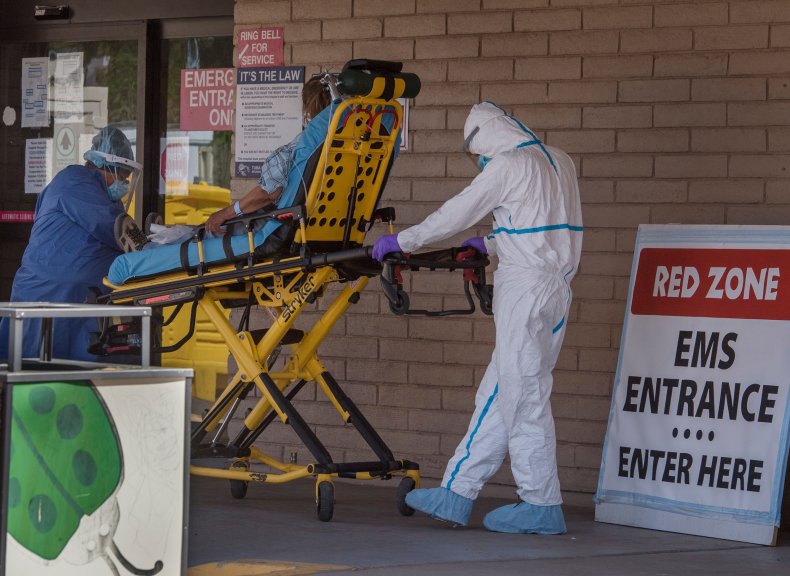 Dream City Church also noted it was informed of the president's attendance after it had agreed to rent out the venue, according to a statement from the church.
"Turning Point Action contacted Dream City regarding use of its facilities for a student event. Dream City prayerfully considered and then agreed. Turning Point Action subsequently informed Dream City that the President planned to speak at the event," the statement confirmed.
"Dream City's facility rental does not constitute endorsement of the opinions of its renters," the statement adds.
From Saturday, a face mask mandate was issued across Phoenix requiring face coverings to be worn in all public places across the city.
Phoenix Mayor Kate Gallego said in a statement Monday: "Tomorrow, the President will be hosting a campaign rally at a private church in North Phoenix. The event was not sanctioned or permitted by the City of Phoenix, as the city does not permit political events. Furthermore, it does not abide by current CDC guidelines during COVID-19.
"While I do not believe an event of this magnitude can be held safely, particularly as Arizona sees rising COVID cases, the President has decided to continue with this rally," she said in the statement.

Both the church and the presidential campaign staff have been notified by city officials about the mask mandate in Phoenix. The church has indicated it will hand out masks to event attendees and take their temperatures upon check-in, the statement confirmed.
Gallego explained in the statement: "The goal of this [mask] policy is not to hand out citations but to educate the public on the virus and its transmission. That is why we have started a robust public outreach campaign focused on education. The city has not changed this enforcement policy for tomorrow's event."
"But we would hope that our governor [Arizona Gov. Doug Ducey] who is there can send a strong message. He believes in masks and he could be a great spokesman telling young people who are there to wear masks but the best spokesman would be the president. If he [Trump] told everyone at that rally it was important to wear masks, I believe they would do it," Gallego said Sunday in an interview on CNN's The Situation Room with Wolf Blitzer.
Gallego noted: "We have about 17 percent left in hospital capacity, we're hearing stories about treatment in hallways...we are in a crisis situation, we need partners to help us make it better, we do not need to increase the spread in Phoenix."
If Trump were to listen, Gallego told CNN: "I would consider [asking Trump] whether it is appropriate to have this event in Phoenix while we are increasing the amount of COVID-19 in our community.
"But if you are going to have it, please send the strongest signals to everyone that they need to wash their hands, they need to wear masks and they have to stay home if there is any question as to whether they are sick," she added.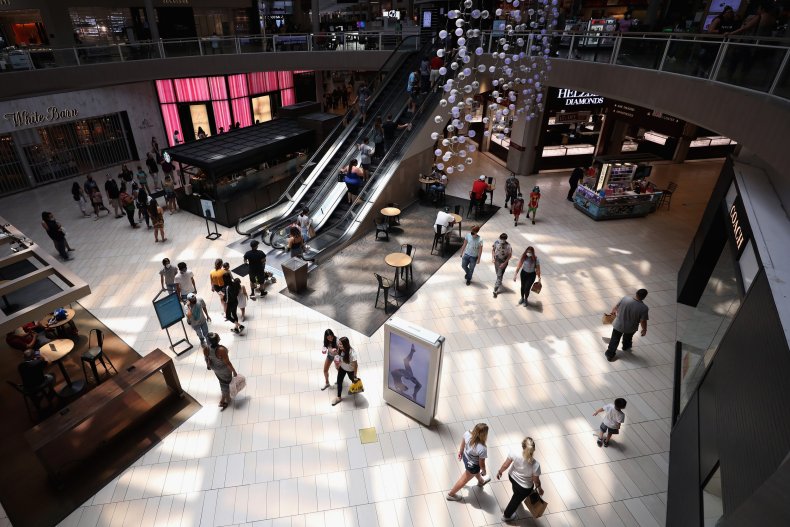 Last week, medical professionals urged Ducey to issue a statewide mandate for mandatory mask-wearing to help reduce the spread of infection in a letter addressed to the governor.
In a statement Tuesday, the governor's office said: "We have received the letter. Addressing COVID-19 remains our highest priority. Everyone should wear a face covering when out in public and continue to follow public health guidelines."
Arizona's stay-at-home order expired on May 15 but a selection of venues were reopened before the expiration of the order. Restaurants, gyms, pools, hair and nail salons, non-essential retailers were allowed to reopen with restrictions in place before May 15.
Newsweek has contacted the ADHS, Dream City Church and the office of Ducey for comment.
The novel coronavirus, which was first reported in Wuhan, China, has spread to over 8.9 million people across the globe, including over 2.2 million in the U.S. More than 4.4 million globally have reportedly recovered from infection, while nearly 469,000 have died, as of Monday, according to the latest figures from Johns Hopkins University.
This article has been updated with comment from the White House and the office of Gallego.
The graphics below, provided by Statista, illustrate the spread of COVID-19 in the U.S. and the worst-affected countries.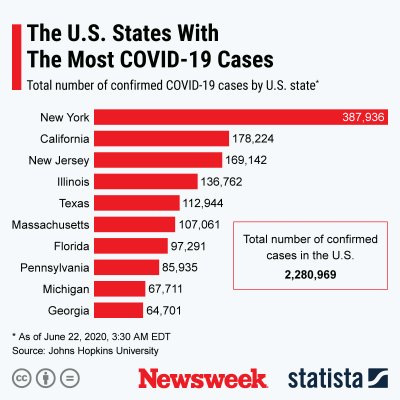 The graphic below, provided by Statista, illustrates the percentage of COVID-19-related hospitalizations, ICU admissions and deaths in the U.S.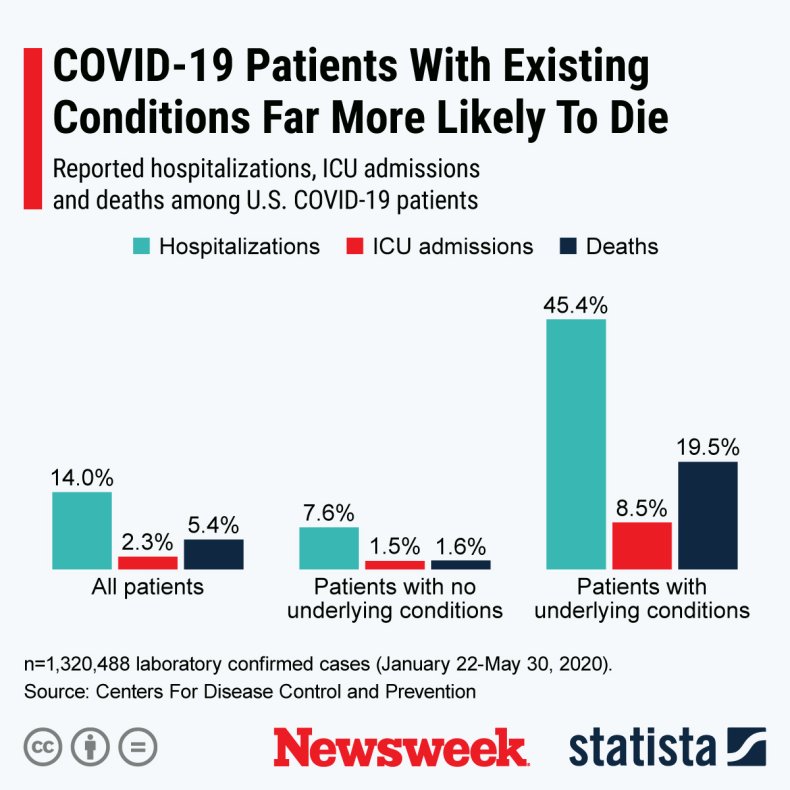 About the writer
Soo Kim is a Newsweek SEO Reporter is based in London, UK. She reports on various trends and lifestyle stories, from health, fitness and travel to psychology, relationships and family issues. She is also a South Korea expert who regularly covers Korean culture/entertainment for Newsweek, including the latest K-dramas, films and K-pop news, and is the author of the book How to Live Korean, which is available in eight languages. Soo also covered the COVID-19 pandemic extensively from 2020 through 2021 after joining the general news desk of Newsweek in 2019 from the Daily Telegraph (a U.K. national newspaper) where she was a travel reporter/editor from 2010. She is a graduate of Binghamton University in New York and the journalism school of City University in London, where she earned a Masters in international journalism. Languages spoken: English and Korean.
Follow her on Twitter at @MissSooKim or Instagram at @miss.soo.kim
You can get in touch with Soo by emailing s.kim@newsweek.com