Doctors Urge Arizona Gov. to Reverse Mask Policy as Coronavirus Cases Surge
As coronavirus cases in Arizona approach nearly 40,000, with a record daily case count of about 2,300 reported Tuesday, medical professionals are urging Arizona Gov. Doug Ducey to issue a statewide mandate for mandatory mask-wearing to help reduce the spread of infection.
Three letters signed by hundreds of doctors, nurses and administrators have been sent to Ducey's office imploring the governor to introduce more robust safety measures and require residents to wear face coverings both in public and inside private businesses, FOX 10 Phoenix reports.
Dr. Elizabeth Wilson, who specializes in emergency medicine, told FOX 10 Phoenix: "The public is not listening, and our leadership is not conveying this message in a strong, effective manner."
Dr. Julie Kwatra told FOX 10 Phoenix: "This is a letter given to the governor to ask him respectfully to mandate the mask-wearing in public, and is signed by hundreds of physicians from all specialties," in a bid to help curb the spread of the virus.
The medical professionals also asked for appropriate protective gear for all frontline health workers and increased medical support for minority communities, FOX 10 Phoenix reports.
In view of previous protests against lockdown restrictions, the medical professionals noted the outbreak has taken a political turn concerned more about constitutional rights than human lives, as cases continue to rise across the state.
"It's time for us to put individual desires aside, and do what's best for the good of the entire community," the letter concludes.
Tuesday's daily case count of nearly 2,300 new cases is the highest it's been since the outbreak began and is more than double that of Monday, when about 1,100 new cases were reported, according to the latest figures from Johns Hopkins University.
The number of new cases reported Tuesday is nearly five times the figure reported May 16, when the state began reopening, with 497 new cases reported that day.
On Sunday, Arizona Congressman Greg Stanton stated that "Arizona is the new national hotspot for COVID-19," in a post on his official Twitter account, with more than 4,400 new cases recorded over a period of just 72 hours.
"Per capita, Arizona's infection rate is now more than three times higher than New York state. It's spreading like wildfire," Stanton noted in the post.
Wilson said: "If we continue to have a drastic rise in cases and we end up in a crisis, Arizona is going to have to shut down again."
Kwatra added: "When you're an elected official, you are going to be put in a position to make some difficult choices, but really, the choice, when it comes to saving lives, shouldn't be a difficult choice."
In a statement issued Tuesday, the governor's office said: "We have received the letter. Addressing COVID-19 remains our highest priority. Everyone should wear a face covering when out in public and continue to follow public health guidelines."
Noting that "Arizona has seen testing more than double in capacity," since the stay-at-home order expired on May 15, the statement outlined the state's plan to ramp up testing, with a focus on residents and staff at long-term care facilities, prisons and other vulnerable sectors of the population. The state will also focus on contact tracing and managing hospital capacity, the statement confirmed.
Newsweek has contacted the governor's office for further comment.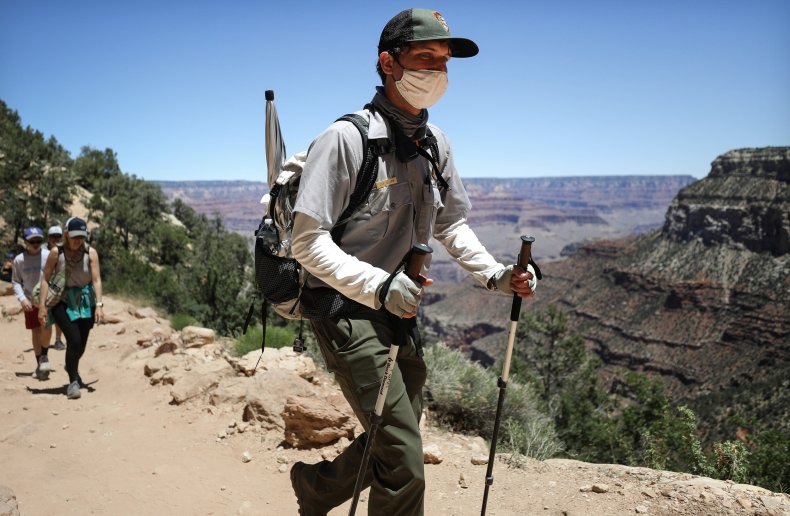 On Tuesday, in a letter addressed to Texas Gov. Greg Abbott, the mayors of Austin, Houston, Dallas, San Antonio, Fort Worth, Arlington, El Paso, Grand Prairie and Plano asked him to "restore the ability for local authorities to enforce the wearing of face coverings in public venues where physical distancing cannot be practiced," should there be no plans for a statewide mandate.
Speaking to Newsweek last month, Dr. Anthony Fauci, the director of the National Institute of Allergy and Infectious Diseases and member of the U.S. COVID-19 task force, said: "There are minimal things, to the extent possible, that all individuals should be doing. One of them is wearing a mask."
"I wear a mask all the time [in public]...I take the mask off when I'm alone in my office," Fauci said, adding that he wears a mask even in public spaces where he will be practicing social distancing.
"The reason why you should still wear a mask, is that sometimes you think you're able to physically distance, but then you turn a corner and suddenly you're two feet away from five people. So that's why you should wear it in public, sort of as a backup," he explained.
The Centers for Disease Control and Prevention "recommends wearing cloth face coverings in public settings where other social distancing measures are difficult to maintain (e.g., grocery stores and pharmacies) especially in areas of significant community-based transmission."
Earlier this month, the World Health Organization (WHO) issued updated guidelines on masks. In view of various studies on both pre-symptomatic and asymptomatic transmission, WHO advised that "to prevent COVID-19 transmission effectively in areas of community transmission, governments should encourage the general public to wear masks in specific situations and settings as part of a comprehensive approach to suppress SARS-CoV-2 transmission."
The novel coronavirus, which was first reported in Wuhan, China, has spread to more than 8.1 million people across the globe, including over 2.1 million in the U.S. More than 3.9 million globally have reportedly recovered from infection, while over 444,300 have died, as of Wednesday, according to the latest figures from Johns Hopkins University.
The graphics below, provided by Statista, illustrate the spread of COVID-19 in the U.S. and the worst-affected countries.