Texas Coronavirus Cases Double in a Day, Mayors Ask to Enforce Face Masks
As novel coronavirus cases in Texas climb to at least 93,569, with a record number of new cases reported Tuesday, the mayors of nine cities in the state have urged mandatory face coverings in public to help curb the spread of infection.
On Tuesday, Texas recorded its highest daily case count since the outbreak began, with around 3,400 new cases. That's double the 1,700 new infections reported Monday, according to the latest figures from Johns Hopkins University.
In a letter Tuesday addressed to Texas Gov. Greg Abbott, the mayors of Austin, Houston, Dallas, San Antonio, Fort Worth, Arlington, El Paso, Grand Prairie and Plano asked him to "restore the ability for local authorities to enforce the wearing of face coverings in public venues where physical distancing cannot be practiced," should there be no plans for a statewide mandate.
The mayors acknowledged there had been a rise in cases due to increased testing but also warned "some areas are seeing confirmed cases increasing more rapidly than testing," and "we must also take precautions to avoid a massive influx of new cases overwhelming our hospitals."
The mayors noted: "Many people in many of our cities are still refusing to wear these face coverings even though these coverings are scientifically proven to help prevent the disease from spreading.
"If mayors are given the opportunity to require face coverings, we believe our cities will be ready to help reduce the spread of this disease."
The latest letter coincides with a new study published Tuesday in the Health Affairs journal looking at the effect of state government mandates in the U.S. for face mask use in public issued by 15 states and Washington D.C. between April 8 and May 1.
The study notes: "The research design is an event study examining changes in the daily county-level COVID-19 growth rates between March 31, 2020 and May 22, 2020.
"Estimates suggest as many as 230,000–450,000 COVID-19 cases possibly averted by May 22, 2020 by these mandates. The findings suggest that requiring face mask use in public might help in mitigating COVID-19 spread."
Earlier this month, a study in the journal Proceedings of the Royal Society A noted that wearing face masks in public all the time could help epidemics of the COVID-19-causing coronavirus to die out and prevent future waves.
The Centers for Disease Control and Prevention (CDC) noted: "We now know from recent studies that a significant portion of individuals with coronavirus lack symptoms ("asymptomatic") and that even those who eventually develop symptoms ("pre-symptomatic") can transmit the virus to others before showing symptoms.
"In light of this new evidence, CDC recommends wearing cloth face coverings in public settings where other social distancing measures are difficult to maintain (e.g., grocery stores and pharmacies) especially in areas of significant community-based transmission."
Earlier this month, the World Health Organization (WHO) issued updated guidelines on the use of masks, noting "the widespread use of masks by healthy people in the community setting is not yet supported by high quality or direct scientific evidence and there are potential benefits and harms to consider."
However, in view of different studies on both pre-symptomatic and asymptomatic transmission, WHO advised that "to prevent COVID-19 transmission effectively in areas of community transmission, governments should encourage the general public to wear masks in specific situations and settings as part of a comprehensive approach to suppress SARS-CoV-2 transmission."
WHO advised policymakers to "apply a risk-based approach," when encouraging the use of masks for the general public, looking at several criteria including the risk of exposure to the virus, the vulnerability of the person wearing the mask and the population as well as the setting in which the population lives.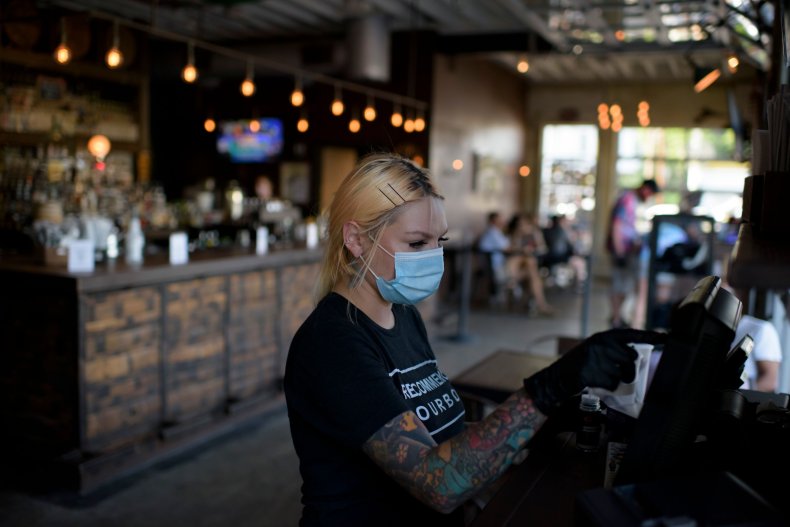 The percentage of positive virus tests in Texas has been on a mostly increasing trend since May 18, when the state began the second phase of its reopening.
Last week, a health official in Texas warned that parts of the state, including San Antonio, are seeing "a very large increase" in cases and "we are entering a second wave."
The director of the San Antonio Metropolitan Health District, Dr. Dawn Emerick, said: "Something is happening in our community. It's not just San Antonio. It is also some of the other larger cities in Texas as well."
The novel coronavirus, which was first reported in Wuhan, China, has spread to more than 8.1 million people across the globe, including over 2.1 million in the U.S. More than 3.9 million globally have reportedly recovered from infection, while over 443,700 have died, as of Wednesday, according to the latest figures from Johns Hopkins University.
The graphics below, provided by Statista, illustrate the spread of COVID-19 in the U.S. and the worst-affected countries.