Novel coronavirus cases in Florida and Texas have seen significant spikes this week. Florida reported a record 1,698 new cases on Thursday, the Florida Department of Health confirmed. Parts of Texas, including San Antonio, are seeing "a very large increase" in cases and "we are entering a second wave," a health official in Texas warned.
The latest daily case count in Florida is the highest it's been since the outbreak began. It is nearly a 30 percent increase from Wednesday, which saw around 1,200 new infections. Thursday's daily case count also marks a nearly 70 percent increase on the figure reported since the state reopened on May 5, when 542 new cases were recorded.
Florida's daily case count has surpassed 1,000 six times in the past seven days, according to data compiled by Johns Hopkins University.
The state's seven-day rolling average for daily cases has been on a mostly increasing trend from May 28.
Cases in Texas' Bexar County, whose county seat is San Antonio, also reported dramatic rises this week. The daily case count rose from 22 new cases on Monday to 180 on Tuesday. The figure also jumped from 135 new cases on Wednesday to 192 on Thursday, according to the latest report from the San Antonio government website.
The director of the San Antonio Metropolitan Health District, Dr. Dawn Emerick, noted: "Something is happening in our community. It's not just San Antonio. It is also some of the other larger cities in Texas as well," at a media briefing Thursday.
While last week's surge in cases was said to be partially due to a backlog in test results, Emerick said: "The last three to four days, that's not the case."
"Our peers across the state are also seeing a very large increase in those positives."
Cases in North Texas were also reported to be on an upward trend. "It's definitely of great concern," noted Dr. Phillip Huang, the director of Dallas County Health and Human Services.
Emerick said: "We are entering a second wave. The spike we're seeing now...there's an association, perhaps, with Memorial Day weekend."
The seven-day rolling average of daily cases in Texas has been on a mostly increasing trend since May 26, the day after Memorial Day.
Texas also saw a record number of hospitalizations on Wednesday, with 2,153 COVID-19 patients hospitalized. The previous record was reached just a day earlier. Hospitalizations among COVID-19 patients in the state increased for the fourth consecutive day on Wednesday, according to the Texas Department of State Health Services.
"We are letting down our guard, and we are not adhering to some of these things that we've been preaching about for the last four months. So there's a sense of urgency right now," Emerick warned on Thursday.
"Take this serious. Number one - face coverings. We've talked about that over and over and over again. It's the best way of mitigating the spread, in addition to the social distancing. We are definitely seeing more people not wearing masks. This is not healthy," she added.
Florida's stay-at-home order expired on May 4. Miami-Dade, the state's worst-hit county, and Broward County were the last regions to begin phase one of the reopening on May 18. Restaurants, bars, retailers, gyms, personal care services, places of worship, entertainment venues and beaches have resumed operations.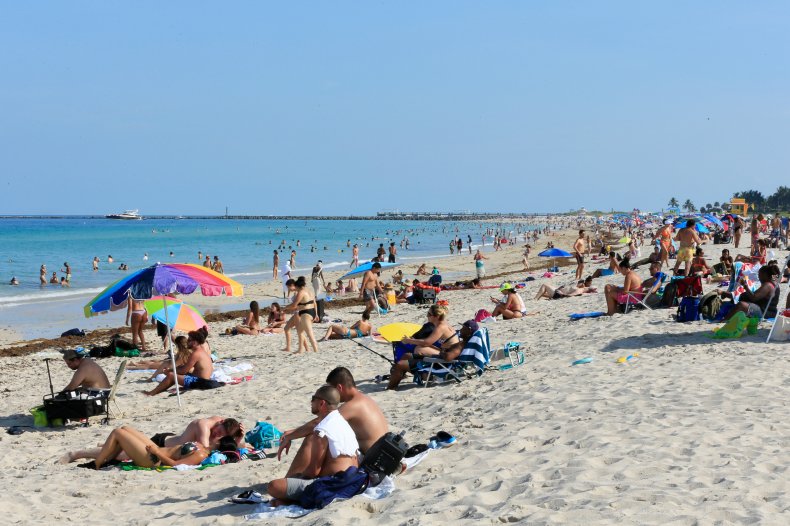 Florida Gov. Ron DeSantis noted at a Tuesday press conference: "Don't mistake identifying more cases for thinking there are more cases one day compared to two months ago.
"If you're testing three times as much and you have a disease with a lot of asymptomatic [cases]. Remember at the end of March, you couldn't get a test if you were asymptomatic. It was only for people that were showing symptoms as per the CDC [Center for Disease Control and Prevention] guidelines. We've really expanded that."
Texas entered the third phase of its reopening on June 3. Between May 26 and June 2, over 45 percent of new cases were reported to have come from jails, meat-packing plants and nursing homes, the office of Texas Gov. Greg Abbott confirmed in a statement.
Phase three of the reopening allows all businesses to operate at 50 percent capacity, with some exceptions, while most outdoor areas are not subject to capacity limits. Bars are allowed to resume at 50 percent capacity as long as customers are seated.
Restaurants may increase their capacity to 75 percent from June 12, while amusement parks and carnivals in counties with more than 1,000 cases may resume at 50 percent capacity from June 19.
Confirmed cases Texas and Florida have climbed to 82,658 and 69,069, respectively, according to figures reported Friday by Johns Hopkins University.
The novel coronavirus, which was first reported in Wuhan, China, has infected more than 7.5 million across the globe, including more than two million in the U.S. Over 422,000 have died, while more than 3.5 million have reportedly recovered from infection, as of Friday, according to the latest figures from Johns Hopkins University.
Uncommon Knowledge
Newsweek is committed to challenging conventional wisdom and finding connections in the search for common ground.
Newsweek is committed to challenging conventional wisdom and finding connections in the search for common ground.
About the writer
Soo Kim is a Newsweek SEO Reporter is based in London, UK. She reports on various trends and lifestyle stories, from health, fitness and travel to psychology, relationships and family issues. She is also a South Korea expert who regularly covers Korean culture/entertainment for Newsweek, including the latest K-dramas, films and K-pop news, and is the author of the book How to Live Korean, which is available in eight languages. Soo also covered the COVID-19 pandemic extensively from 2020 through 2021 after joining the general news desk of Newsweek in 2019 from the Daily Telegraph (a U.K. national newspaper) where she was a travel reporter/editor from 2010. She is a graduate of Binghamton University in New York and the journalism school of City University in London, where she earned a Masters in international journalism. Languages spoken: English and Korean.
Follow her on Twitter at @MissSooKim or Instagram at @miss.soo.kim
You can get in touch with Soo by emailing s.kim@newsweek.com