Arizona Democrats Say Kyrsten Sinema Protecting 'Antiquated Rule' Instead of Constituents
The Arizona Democratic Party criticized Senator Krysten Sinema Thursday, after she reiterated her support for the Senate filibuster, delivering a major setback to President Joe Biden and Democrats who want to change the rule to pass voting rights legislation.
In a floor speech on Thursday, Sinema, a Democrat from Arizona, said she supported the voting rights bills—the John Lewis Voting Rights Act and the Freedom to Vote Act— but that she "will not support separate actions that worsen the underlying disease of division infecting our country."
"There's no need for me to restate my long-standing support for the 60-vote threshold to pass legislation. There's no need for me to restate its role protecting our country from wild reversals in federal policy," Sinema stated.
In response to Sinema's speech, the Arizona Democratic Party issued a statement on Thursday afternoon.
Its chair, Raquel Terán, said that last year, the party "recognized that we cannot claim to be advocates for civil rights while maintaining the filibuster, which is why we took a strong stance in support of ending the filibuster in order to pass much needed voting rights legislation."
"This is not a divisive issue, this is about the future of democracy. Without the protection of voting rights, democracy fails," Terán stated.
"We are disappointed to say the least that Senator Sinema has chosen to protect an antiquated rule over her constituents."
In September, the Arizona Democratic Party pledged to hold a vote of no confidence against Sinema if she opposed filibuster reform.
In a speech on Tuesday, Biden urged legislators to change the Senate's filibuster rule—which requires chamber to reach a 60-vote threshold to advance legislation—to pass the voting rights legislation. He argued that the rule "has been weaponized and abused" and that it "is not used by Republicans to bring the Senate together but to pull it further apart."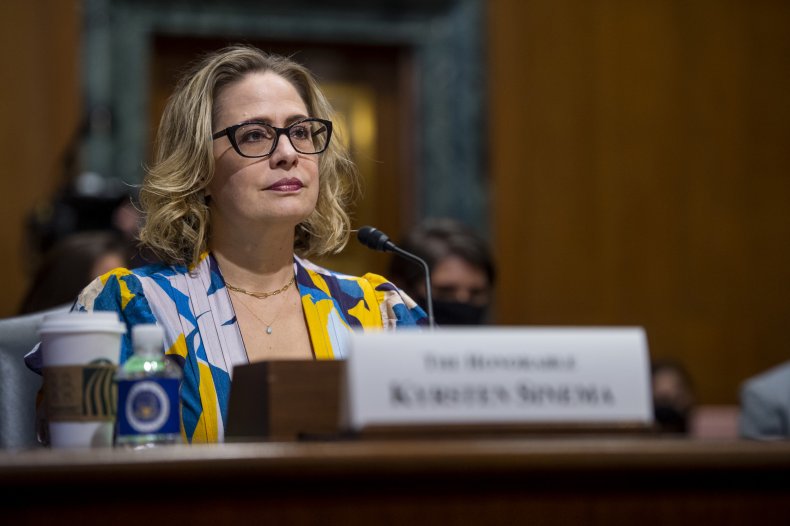 "While the state legislatures' assault on voting rights is simple—all you need in your House and Senate is a pure majority—in the United States Senate, it takes a supermajority: 60 votes, even to get a vote—instead of 50—to protect the right to vote," the president said.
Sinema isn't the only Democrat who is opposed to changing the filibuster rule. Senator Joe Manchin, of West Virginia, has also defended the filibuster.
"We need some good rules changes to make the place work better. But getting rid of the filibuster doesn't make it work better," Manchin told reporters before Biden's speech on Tuesday, according to The Hill.
With only 50 members in the Senate, Democrats would need both Manchin and Sinema's support to pass changes to the filibuster.
Newsweek reached out to Sinema's office for comment.