Arizona GOP Chair Calls For New Audit After Biden Confirmed Winner Again
The leader of Arizona's Republican party has called for a new "full signature audit" after the results of a controversial GOP-backed audit of the 2020 president election confirmed that President Joe Biden won the state.
Results of the audit, which was led by a group called "Cyber Ninjas," were released on Friday and found that Biden defeated former President Donald Trump by slightly more votes than the official count. Although the review was the third audit of Arizona results, none of which cast any reasonable doubt on Biden's win, Arizona GOP Chair Dr. Kelli Ward took to Twitter to call for another audit while insisting that Friday's results indicated "possible malfeasance."
"Amazing report from Dr. Shiva," Ward tweeted. "Many questions for Maricopa County as well as exposure of incompetence & possible malfeasance. A FULL SIGNATURE AUDIT IS ABSOLUTELY NECESSARY! #AmericasAudit"
The "Dr. Shiva" that Ward is referring to is Shiva Ayyadurai, an election fraud and COVID-19 conspiracy theorist that the Republican-controlled state Senate hired as an "expert" for the audit. Ayyadurai also claims that he invented email in the late 1970s, although the service was already active as part of the U.S. government's ARPANET in the early 1970s.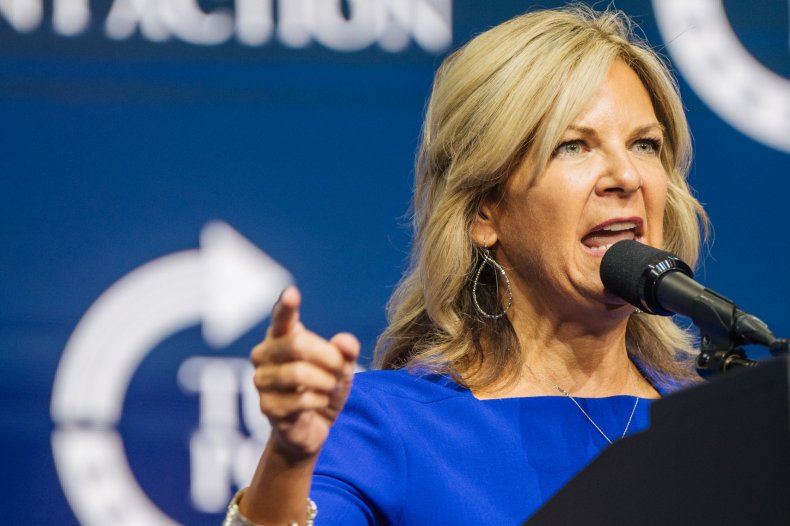 Ayyadurai argued that the audit showed thousands of mail-in ballot envelopes were missing legible signatures and that thousands of duplicate ballots could have been included in the results. Maricopa County officials quickly dismissed the claim in a tweet, explaining that "only one ballot is counted" and voters are contacted to "cure" ballots where signatures or envelopes have been questioned.
The county also debunked several findings of the audit that some have falsely claimed are evidence of fraud. One finding that Cyber Ninjas said was "critical" indicated that over 23,000 ballots were voted from a voter's previous address.
County officials said that the claim did not indicate anything illegal and noted that the voters cited, representing about 1 percent of those who cast ballots, may have simply moved at around the time of the election.
"Cyber Ninjas still don't understand this is legal under federal election law," the county tweeted. "To label it a 'critical' concern is either intentionally misleading or staggeringly ignorant. AZ senators should know this too."
Regardless of the audit confirming Biden's win and revealing no evidence to validate claims of massive fraud, some have made assertions to the contrary. Trump himself released a statement maintaining that "Massive fraud was found in the Arizona Forensic Audit" and the "numbers are Election Changing!"
Although Trump and his staunchest allies have attempted to spin the audit results as a positive, other Republicans admitted that the outcome was anything but favorable for the former president and his repeated evidence-free claims that massive fraud cost him the election.
"This was Donald Trump's best chance to prove his cases of elections being rigged and fraudulent and they failed," Republican election lawyer Ben Ginsberg said during a call with members of the media, according to Reuters. "It's a huge defeat for Donald Trump."
Republican Arizona state Sen. Paul Boyer, who initially supported the audit but later concluded that it made the GOP "look like idiots," told The Hill that the audit "wasted nearly $6 million to tell us what we already knew, meanwhile exacerbating an already unhealthy political environment."
Newsweek reached out to the Arizona Republican Party for comment.