Arizona GOP Chair Sees Call for Resignation After Huge Losses to Democrats
Kelli Ward, chairwoman of the Arizona Republican Party, is facing calls for her resignation after Democrats saw significant midterm wins in the state.
As a key swing state, and one that helped seal President Joe Biden's victory in 2020, Arizona was a major target for Republicans in this year's midterms, especially former President Donald Trump, who endorsed several candidates in the Copper State. These plans went to bust over the last week, as Democrats like Senator Mark Kelly and Secretary of State candidate Adrian Fontes picked up victories. Most recently, Katie Hobbs, the current Arizona secretary of state, won the gubernatorial race against Kari Lake, an outspoken Trump loyalist and election denier.
Lake's race in particular has led to one prominent Arizona Republican to call for Ward's resignation. Karrin Taylor Robson, a former member of the Arizona Board of Regents, ran unsuccessfully against Lake for the state's Republican gubernatorial nomination. In a tweet Tuesday afternoon, Robson released a statement calling for Ward to resign from her position and blamed her for putting the GOP "in the weakest position in Arizona we've been in as a party in 50 years."
"Kelli Ward's leadership of the Republican Party has been an unmitigated disaster," Robson wrote in her full statement. "Ward had every opportunity to succeed. And yet, she failed. And failed again. In 2016, Republicans in Arizona carried President Donald Trump to victory. Republicans held two US Senate Seats, along with every statewide office in Arizona.
"On Ward's watch, the Arizona GOP has allowed our state to vote Democrat for President for the first time in a generation; has lost two United States Senate races, along with the Governor's office. More concerned with stoking division and settling old scores, Kelli Ward has led our party into a deep morass with no real plan for the future."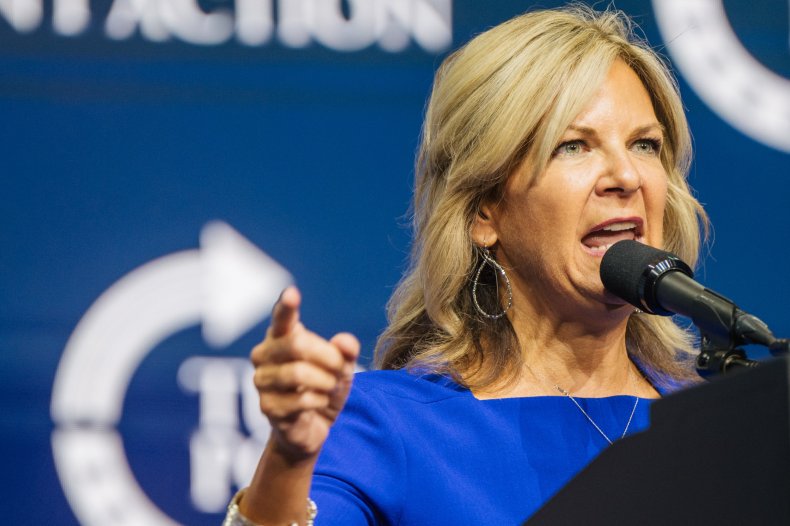 Ward has yet to release a statement on Robson's call for her to resign. Newsweek reached out to her office for comment.
Robson's Tuesday statement is not the first time Ward has faced calls for her resignation from within her own party. In September of last year, Republican leaders in Maricopa County, the most populous in Arizona, called for her to resign after supporting the controversial and embarrassing "Cyber Ninjas" audit of the 2020 presidential election in the state. The audit received widespread criticism from all sides and ultimately confirmed Biden's win in Arizona by a larger margin than the initial count.
In her Tuesday statement, Robson further highlighted that, under Ward's leadership, Republicans lost a majority of statewide races in Arizona for the first time since 1974, the first election after the Watergate scandal.
"Kelli Ward is passionate about her views, and claims to be a conservative. But she is not a leader," Robson wrote. "She is not a winner. The party cannot afford two more years with her as Chairman. For the good of the party she claims to love, and for the future of the state that we all cherish, Kelli Ward must do the right thing. Kelli Ward must resign as the Arizona Republican Party Chairman. We need a fresh start to the AZGOP, and it starts with new leadership at the top."