Maricopa Republicans Call on Arizona GOP Chair Kelli Ward to Resign Over Election 'Lies'
Several Maricopa County Republican leaders have called on Arizona's GOP Chair Kelli Ward to resign, slamming her for promoting election "lies" after the controversial Cyber Ninjas audit of the county's results reaffirmed President Joe Biden's victory over former President Donald Trump.
Arizona Senate Republicans contracted Florida-based Cyber Ninjas in the spring to audit Maricopa County's election results due to Trump's groundless claims of widespread fraud. The audit was widely mocked and criticized, including by many Republican officials in the county. In the end, the full recount showed a minor net gain in votes for Biden and less votes for Trump.
In a Friday interview with KTAR News' The Mike Broomhead Show, Maricopa County Supervisor Clint Hickman, a Republican, urged Arizona's GOP Governor Doug Ducey as well as Treasurer Kimberly Yee to push Ward to resign. Ward was a staunch supporter of the audit and continues to question the results of the election despite Cyber Ninjas' findings.
"I think the time has come. She has now led us to a part where our former president has lost publicly the Arizona vote again to Joe Biden," Hickman said of Ward. "That is horrible and I will not stand for this type of leadership."
Bill Gates, another Republican who serves on the Maricopa County Board of Supervisors, later retweeted a link to Hickman's interview. He slammed Ward for spreading misinformation about the 2020 election.
"I stand w/ my colleague here calling for @kelliwardaz's resignation. The @AZGOP's done nothing but push lies about our electoral system, ignore down ballot races, & lose federal & state elections under her leadership. We must choose a new direction rooted in truth & good politics," Gates tweeted.
"Elections are about addition, not subtraction. Our party has lost numbers and continues to alienate voters that should be in our tent. The party has also fundraised off of the audit, without providing a dime to its expenses. That's called grifting," he wrote. "Enough is enough."
Despite the Cyber Ninjas' results, Ward and Trump have doubled down on claiming the Maricopa County results were fraudulent.
"Many questions for Maricopa County as well as exposure of incompetence & possible malfeasance. A FULL SIGNATURE AUDIT IS ABSOLUTELY NECESSARY! #AmericasAudit," Ward tweeted on Friday.
Stephen Richer, a Republican who serves as the Maricopa County Recorder, quickly took issue with Ward's claim.
"Reminder that— under court supervision (where you can't lie willy nilly) as a part of 1 of 8 unsuccessful court cAses — Kelli ward's handwriting expert looked at a sample of the signature affidavits and found... 0 signs of inaccuracy or fraud," Richer tweeted.
Trump and many of his allies demanded that Arizona "decertify" its election results, falsely claiming the Cyber Ninjas report showed widespread voter fraud.
"It is not even believable the dishonesty of the Fake News Media on the Arizona Audit results, which shows incomprehensible Fraud at an Election Changing level, many times more votes than is needed. The Fake News Media refuses to write the facts, thereby being complicit in the Crime of the Century. They are so dishonest, but Patriots know the truth! Arizona must immediately decertify their 2020 Presidential Election Results," Trump said in a Friday statement.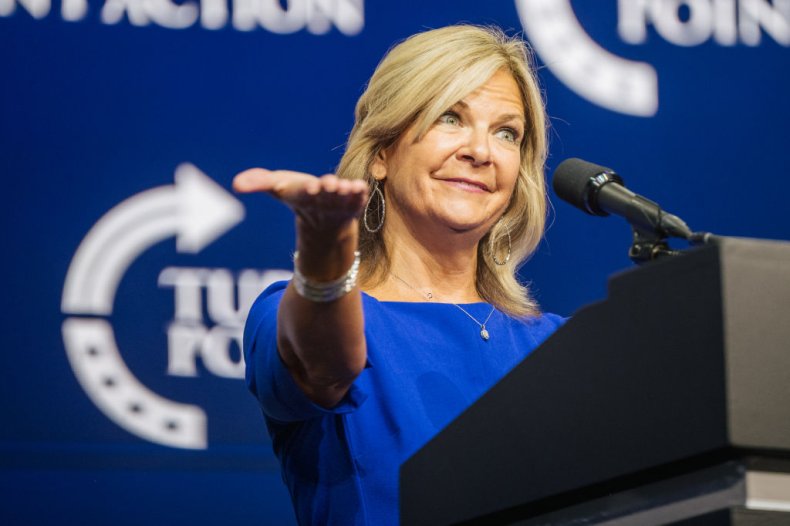 Ducey quickly rejected Trump's demand. "When it comes to the audit, like the three audits that preceded it, it's now over. The outcome stands and the 2020 election in Arizona is over," the GOP governor tweeted.
"There will be no decertification of the 2020 election — the audit does not call for one, and even if it had, there is no lawful way to decertify," the Arizona leader asserted. "As we have every step of the way, Arizona will follow the law."