Arizona Governor Doug Ducey Calls National Guard to Help Border Patrol With Migrant Flow
Arizona Republican Governor Doug Ducey met with border officials on Tuesday to discuss a recent surge in migration at the state's border. Afterward, he committed to deploying tactical resources and National Guard troops to areas where Border Patrol needs help, Border Report writes.
Earlier this week, the Biden administration resumed the Migrant Protection Protocols (MPP) program, commonly known as "Remain in Mexico," in which migrants present their cases in the U.S. and wait for their immigration court date in Mexico.
However, under Title 42, the U.S. does not allow migrants to present their asylum cases at U.S. ports of entry, allowing only some who have entered customs processing to enter the program. This has resulted in hundreds of migrants in Arizona crossing illegally and later presenting themselves to authorities in an attempt to seek asylum by being placed into the MPP program.
"Yuma is facing an escalating humanitarian and border crisis—and it's a direct result of the Biden administration's poor communication, lack of organization and complete disregard for border protection," Ducey tweeted on December 6.
On Monday, over 1,500 migrants crossed into the Yuma area from Sonora, Mexico. Upon crossing, many reportedly made 911 calls to the Yuma County Sheriff's office requesting to be picked up and given water.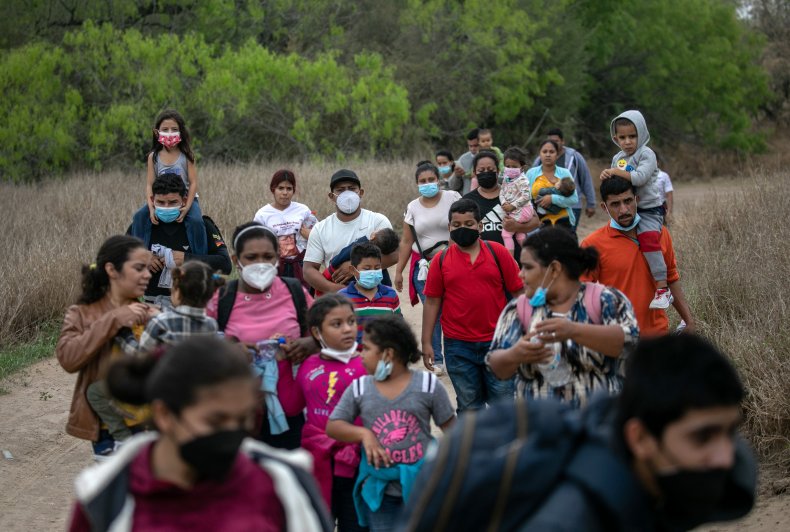 Earlier this week, Border Report and El Paso's NBC affiliate KTSM Channel 9, documented a number of instances in which individuals and families were turned away from a U.S. port of entry after attempting to present their asylum cases. Border Report then shared a number of instances reported by Mexican media in which groups of migrants crossed the Rio Grande in attempts present their cases on the U.S. side of the border.
In regard to the recent crossings that have occurred since the reimplementation of MPP, a U.S. Customs and Border Protection spokesperson sent the following statement to Newsweek:
"DHS is closely coordinating the court-mandated reimplementation of MPP with the Government of Mexico to address security concerns and operational constraints. DHS began the court-mandated reimplementation in one location today. For operational security reasons, DHS is not sharing details such as location of initial returns or number of individuals enrolled.
"Once fully operational, MPP enrollments will take place across the Southwest Border, and returns to Mexico will take place at seven ports of entry in San Diego, Calexico, Nogales, El Paso, Eagle Pass, Laredo, and Brownsville."
The inability for certain individuals to gain asylum has been a concern for human rights groups. Now that MPP has been put into place, these groups now worry that some individuals who should receive exemption to await their court dates in the U.S. may be wrongly returned to Mexico through MPP.
In an interview with Newsweek, Alexandra Miller, asylum-seekers and families program director with the IRC's Arizona office, stated concerns that border authorities would not let high-risk asylum-seekers through the ports of entry who are exempt from MPP restrictions, as has happened when the program was previously in effect before the Biden administration suspended the program in January.
"Even for groups slated for exemptions—like members of the LGBTQ+ community and individuals with medical or psychological concerns—we are concerned that exemptions will not be consistently applied and fear that these vulnerable groups will be returned to harm with little recourse," she said.