Arizona Governor Ducey Appears to Ignore Call from Trump or Pence While Certifying Election Results
Republican Arizona Governor Doug Ducey may have ignored a phone call from President Donald Trump or Vice President Mike Pence while certifying President-elect Joe Biden as the winner of the state on Monday.
Ducey indicated in July that his cell phone is set to play "Hail to the Chief" when receiving a call from Trump or Pence. In a video of Ducey signing documents cementing Biden's win on Monday, the song can be faintly heard before the governor is shown pulling a phone out of his coat pocket, putting it on his desk and slightly shaking his head.
"I've got a relationship with the president and when there's a need in Arizona, I talk to him directly," Ducey said during a July 9 press conference. "We've had so much outreach personally from both the president and the vice president that I had to change the ringtone on my phone. And it rings 'Hail to the Chief,' because I didn't want to miss another phone call directly from the White House to help the state of Arizona."
Biden won Arizona by 10,457 votes, becoming the first Democrat to win the state since former President Bill Clinton in 1996. Ducey, who first acknowledged that Biden won the state last week, joined with other top officials to sign off on the certification on Monday, while remarking that the state conducts elections "well" and that its "system is strong."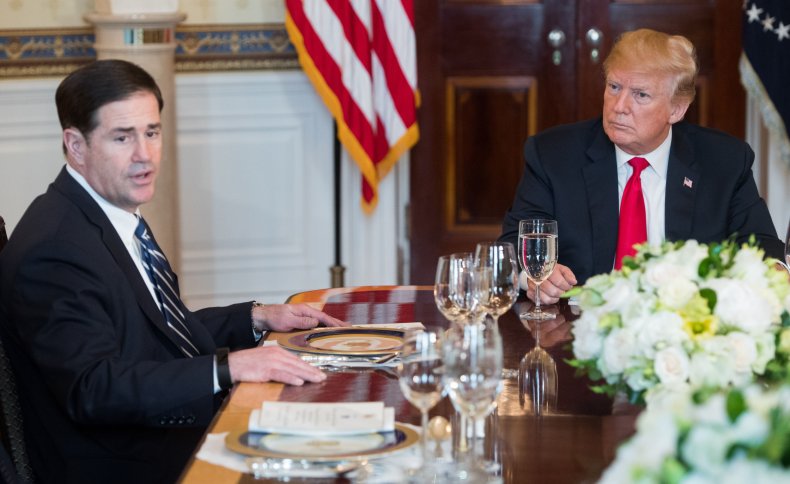 In addition to earning Biden 11 Electoral College votes, the certification of Arizona's election also paves the way for Democratic Senator-elect Mark Kelly to quickly take office. Kelly, who unseated outgoing Republican Senator Martha McSally in November, is expected to be sworn in on Wednesday.
GOP control of the Senate will be reduced to a 52-48 advantage after Kelly takes office, with control during the next session set to be determined by results of two January 5 runoff elections in Georgia. If Democrats win both contests, the party will have full control of Congress—despite the Senate being split 50-50, since Vice President-elect Kamala Harris would have a deciding vote to break any ties.
Although it was not clear whether the sounding of the presidential ringtone meant that Ducey had actually received and ignored a phone call from either Trump or Pence while signing the certification papers, the president reacted to news of the certification with anger while continuing to tout evidence-free conspiracy theories about voter fraud on Twitter.
"Why is he rushing to put a Democrat in office, especially when so many horrible things concerning voter fraud are being revealed at the hearing going on right now," Trump tweeted. "What is going on with @dougducey? Republicans will long remember!"
Trump's personal lawyer Rudy Giuliani held a makeshift "hearing" protesting the results at a Phoenix hotel around the same time of the certification, after GOP leadership in the state legislature denied a request for a formal hearing. Multiple legal challenges attempting to overturn the election outcome have failed in Arizona and several other states.
Newsweek reached out to the White House for comment.