Arizona Governor, Trump Campaign Push Back After Fox News Calls Arizona for Joe Biden: 'Far Too Early'
Arizona Governor Doug Ducey, a Republican, pushed back on his state's election results after Fox News called Arizona for Democratic nominee Joe Biden.
"It's far too early to call the election in Arizona," Ducey tweeted early Wednesday, "Election Day votes are not fully reported, and we haven't even started to count early ballots dropped off at the polls. In AZ, we protected Election Day. Let's count the votes—all the votes—before making declarations."
Senior adviser of President Donald Trump's reelection campaign, Jason Miller, also chimed in on the prediction, saying it was "WAY too soon to be calling Arizona."
"We believe over 2/3 of those outstanding Election Day voters are going to be for Trump. Can't believe Fox was so anxious to pull the trigger here after taking so long to call Florida. Wow," Miller said in a tweet shortly after Fox News said Biden won Arizona's 11 electoral votes.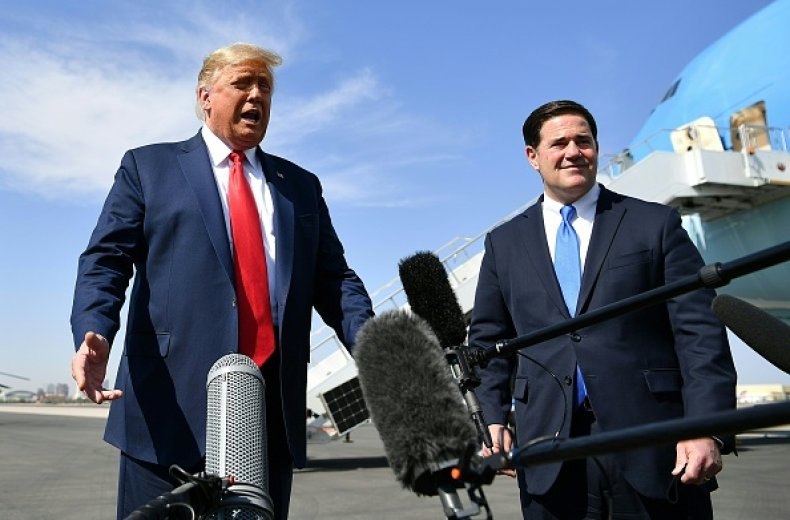 The director of Fox New's decision desk, Arnon Mishkin, said live on air that he's sure the network is "not wrong in this particular case" on its Arizona call.
He said Biden's win in the state was "knowable" but had not been "callable" for an hour before Fox News called it.
"We finally called it right now. Yes, there are some outstanding votes in Arizona. Most of them are coming from Maricopa, where Biden is currently in a very strong position. And many of them are mail-in votes where we know from our FOX News voter analysis Biden has an advantage," Mishkin said.
"I'm sorry. The president is not going to be able to take over and win enough votes to eliminate that seven-point lead" Biden holds, Mishkin added.
If Biden wins Arizona, he will be the first Democrat to win the state since 1996 when Bill Clinton won.
Fox News also projected Democrat Mark Kelly to defeat incumbent Republican Senator Martha McSally in the Arizona Senate race.
When reached for comment, Fox News referred Newsweek to Mishkin's earlier remarks.
Arizona voting blue was the first flip called in this year's presidential election.
The state was hit particularly hard by the coronavirus pandemic this year—a key issue for many voters going to the polls. Polls have shown widespread disapproval of Trump's handling of the ongoing health crisis.
Arizona faced a surge of COVID-19 cases over the summer after businesses began reopening.
As of November 3, the state has reported 249,818 coronavirus cases and 6,020 deaths, according to the Arizona Department of Health Services.
Update (11/04/20 1:12 a.m. ET): This story was updated with comment from Fox News.