Arizona's younger residents account for nearly half of the state's total number of positive coronavirus cases, suggesting a reverse in messaging that the virus would largely spare this age group.
Out of the state's 66,000 reported positive cases, more than 32,000 of the infected are residents aged 20 to 44, according to data provided by the Arizona Department of Health Services (DHS).
"People think their age is a protective factor, but we have seen people as young as 29, 31, 34 either dying from this or severely ill that they're on the verge of dying," said Dr. Suresh Uppalapu, an intensive care unit physician at Phoenix's Banner University Medical Center.
In an interview, Uppalapu said that several hospitals in the greater Phoenix area were preparing to activate their surge plans as case numbers continue to grow. This could mean opening additional floors in the hospitals, converting conference rooms to patient areas and placing hospital beds in hallways.
Representatives from Banner Health could not be immediately reached by Newsweek for further comment.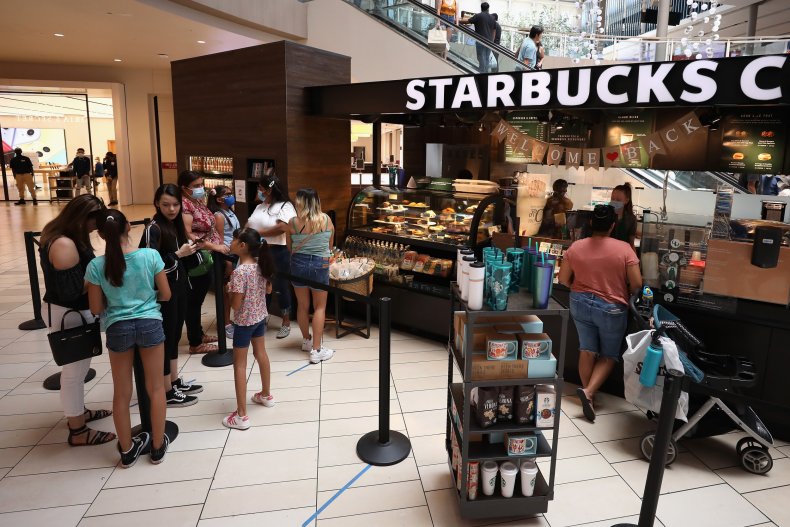 According to the most recently available data from the DHS, Arizona reported 3,428 new positive coronavirus cases Friday.
Phoenix's Maricopa County also accounts for more than half of the state's total number of positive cases.
ICUs around the state have been running at "max capacity" over the last few days, Uppalapu said. Nearly just 200 beds remain statewide for patients requiring intensive care, according to DHS data.
The state's ECMO program reached maximum capacity days ago, Uppalapu said. ECMO machines, also known as extracorporeal life support, provide cardiac and respiratory assistance to patients whose heart and lungs are unable to properly function on their own. The machine is seen as a last resort to treat coronavirus patients in critical condition.
However, the DHS website does not include the number of beds that would become available if hospitals activated their surge capacity plans, Dr. Cara Christ, DHS director, told Newsweek.
Under an executive order signed March 26 by Governor Doug Doucey, all hospitals throughout the state had been required to increase their licensed bed capacity by 50 percent to be prepared if the additional space was needed, Christ said.
Additionally, Christ said that the DHS had worked with hospitals across the state to develop the Arizona Surge Line, which gives all hospitals 24/7 access to a centralized, real-time bed locator.
"We're getting real-time information about transferring patients, and to be honest, that has been extremely helpful," she said.
The number of beds in use in the ICU has been at a steady increase since the crisis began in March — a trend seen in many of the states that did not initially experience an overwhelming number of cases, allowing them to reopen sooner.
As of Wednesday, 611 of the 1,495 ICU beds in use were filled by coronavirus patients, the data shows.
People around the Phoenix area have been flooding local bars, restaurants and clubs as the state began reopening last month, Arizona Republic reported.
Arizona's worsening situation echoes what is currently happening in Florida, according to Florida Governor Ron DeSantis.
Within the last week, the median age of positive coronavirus cases statewide dropped from 65 to 35 years old, DeSantis said at a news conference earlier this week.
Updated 12:33 PM ET, with the latest number of new coronavirus cases reported Friday.
Updated 4:50 PM ET, with comments from Arizona DHS Director Cara Christ.