Arizona Mayor Is 'Begging' for Help Amid Coronavirus Testing 'Crisis'
The mayor of Phoenix, Arizona, said she was left "begging" for help with insufficient coronavirus testing as her state experiences a fresh wave of cases after reopening its economy.
Mayor Kate Gallego, a Democrat, described the testing situation in her city as a "crisis" during an interview Sunday on ABC's This Week show.
"We opened way too early in Arizona. We were one of the last states to go to state-at-home and one of the first to reemerge, and we reemerged at zero to sixty," Gallego said.
"We had crowded nightclubs handing out free champagne, no masks. Our 20 to 44-year-olds, which is my demographic, really led the explosion and we've seen such growth in that area.
"We're seeing a lot of people go to large family gatherings and infect their family members."
Arizona has the highest test positivity rate—the portion of all tests coming back as positive for COVID-19—of all U.S. states.
According to the Johns Hopkins University tracker, Arizona has a 25.9 percent positivity rate. It added 2,695 new cases on July 4. Both daily new cases and the positivity rate are trending upwards.
The state has also reported that its ICUs are 91 percent full amid this new wave of infections.
Arizona Governor Doug Ducey, a Republican, has paused Arizona's reopening and put a limit on large gatherings.
Gallego warned that, as the infection spreads, Arizona is still behind where it needs to be on testing its residents.
"We are in a crisis related to testing. I was visiting a testing facility this weekend, people waiting—still—eight hours. It's really, really difficult," she told ABC.
"I've been spending time begging everyone from Walgreens to open up testing, out-of-state testing companies to come in because it's awful to see people waiting in a car while you're feeling sick.
"People were running out of gas. And this is as many months in. We've asked FEMA if they could come and do community-based testing here.
"We were told they're moving away from that, which feels like they're declaring victory while we're still in crisis mode."
A spokesperson for FEMA told Newsweek: "FEMA continues to provide requested assistance to states, territories and tribes in response to the COVID-19 pandemic.
"In regard to testing, we have provided Arizona with 367,064 swabs and 381,994 media for a total of 749,058 testing supplies delivered to Arizona. The state decides where those supplies go within Arizona.
"Community-Based Testing Sites (CBTS) are handled by the Department of Health and Human Services.
"Through public-private partnerships with the federal government, there are currently 11 federally funded retail and pharmacy-based locations in partnership with CVS, Health Mart Walgreens, and Walmart in Arizona.
"Six of these sites are in the Phoenix area. There are an additional 64 pharmacy testing sites in Arizona that operate independently, with 13 of these sites located in the Phoenix area."
Despite rising test positivity rates across some states, including Texas and Florida, which shows an accelerating spread of infection, President Donald Trump claimed the rising number of cases was down to a large-scale testing effort.
"New China Virus Cases up (because of massive testing), deaths are down, 'low and steady'," Trump tweeted on Sunday. "The Fake News Media should report this and also, that new job numbers are setting records!"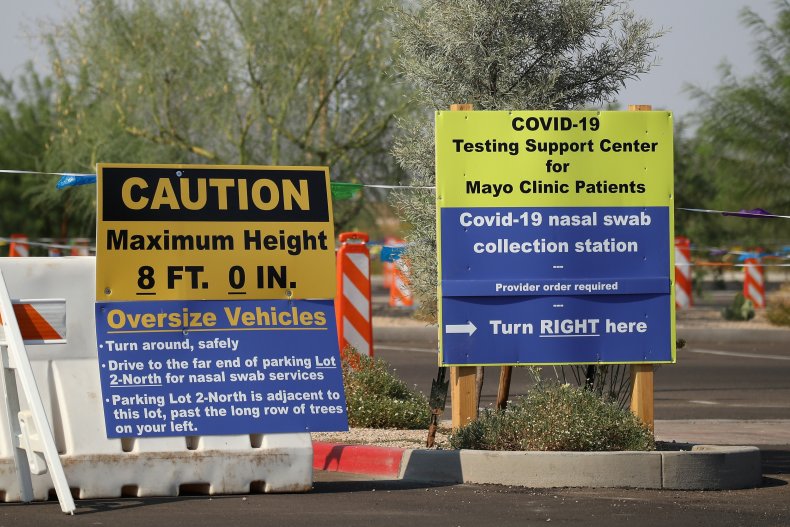 This article was updated with a comment by FEMA.