Arizona Reports Highest Single-Day Rise in Coronavirus Cases - State Experts Blame Ending Lockdown
Arizona reported its highest single-day rise in new confirmed cases of the novel coronavirus as hospitalizations have also risen, with health experts suggesting the end of lockdown measures has likely led to the increase.
"What we see in the data is pretty predictable," Will Humble, who served as the director of Arizona's Department of Health Services from 2009 to 2015, told KSAZ-TV Fox 10 Phoenix. Humble pointed out that the southwestern state's stay-at-home order ended just over two weeks ago.
"I'd expect to continue to see an increase in cases compared to where we were in the middle of May, because we are not using the same intervention, the-stay-at-home order, the distancing, and people are getting back to work," he said.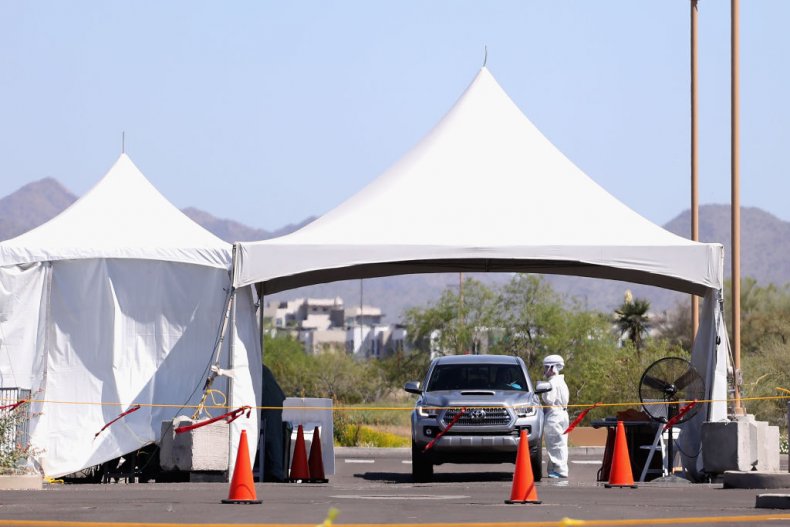 On Tuesday, the state reported 1,127 new infections of the novel virus, the highest number reported in a single day since the outbreak began, according to the dashboard updated by the Arizona Department of Health Services. The state also reached a new record of more than 1,000 hospitalizations due to COVID-19 on Monday, suggesting the state is seeing an increase in more serious infections.
Newsweek reached out to the office of Arizona Governor Doug Ducey, a Republican, and the Arizona Department of Health Services for comment, but they had not responded by the time of publication.
Local officials in Arizona's Maricopa County, which has been the hardest hit by the pandemic, suggested in a Tuesday statement that the increase in cases was beyond what would be expected due to an increase in testing, which also would detect asymptomatic and mild cases of the novel coronavirus.
"The total number of positive COVID-19 cases in Maricopa County grew by 615 from yesterday's report. This refers to how many were reported to Public Health yesterday, not how many cases there were in the last 24 hours. We are seeing some indicators that cases in Maricopa County are starting to rise beyond the increase from additional testing," the statement explained.
Overall, Arizona has reported 21,250 infections. The state has conducted more than 330,000 tests for the novel virus and 941 people have died. On Tuesday, the state reported 24 new deaths.
While all 50 states have eased lockdown measures significantly over the past couple weeks, health experts have urged the public to continue following social distancing guidelines and wear masks in public. They have warned that a second wave, or spike, in new infections could take place if Americans do not take adequate precautions.
"We've learned a lot about this virus, but we now need to translate that learning into real change behavior that stays with us so we can continue to drive down the number of cases," Dr. Deborah Birx, the coordinator of the White House coronavirus task force, said in a May 24 interview with ABC's This Week. "This only works if we all follow the guidelines and protect one another," she cautioned.
Nationwide, the U.S. has seen more than 1.8 million infections and more than 106,000 deaths due to the novel virus, according to a tracker maintained by The New York Times. The number of new daily cases reported has dropped from the peak of more than 36,000 reported on April 24, to 20,74 new cases reported on Tuesday. The number of new daily deaths has also declined, with just over 1,000 reported on Tuesday, a significant decrease from a peak of 2,752 reported on April 15.