Arizona Republicans Were Completely Wiped Out in All Major Races
Democrats have triumphed in Arizona's top four statewide races, after a midterm election where the expected red wave tantalized Donald Trump-endorsed candidates but, in the end, left them narrowly trailing their rivals.
Democrat Kris Mayes, a former news reporter and lawyer, finished narrowly ahead of Republican rival Abraham Hamadeh in the race for Arizona's attorney general, but her victory won't be official until the results of a likely recount become available.
On Monday, unofficial final results placed Mayes ahead by only 510 votes, leaving one of the closest competitions in the state with a pending automatic recount before a winner can officially be named.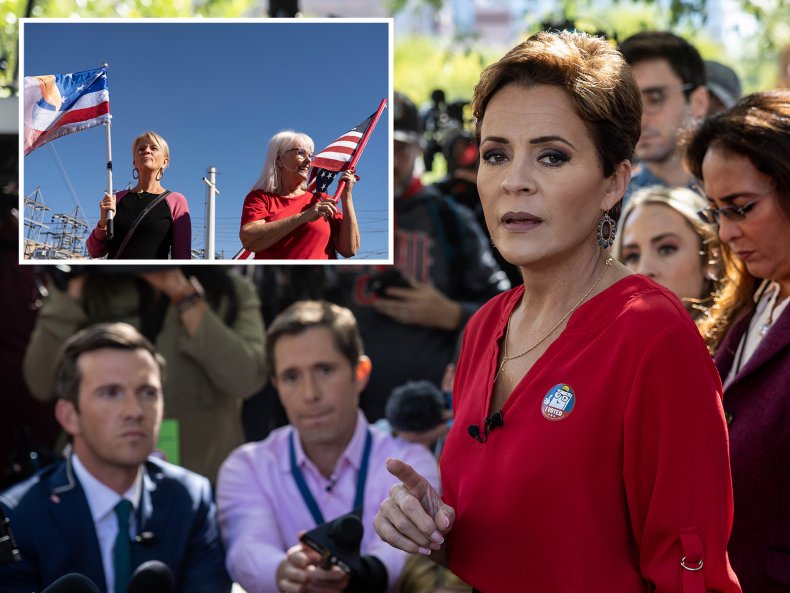 Democratic former astronaut and gun safety advocate Senator Mark Kelly won the state's Senate race against his Republican challenger Blake Masters, with 51.4 percent of the vote. Masters, who had received former President Trump's endorsement, won 46.5 percent of the vote.
In the gubernatorial race, Democrat Katie Hobbs, who defended the results of the 2020 presidential election, won with 50.3 percent of the vote against Trump-endorsed former news anchor Kari Lake, who got 49.7 percent of the vote.
Lake, considered a former champion of the far-right, is a strong supporter of Trump's so-called 'Big Lie', the false claim that the 2020 election was stolen or rigged.
Democrat Adrian Fontes became Arizona's new secretary of state with 52.4 percent of the vote, defeating Republican rival Mark Finchem with 47.6 percent of the vote.
Finchem, who attended the January 6 rally that preceded the 2021 Capitol riot, is a known election denier who has repeatedly cast doubt over President Joe Biden's victory in Arizona and said the 2020 election was "irredeemably compromised." He has ties to QAnon and is a member of the extremist group the Oath Keepers.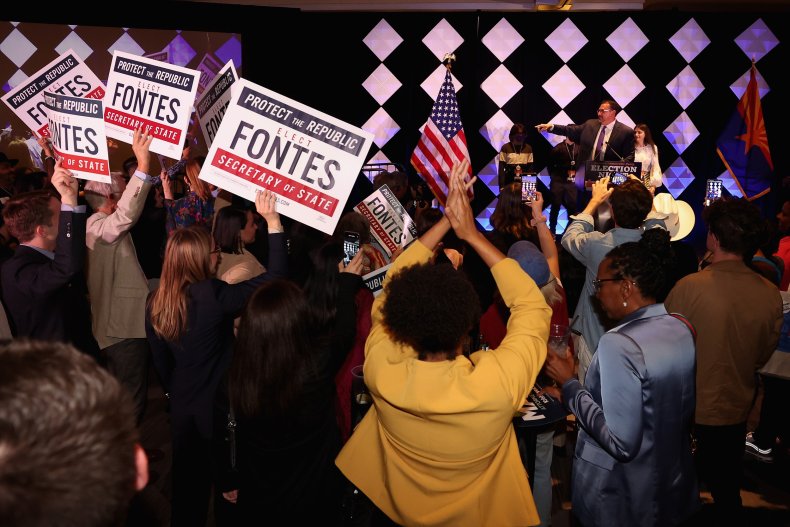 Fontes ran against Finchem portraying the Republican rival as a danger to democracy should he have been voted into office.
Republican candidates did better in the state's House races, where David Schweikert, Eli Crane, Andy Biggs, Juan Ciscomani, Debbie Lesko and Paul Gosar respectively won districts 1, 2, 5, 6, 8 and 9. Democrats Ruben Gallego, Greg Stanton and Raul Grijalva respectively won the races for districts 3, 4 and 7.
Arizona's vote in the state's four major races mirrors the state's slight shift away from Trump and Trumpism. In the 2016 presidential election, Arizona voted for Trump, who received 49 percent of votes against Hillary Clinton's 45.5 percent. But in 2020, 49.4 percent of voters in Arizona backed Biden, narrowly beating Trump who received 49.1 percent of the vote.
But the defeats of Trump-endorsed candidates reflect a nationwide trend observed during the midterms, with Trump's picks underperforming compared to Republican nominees who did not receive the endorsement of the former president.
An analysis of voting data from the midterms by NPR shows that election deniers in particular—like Lake, Finchem and Hamadeh—"generally underperformed fellow Republicans on the ballot" in competitive states' races for Senate, governor, and attorney general.