Arizona Seeks Execution Dates for Death Row Inmates Frank Atwood, Clarence Dixon
Attorneys for two death row inmates in Arizona have hit back after the state's attorney general announced he would soon seek execution warrants for their clients.
Arizona Attorney General Mark Brnovich's office announced on Tuesday that he had notified the Arizona Supreme Court of his intent to seek execution warrants for Clarence Dixon and Frank Atwood.
Brnovich's office said it is asking the high court to establish a "firm briefing schedule" before issuing the warrants so it can comply with the Arizona Department of Corrections, Rehabilitation and Reentry's (ADCRR) testing and disclosure obligations regarding the drug that will be used in the executions.
His office said Dixon and Atwood will have the option to pick either lethal injection or gas.
"Capital punishment is the law in Arizona and the appropriate response to those who commit the most shocking and vile murders," Brnovich said. "This is about the administration of justice and ensuring the last word still belongs to the innocent victims who can no longer speak for themselves."
Brnovich's office said both Dixon and Atwood had "exhausted all of their appeals."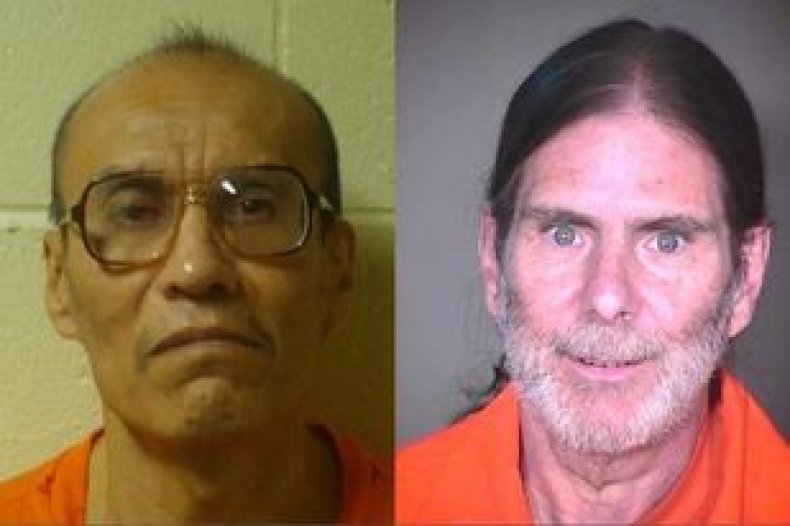 However, an attorney for Atwood said his client's litigation had been hindered by the coronavirus pandemic, while an attorney for Dixon said it would be "unconscionable" to execute him due to his severe mental illness and physical disabilities.
Dixon, a member of the Navajo Nation, was handed a death sentence for the 1978 killing of Deana Bowdoin, a 21-year-old Arizona State University student.
He was indicted for murder in 2002 after advances in DNA profiling meant police were able to identify a suspect, Brnovich's office said. At the time, Dixon was already serving a life sentence for a 1986 sexual assault conviction.
"In light of Clarence Dixon's severe mental illness and debilitating physical disabilities, including blindness, it would be unconscionable for the state of Arizona to execute him," Dixon's attorney Dale Baich said in a statement provided to Newsweek.
Baich also accused the state of "attempting to skirt its own responsibility" for failing to protect Dixon "from the horrific abuse and neglect he suffered as a child," failing to conduct a thorough investigation and also for not supervising him after he was found to be "not guilty by reason of insanity" in connection with a different crime days before Bowdoin was killed.
Sandra Day O'Connor, then a Maricopa County Superior Court judge, had ruled Dixon was not guilty in an attack on a woman. He was released from a state hospital without supervision or mental health resources.
Baich added that requests for information about matters related to executions have gone unanswered.
"We have sent three letters to the Department of Corrections asking for information about COVID safety measures, spiritual advisors in the execution chamber, and other matters, all of which have gone unaddressed," he said. "No executions should move forward until there is full transparency about the process itself."
Atwood was convicted and sentenced to death for the murder of 8-year-old Vicki Lynn Hoskinson.
He was on parole after a conviction in California for lewd and lascivious acts and kidnapping, crimes committed separately against two children, when he came to Tucson in September 1984.
Authorities say he kidnapped and killed Hoskinson and left her body in the desert, where it was discovered more than six months later by a hiker.
Joseph Perkovich, one of Atwood's attorneys, said in a statement to Newsweek: "Frank Atwood's litigation since early 2020 has been frustrated by the COVID-19 pandemic.
"The state is now attempting to sweep aside the most profound issues that can arise in our legal system, including whether the convicted is actually guilty of the crime and whether death is a morally or legally tenable punishment in the individual's case."
Perkovich added: "Mr. Atwood needs the opportunity to present these issues before the Arizona Supreme Court entertains setting an execution date."
Arizona has not carried out an execution since the 2014 death of Joseph Wood.
It took almost two hours to put Wood to death, and he was reportedly gasping and struggling to breathe for much of that time. It prompted Arizona's then-Governor Jan Brewer to order a review.
Arizona and other states have also struggled to purchase lethal injection drugs in recent years. However, Arizona officials revealed last month that they had finally obtained pentobarbital and could resume executions.
The state has 115 inmates on death row.